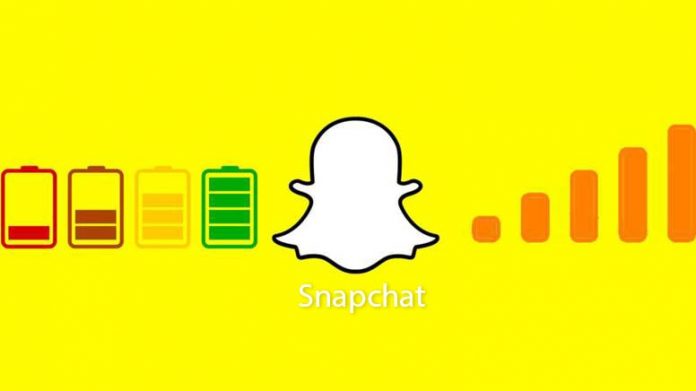 Recent Update: November 2023
Is snapchat app drains battery so fast on your iphone or Android? The social network of ephemeral photos has some hidden settings. So you don't run out of battery or data.
Snapchat in 2023 ended surviving the constant struggle of their battles against social network giants Instagram and Facebook. Their latest punch was adding group chats and Prisma-style filters, but this app can take advantage beyond its photographic functions, as Snapchat hides some options to save data and battery on your smartphone that you want to know. Of course, keep in mind that some options will be inactive for a while. Also have a look at our list of Best Battery Saver Apps for Android.
[Fix] Snapchat battery drain on Android / iOS 2023
---
We have faced the snapchat battery drain issue on ios 11 latest update iphone 6 and 7, After doing some adjustments in the Snapchat app settings it's consuming less battery power and cellular data than before. For those who all having battery drain issue on android follow the same method as we showed for iOS devices.
Travel mode
Everyone knows the famous airplane mode. Yes, this preference disables all functions connecting a wireless device. Well, the app that shares photographs for a short duration allows you to use a setting called 'travel mode' which does the same thing. save your settings one called 'travel mode'. Disabling your contacts, updates, so that you can only view them by manually refreshing the app.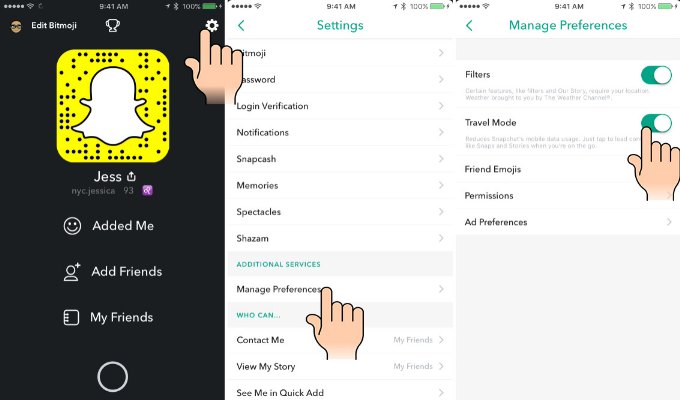 Save data by activating the travel mode. You will not receive all of your friend's stories. In this way you will save more data.
If you activate this feature you will save all data that's constantly consuming, but will not receive updates until you turn it off. You will find it in the section of Preferences button just below the filters.
Disable GPS
Snapchat GPS function consumes more battery on a phone, So it's the main reason behind the battery drain. Nowadays the GPS feature that more apps are increasingly demanding and Snapchat is no exception. And why does this app need your location? The answer is Geofilters, man. They automatically detect where you are so you can put it in your photos as a cute sticker. Naturally, every so often the app checks if you've been on the same site or follow you if you're moving, employing geolocation and therefore consuming battery power. On your iphone open the Snapchat app and tap on Settings icon, You'll find the option called "Manage" under the ADDITIONAL SERVICES section tap on it and Turn Off the "Filters" option.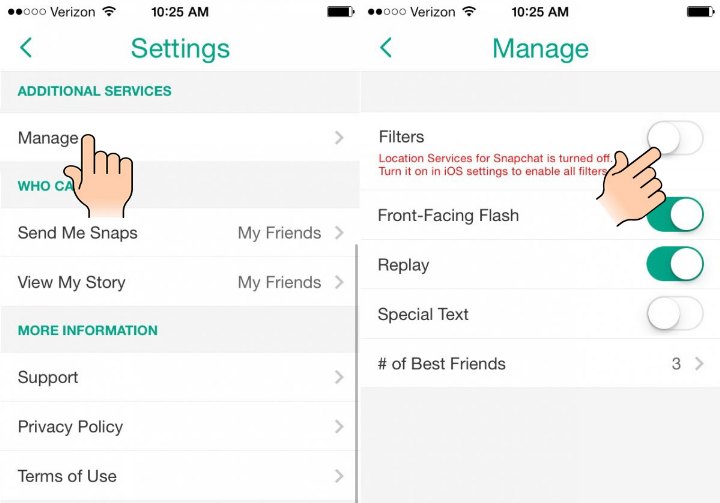 Disable Snapchat GPS on Android
At first you will have to go to Snapchat Permissions section, located in the applications section of your phone, you will find a tab called Location, disable this to save data and energy until you get home to charge your phone and be on your local Wi-Fi.
Settings > Apps > Snapchat > Permissions.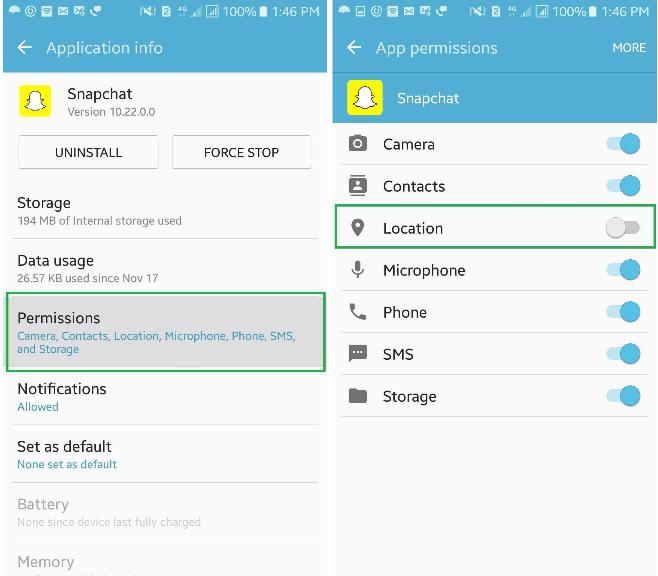 Snapchat battery drain Android
If this is really a concern for you, you can check how much battery does Snapchat drain, by going to your phone's battery section in settings or by downloading a battery manager.
And these have been a few tips to save battery and data while using Snapchat! After applying these settings snapchat no longer drain battery of your device. What do you think about them? Are they a bit radical or highly necessary? Leave your opinion in the comment box below and don't forget to share this post with your friends!