Install Apps Outside Google Play Store is not Easy on Android O.
One of Android's main weaknesses is that open source software can be infinitely analyzed and reverse-engineered, essentially to find its cracks and get backdoors to the system. The main way these backdoors are installed, it's with apps from unknown sources. Google knows this and that's why they make it quite annoying (not hard or tricky, just annoying) to install. But, all of this doesn't mean all apps installed from unknown sources are bad, you just have to be careful which to install.
Today on TechinDroid we'll tell you what steps Google is taking in order to make the installation of apps outside the Play Store a more secure action.
Farewell to the unknown sources in Android Oreo
---
Previously, to install an application outside of the Play Store it was necessary to enable app installs from unknown sources. This was a simple and accessible method that allowed to install any APK you wanted (or at least tried to do so, you can't install an x86 app on an ARM system). Android Oreo deprecated this option and bids farewell to this easy way to do things.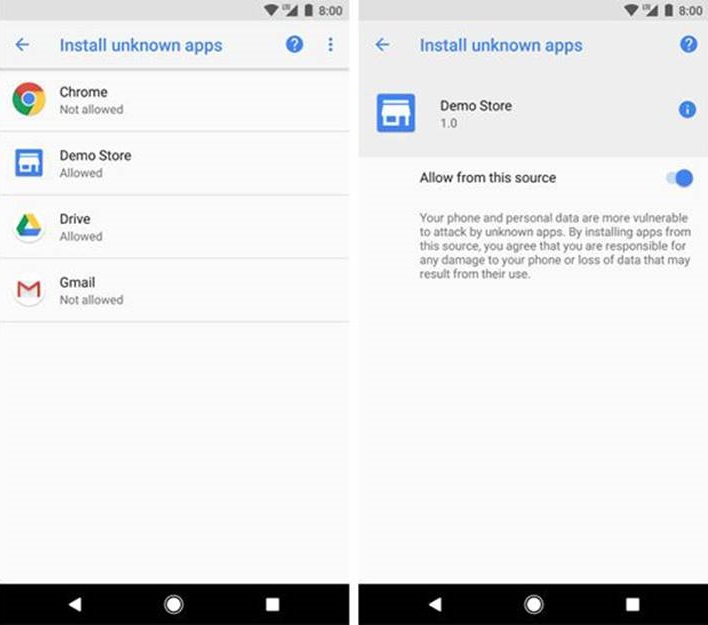 Starting from Android O, you will have to give permissions to all sources from which you can install apps. For example, you download an APK from Google Chrome, you're gonna have to allow the web browser the installation of the app.
This is quite smart, it's not as accessible as the old method but, it's more secure and it's not hard to do so, what's more, it helps you be more precise and picky about where your apps are being installed from, hence making the whole installing process in Android a more secure one.
What do you think of Google's new method? Have you used the old process? Do you think you'll have problems with this new process? Leave your comments in the box below and don't forget to share this post if you found it interesting!