Last Update: May 2023
Here is the tutorial to hide android apps from appearing in the drawer (hide app icons in the app drawer), without being uninstalling them.
Many people tend to hide some app icons from their phones, it's something that has always happenedand it won't probably have an ending anytime soon. On Android app icons are almost anywhere: homescreen, app drawer, notification bar, etc.
Today in TechinDroid you'll learn about the two main methods used to hide Android apps no root required, This tutorial is compatible for all android versions (Jellybean, Kitkat, Lollipop, Marshmallow and Nougat). And if you were looking for completely uninstall the bloatwares look at our previous about How to Uninstall System Apps on Android.
Method 1:

Use the manufacturer's own option
---
Hide apps on Samsung Galaxy S5 from the option provided by the manufacturer.
Some devices offers native option hide apps on android phones and tablets without root function, although the process may vary from one brand to another. For example, some Samsung users can just go to the "app drawer", tap on the "three-dot menu" in the upper-right of the screen and tap on the "Hide Apps button", this will take us to a screen where we'll select the apps we want to hide.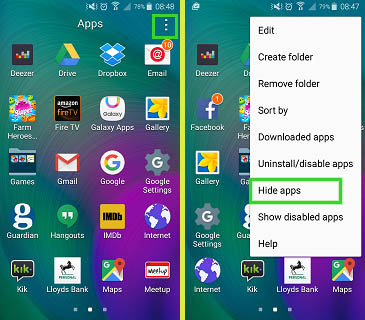 Hide Android Apps [no root] 2023
This process happens too on most of ASUS devices but, it's non-existent on HTC phones, so just check if your phone can do this natively or not.
Method 2:

Install a Launcher to Hide Apps on Android
---
Hide apps using the Nova Launcher Prime app 'Where your phone's launcher darkens, a 3rd-party launcher enlightens' should be a modern saying. 3rd-party launchers have been for many years lifesavers for many old phones who want a clean experience or newer phones that suck just because of their UI (Old TouchWiz had this effect) so it's natural for 3rd-party launchers to have an app hiding feature, as it has always been something sought after by users who want to keep their lives to themselves. Let's take a quick look at some of best apps to hide apps on android 2017.
Nova Launcher Prime (Paid)
Probably the best 3rd-party launcher of all time (it sure is the most famous), Nova Launcher Prime brings an app hiding feature, just press an empty area on your homescreen, tap on 'Settings' -> 'App & Widget drawers' -> 'Hide apps'. Select or deselect the apps you want to hide/show and that's it!. And this is pretty easy to Hide Apps in the App Drawer using nova.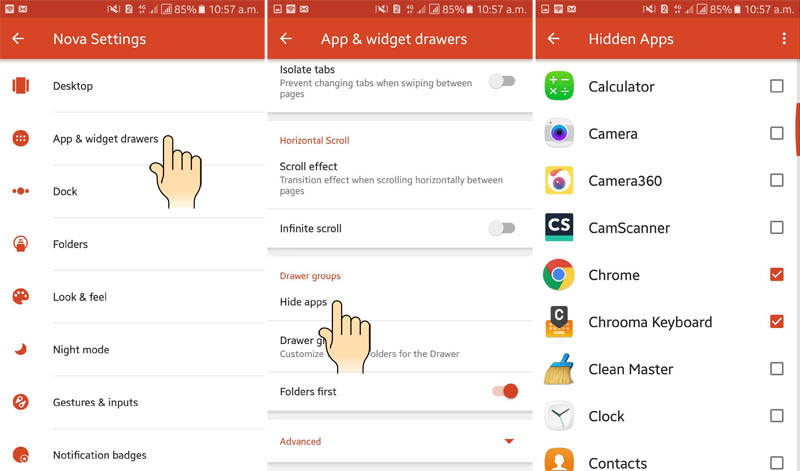 ZEN UI Launcher (Free)
Its the best app hider for android & this is ASUS phone's default launcher, so of course it has an option to hide apps. Open the drawer, touch the three-dot button in the upper right of the screen and then tap 'Hide apps', from there you can select/unselect the apps you want to hide and save your changes.
LINE Launcher (Free)
Previously known as Dodol Launcher. this launcher has gotten more exposure because it was acquired by LINE a few years ago. To hide apps on this launcher you just have to follow the same steps as with ZEN UI, open the app drawer, tap on the three-dot menu on the upper-right and from there you can choose 'Hide apps', select/unselect the apps you want, and save your changes.
There are a lot more launchers that have app hiding but, the bloatware that come with them is just ridiculous and it feels like they're selling you a totally different product.
Hiding apps is not 100% secure
Even though you have hide your apps it doesn't mean they are inaccessible, people can still access them from the recents menu, so you need to remember to remove them from that list as well. Problem solved, right? Yeah, but if another person knows about this and you forget to clean your recents menu, you're screwed, that's why to prevent all of those problems, just lock your phone with a password and be done with it. it's safer and faster. If you like this post don't forget to share it with your friends, it's always good to share the goods.