In this article we will show you How to install google play store on Amazon kindle fire without rooting your tablet. If you are a root user look up on the second method no computer needed.  

install google play on kindle fire hd 8
Amazon is one of the most successful tablet makers on the market. Not only pioneered last betting on tablets with great features at a very low price. The reason to buy amazon kindle is that tablet has a lower price / quality, performance ratio is good. it has been designed to consume the contents of Amazon, therefore the kindle fire not brings neither Play Store or any of the other Google services.
Well this move though reasonable (since Amazon offers cheap products to boost its own ecosystem) is not to everyone's liking, preferring access to Google Play. We are providing two different methods to install google play on kindle fire.
Method #1
You can now install Google Play on the Amazon Fire without root. Before you begin installing the necessary files, it should be noted that this tutorial is created for use with Windows computers, so if you use Linux or MacOSX you can not use it.
Install Google Play on the Kindle Fire without rooting
---
1 The first step to install Google Play on the kindle Fire is download the program that will install Google services on our tablet. Just click the Download button to start download the program (AmazonFire5thGenSupertTool.zip) Latest version.

2 Once you are done downloading the file AmazonFire5thGenSupertTool.zip extract the files from the zip archive on your computer.
3 Now on your kindle fire, you need to enable the development options and install ADB on your computer. install google play on kindle fire
4 Once the complete tool installed on our PC, we will enable ADB to our device. To do this, we will go to Settings> About device . In this menu look for where build number section, Just Tap on the Build number 10 times in a row very quickly.
5 In previous step, We've enabled the developer options, which will be found in the settings on "about the device." We entered the development options and "Enable" USB debugging mode.
6 The next step is to install the ADB drivers on your Windows computer. To install the drivers using the tool itself that we have download the Universal Adb driver.
Download Universal Adb driver:

7 Once you have downloaded the Universal ADB driver installer on your computer. Open it and install the setup. get google play on kindle fire 
8 Once we installed the ADB drivers and tool in our computer, we have to connect our Amazon Fire through the microUSB cable. Unzip the program in a folder several files and we appear: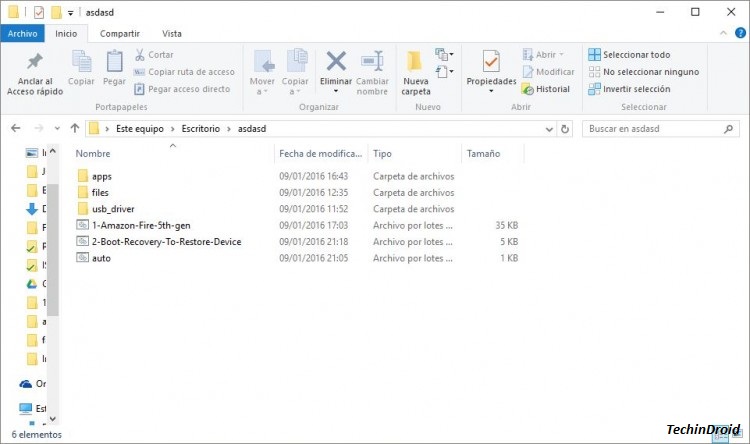 1-Amazon-Fire-5th-gen will be that we have to open to select options.
2-Boot-Recovery-To-Restore-Device serve to leave our Amazon Fire with factory settings.
Auto perform an automated process.
We'll run the first file and a window will open in black with blue letters on us a list of things that the tool can appear. Only we need to press the number of the activity you want to perform and press enter . The list of things to do is: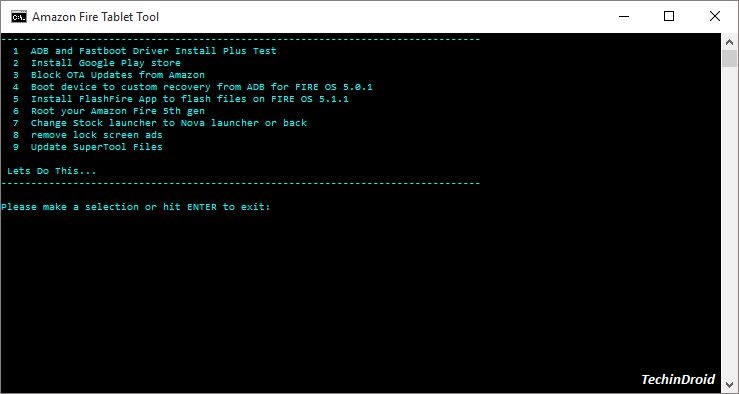 What we can do with this tool in our tablet
ADB install and test drivers.
Install Google Play Store.
Disable OTA updates from Amazon.
Launch a personalized recovery.
Install Flashfire, an application for flashing files.
Rotate your Amazon Fire.
Change the Amazon launcher by New launcher.
Delete ads from the lock screen.
Update the files of the tool.
In the tool, you can select the number of the activity you want to perform and press enter. For example, if you want to install Google Play, change the launcher by Nova and remove the ads have to press 1 and enter, wait for it to install, press 7 and enter, back to wait and press 8 and enter. As always mentioned, this is an unofficial tool, so we are not responsible for what happens in your device. get google play on kindle fire 
With this simple tutorial i hope you get google play on Kindle fire, you can enjoy even more of this great tablet that has what is probably the best value / market price.