A data recovery project from the Easeus, With this Data recovery wizard you can recover deleted data from your USB sticks, Hard drives for free. Before dive into the deep review let's start with intro.
It surely happened to you more than once, You may accidentally deleted the important photo, video or the document. Now you have no idea about what to do for get them back?. Data loss isn't a solution, For this task there are many tools available. I would recommend you try this freeware called Easeus Data Recovery wizard as like its name this tool is really ease to use. Rather than find the local computer shop to recover file by paying money, Easeus will help you. It restores deleted files even from formatted disks. You can also recover partitions that have been deleted after doing re-partition.
It supports recovering all types of files (not only images and videos) and also keep the filenames and folders. Free Edition also available to recover upto 2 GB data for free. If you wish recover more than 2 GB or for business use, you can buy pro license from their page. This free data recovery software is works way faster than other tools Very fast file scanning and recovering.
Features
---
EASEUS Data Recovery Wizard supports the following formats FAT12, FAT16, FAT32 and NTFS.
Deleted Recovery

:
This feature help you recover lost data due to accidental deletion, emptying recycle bin, and 'shift+delete' files without backups.
Partition Loss:
This option can be used to recover deleted data from partitions after re-partition, Also repairing boot manager, improper clone, system re-installation, disk accident etc.
Format Recovery:
With this option you can restore files from a formatted partition, formatted USB drive and memory card. And it also possible to recover from raw or inaccessible hard drive caused by format error is included.
This software also support data recovery after hard disk drive error or failure, system crash, files lost by virus attack, unexpected power off, etc.
How to Use Easeus Data Recovery wizard
---
Step: 1 At first you have to download and install Easeus Data Recovery wizard on your computer. This software is available on Windows, Mac, Android and iOS.
With its mobile version you can recover deleted text messages, contacts, pictures, audio and video.
Step: 2 The main screen of the program gives us three options:
✓ Recover deleted files.
✓ Restore all the files of a partition.
✓ Restore the partition itself.
Step: 3 You have to choose the way of recover file after that the program will start scan the drive for recoverable files.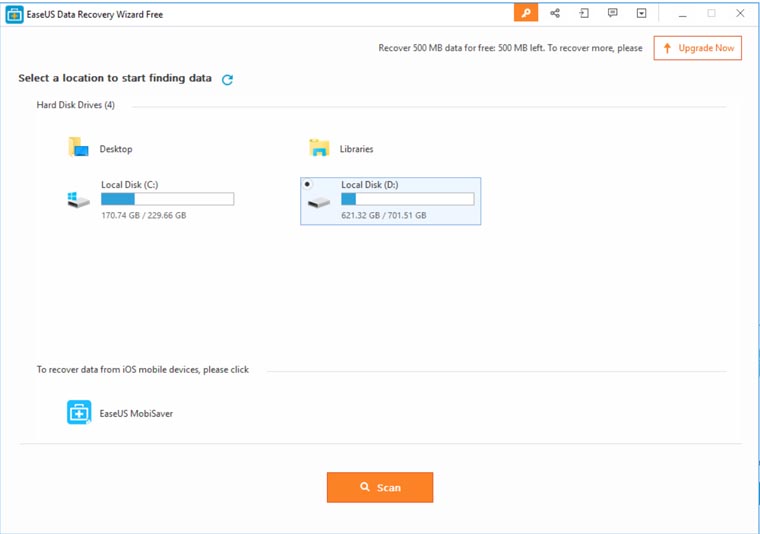 Step: 4 Once the scan was finished you'll see the list of deleted files contains Pics, Videos and other files, Now select the files which you want to recover from all the deleted ones.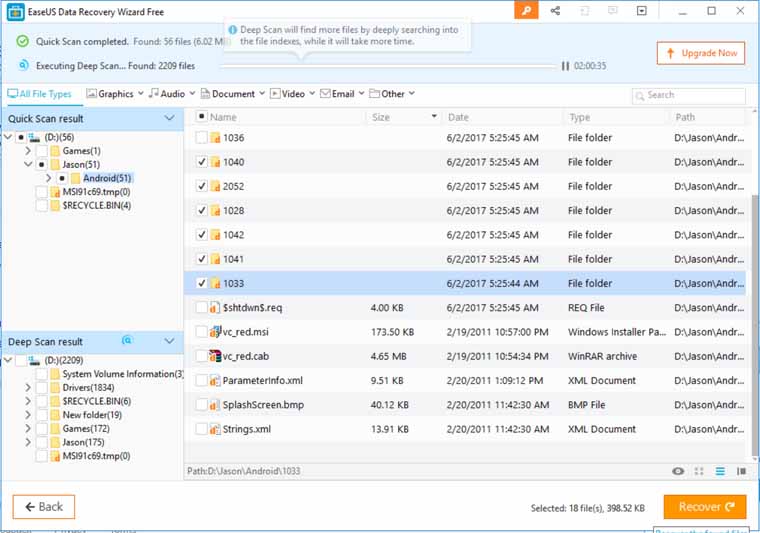 This is a very interesting tool to enhance the flat to the typical virus that is programmed to delete documents. The overall features of this program is good, easy to handle and efficient.