Last Update: September 2023
Erasing the browser's search history will not be enough to get rid of the trace. Did you know? Google stores everything you search on it. In this tutorial, we'll see how can you delete the search history of your account on Google.
You may have noticed that when you make a search on Google, the site usually shows you the words or phrases that you have consulted previously, based on your past searches stored on Google search history.
Even if you have taken the precaution of going to your Google history and deleting all of it, Google can keep the queries and, on certain occasions, cause trouble for the user's Internet privacy. Learn How to Delete Google Chrome's Cache easily.
Why is it not enough to know how to erase Google search history to delete all traces of your activity? Because usually, when you connect to the Internet, you probably signed on your Google account.
The search engine keeps a complete record of all your search history online and previous searches, even though they're deleted from your browser. You need to know how to delete your past Google searches and other activity online.
This information about searches and queries is saved in the 'My activity' section on the Google website, where you have the possibility to check your google history and manage them. This page shows a complete list of all the things that you have done in Google: search for news, images, videos, downloads, etc.
How to Clear Google Search History & My Google Activity 2023
---
You can delete previous searches on Google, such as browsing history, and any other activity in your Google account. You can control what is stored in My Activity, and you can stop saving most of the stuff stored there whenever you want.
Delete Past searches on Google:
1.) To find and delete the activity that is saved in My Activity, just follow this link and then sign in to your Google account.
2.) A page with all your past Google searches, including timestamp and date, will be displayed. There, you just have to choose the search query you want to erase. If you want to select multiple queries, you can do it as well.
3.) After that, click on the "trash can" icon to delete the selected activities. Remember that it is a definitive action and can not be undone.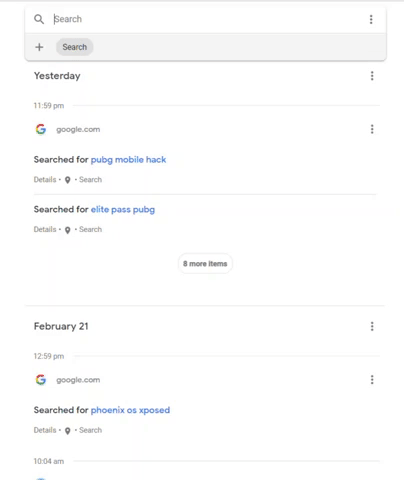 Permanently Delete my Google History
---
Still not Done!
Delete All Other Google Activities:
Even after deleting past searches on google, you still have other things you did with google remain saved.
1.) If you want to get rid of every google product's activity is simply Go to Google's My Activity page.
2.) Then select the "Filter by date & product" option and choose the options that suit you best from the sub-catalog that will appear.
3.) Finally, click on the trash can icon to delete the trail of activities on Google, and that's it. Whatever you pick, it will be deleted forever.
Tip for mobile devices: To quickly remove an item or a group of related activities, slide it with your finger to the right.
How Do i Stop Google from tracking me?
You must know what you can do, aside from just deleting your Google search history. What you must do in order to prevent the enterprise from recording your online activity is to always log out of your Google account after using your computer and use a password to protect your computer's profile, avoiding any intruder that may be trying to bypass your security, virtually or physically. Also check out our guide about How to Delete All your Traces from the Internet.
Do you have another way to delete your past searches on Google search history? Leave us a message in the comment section.