Last Update: November 2022
Here is the guide to delete all contacts from android phone and resync it to another phone.
Contacts are always a sensitive issue when we change our phone or when we want to copy to another device for any reason whatsoever. Over the years our contact list grows and grows, storing contact details of friends, family, and co-workers. Safely keeping our agenda is a very useful practice if we lose our phone, if it damages (eg falling into water) or if it's stolen. If you only keep the phone numbers we risk losing all the information in one fell swoop. It is best to have a backup of the entire schedule saved on your computer or synchronized with our Google, iCloud account or other services that we may, so we can always retrieve all the information we need at all times. One useful tip is to export the contacts list to store or dump it on another platform.
In most cases, a user's contacts are distributed in different media. On the one hand there are some on the SIM card, however as this support has a storage limit, when it reaches the maximum quota, new contacts are stored in the phone's memory and sometimes on the MicroSD card. Having distributed contacts is a bummer when delete them all at once.
Before getting started
Note! This process can not be reversed, once you have deleted all contacts without taking backup then you will no longer be able to get them back.
So first things first, you have to gather them all in the same place, for example on the MicroSD card which will be easier to remove them. In Contacts, if you enter the menu, we can manage contacts and use the option Import-Export. Within this menu, you can Export contacts from the SIM card to the MicroSD. When we're using one of these options the device creates a .vcf file and stores it in the storage we have selected (in this case the MicroSD card). We do the same with all the contacts and then we will have one or more VCF lists.
The VCF lists are files that have all our contacts and we can bump into other systems or platforms. To remove the contacts connect the device to the computer and explore the internal files to find the files that interest us (these are saved by default in the root folder). Once we have localized the file we can save it to your computer or we can dump it into our Google account.
The advantage of making a backup on Google is that we will have our contacts always available anywhere simply by accessing the Gmail contacts. To dump them let's go to Gmail – Contacts and where it says more choose the option Import and seek the .VCF file. Also, if you've migrated to another Android smartphone, the contacts sync starts when we login to our account on the phone. If we get used to using Google as a platform for our contacts we can dump them on an iPhone or a terminal with Windows Phone.
This process may seem annoying at first glance, but it's actually really simple and it will avoid you typing on Facebook "Hey, lost all my contacts, PM me your phone numbers please".
How to Delete All Contacts on Android phone 2022
---
Once you have made a backup of your contacts, then follow these simple steps to clear contacts from android phone or tablet. For this tutorial we have used Android 6.0 Marshmallow OS, So let's see how i deleted all my contacts.
1. At first unlock your phone and open Contacts list on your phone. Now you have to tap on More button, You will get three options there you need to select the Delete option. The select all contacts and tap Delete.
delete contacts android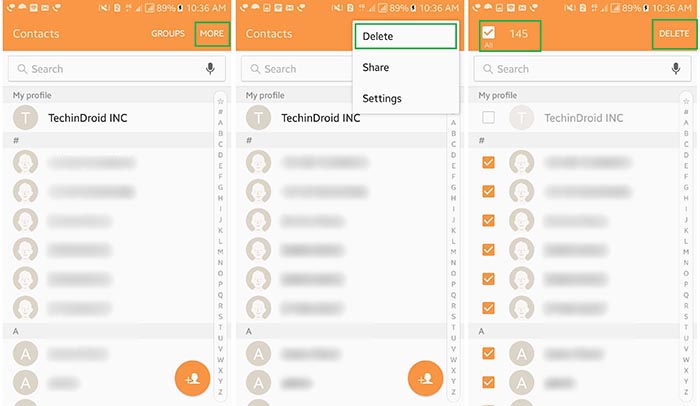 2. Finally tap on Delete to confirm the deletion of all contacts. This will delete all contacts from your android phone / tablet.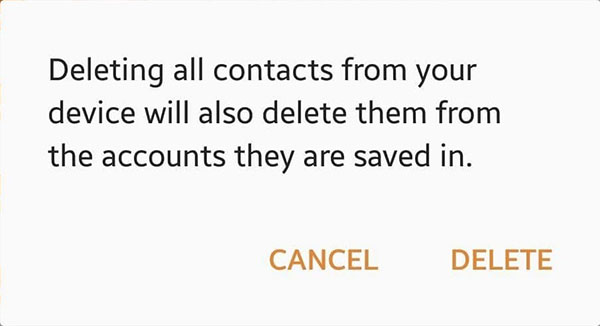 I hope this handy guide help you backup contacts and delete all contacts on android. If you have any queries about this guide, Feel free to leave your thoughts in the comment box below and don't forget to share this post with your friends!