Last Update: September 2023
Minecraft is one of the most popular sandbox games in the world. One of the main features of the game are the skins: visual tweaks that are used to define the outfit of our character. Here in Techindroid, we'll list out the best and easiest to use Minecraft skin editors. What are you waiting for? Make your own handcrafted Minecraft skin using these Minecraft skin editors 2023.
See also:
Top 7 Best Minecraft Skins Editor 2023
---
1.) Minecraft Skins (online):
Skin editor minecraft
Minecraft Skins is an online skin editor where you can draw a skin from scratch by using their online editor. You can view others' creations, rate them, or make your own and upload it as well. You can find hundreds of different skins here, with varying degrees of quality and uniqueness. And, of course, you can use skins previously available to create something new! The community can help you get started, so this site is pretty newbie-friendly.
2.) Minecraft Skin Editor by Tynker (Online):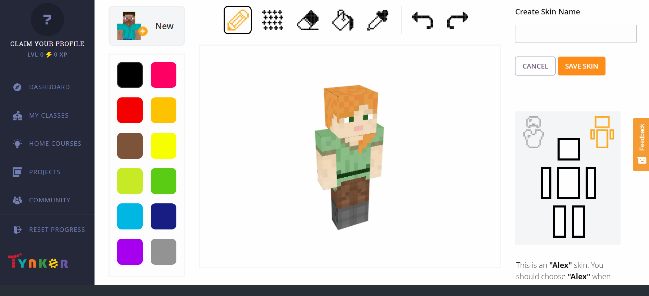 With Minecraft Skin Editor by Tynker, you can pick the pre-customized skin, along with the drawing, as you want. This is a 3D skin editor for minecraft. This page has 25 ready-made skins which you can use for free. In addition to that, you can edit them as well. This program allows editing of the existing skins of your Minecraft username or gallery, as well as creating a new one from scratch. You can upload the skin directly to Minecraft or download it to your computer. You can also create skins for minectaft pe with its skin editor for minecraft pocket edition.
3.) 3D Skin Editor Gatucraft (Android)
This skin editor works on your mobile device just as good as any skin editor for the PC. It features advanced tools to create the perfect skin, such as an eraser, paintbrush, and bucket. As the name suggests, it's a 3D editor so your skins can be as high quality as any skin made on a PC, and it allows you to export your creations to Minecraft. This minecraft skin editor available for free download on google play store.
4.) MCSkinner
This is another web editor. MCSkinner supports 3D acceleration and it has every needed tool for doing amazing Minecraft skins and sketches. It has two versions available so don't worry if you're not using Minecraft 1.8. In addition to all of this, with MCSkinner you can upload your finished projects directly to minecraft.net! Just enter the main page and start creating your skin.
See Also:
5.) Minecraft Skin Stealer
Have you ever been impressed with someone else's skin but you don't have the skill for doing such a thing? Then this tool is for you. With Minecraft Skin Stealer you can steal/grab any skin on Minecraft by just entering the owner's username in the corresponding field on the site. That's it – after it, you'll be able to view and download the skin. You can use this tool in combination with the other options we list in order to create something completely new and interesting using previously made layers and skins.
6.) Skincraft
Our last selection for this article is an interesting choice. Skincraft, another web-based editor stored in the flash games website Newgrounds, works mostly by combining different skins (and you have a selection of over 100+ different skins!) in order to make something completely new. You can share your creations within Newgrounds or into Minecraft.net. And, of course, you can add your own custom layers to work with them. Perhaps the most interesting part is that Skincraft is downloadable – just grab the Shockwave file, open it in a Flash emulator and you'll be able to use Skincraft anytime, even without an Internet connection.
7.) My Skin Editor For Minecraft (iOS)
This is a very easy-to-use app for iOS that allows you to manipulate and create your own skins anywhere, anytime. You can download skins from Minecraft.net using the player's username, modify them as you like or save them in your photo gallery. You can also upload skins into Minecraft.net as well. Everything here is quick, easy, and of course, free.

As you can see, in the world of Minecraft, as vast and diverse as it is, you have a lot of different options to fulfill your needs. Probably you've used one or more of these minecraft skin editors if you already have experience with this game. Have you ever heard of more editors similar to these ones? Tell us about them in the comments below!