Last Update: September 2023
Google Files Go Apk Download: Google File Manager for Android
Google is currently testing its new Android file manager Google Files Go as part of a closed beta. However, the APK file of the app is available for those interested, on the Internet.
If you want to access the underlying data folders on Android, you will find numerous apps in the Play Store such as ES File Explorer, FX File Explorer or even the PC veteran Total Commander. However, Google Files Go app there is now an alternative directly from Google. Actually, the app is currently offered only in the context of a closed beta phase, the associated Google files go APK file is already found on the Internet.
Files Go Apk Features
In contrast to the standard file manager of Android, which offers only a few basic functions, Google Files Go takes the user by the hand. Already at the start, the app offers to manage the free space, empty the app cache or search the smartphone for files that occupy a lot of space.
Data exchange and notifications
In addition, Files Go by Google app can list all files on the smartphone and SD card for content: documents, images, videos, audio files or received files to be visible at a glance, even if they are spread over multiple locations on the smartphone. Google Files Go can also share data with other mobile devices. For this purpose, a connection between transmitter and receiver is established via Bluetooth or WLAN.
Also read:
Google Files Go also wants to inform the user when the storage space on the smartphone is almost full. In addition, there are notifications that indicate apps that have not been used for more than 30 days. On the memory consumption of downloads and large media collections, Google Files Go also indicates on request.
Files Go App Download for Android 2023
| App name: | Google Files Go apk |
| --- | --- |
| Version: | 1.0.194484091 |
| Size: | 7.57MB |
| Price: | Free |
| Category: | File Manager |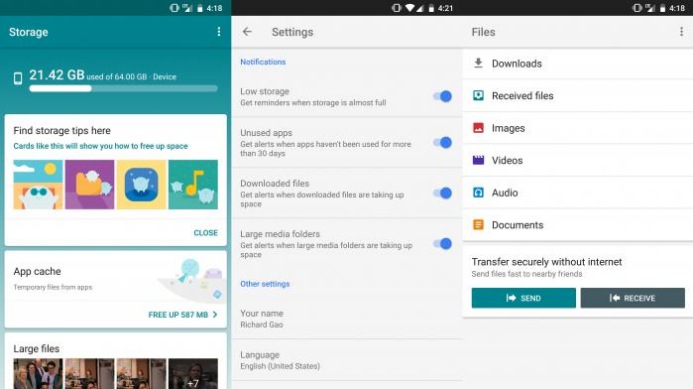 Download Google File Manager for Android (Apk file)

(or)
Get Files Go by Google from google play store for free:
Bugs and release
Beta-typical, there are still problems with Google Files Go. For example, some users do not display the date of the last app use correctly. An application is declared as "unused for a long time," even though it is used daily. Other users will not be able to transfer files to other mobile devices files go download.
Despite the numerous functions, the app comes out with less than 10 MB. The Files Go by Google APK file requires a mobile device running Android 5.0 (Lollipop). When Google wants to share its file manager for all users is unclear. Google Files Go may become part of new Android versions in the future. The name could also be an indication that Google is developing the app primarily for less-powerful devices with Google's File Manager Files Go Apk 2023.