Last update: November 2023
In this article we are going to show you how to get paid apps & games for free on Android phone and tablet with play store alternative apps.

how to download paid apps for free from play store
Google play store is one of the best place to get Apps, Games for android smartphone and tablet. In play store there are millions of free & paid apps are there, whenever we want to download paid apps we have to make payment with our CC or DC. Mostly this will happen when we trying to unlock full version of the app or removing ads by buying a PRO version of the software.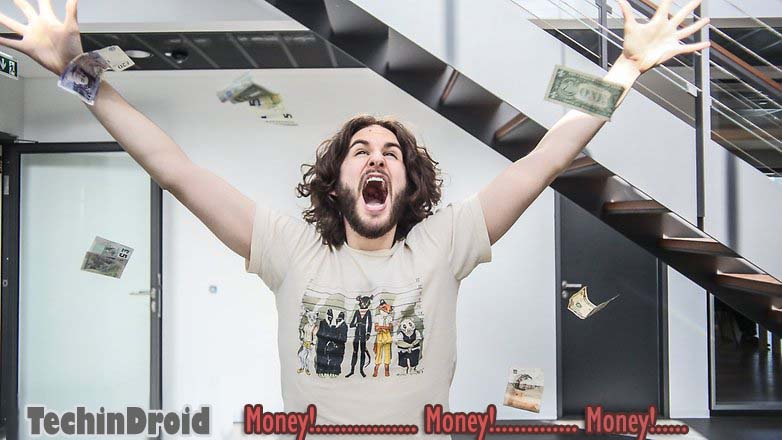 Now, You can download and install paid apps without ever spending $ € legally!
Unfortunately most of the best / most useful apps have some limitations. In order to remove limitations and unlock full PRO version, Which we have to pay to download them, which despite Which are not too expensive many times we do not have the resources or a credit card to get them.
This where our recommendation of this day comes an app that will allow you to download all or most paid apps for FREE, stick with TechinDroid and review those great alternatives to playstore.
Get Paid Apps and Games for free – Play store Alternatives
---
Here we show you the alternate apps that lets you download paid apps for free on Android Smartphone.
1.

Blackmart Alpha

download paid apps for free on android
Blackmart Alpha is one of the best apps designed to download Android apps. It allows users to download Android apps that ask payment on google play. Isn't it cool, Its not only save our money from pay for something we don't like, This is one of the favorite app among Android users since it allows to download apps (APK) of any type variants for Android, even you can download apps that won't be find on Google Play.
Blackmart features:
It has a design and interface very similar to Playstore, so it makes it very familiar and much easier to use.
While the Android market has a large weight in MB this app only needs 3 MB to be installed which makes it a very light weight.
When downloading any app or game makes a backup of the app, so that you can keep it and use it without having to download it again.
No registration required.
Compatible with Android 2.3 and up.
I highly recommend this app since it has complete functions of play store. Simply The best alternative for playstore!.
2.

ACMarket
This app allows us to download most of the payment apps and games for totally free, which in the play store Android we need to pay for them. In ACmarket its not even necessary to register an account to start download application or game.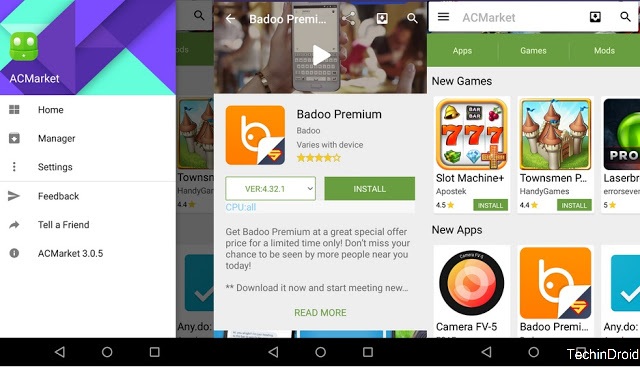 ACMarket Features:
Size 8 MB.
The app unlike many others is free of publicity.
It has automatic updates for all your apps.
It is only compatible with Android 4.0 and up.
This works in the same way as the Play store making it even more comfortable and smooth, you just put the name of app or game in the search box the you want to download and wait for it to find your app and ready to download and enjoy your apps fully paid free.
3.

Amazon Underground [Legit & Legal]
Amazon's Android app store used to give an app or free pay-per-view game every day. It even offered collections at 0 dollars for special festivals, like Christmas. Everything has changed the arrival of Amazon Underground: through this service you can access a bunch of games and apps of payment without paying a cent. It's 100% legal. And you can get high quality software, like the Monument Valley game.
Amazon Underground conditions for the apps: you have to use the store app, be connected and allow them to register your use. Amazon pays developers based on the minutes you are playing.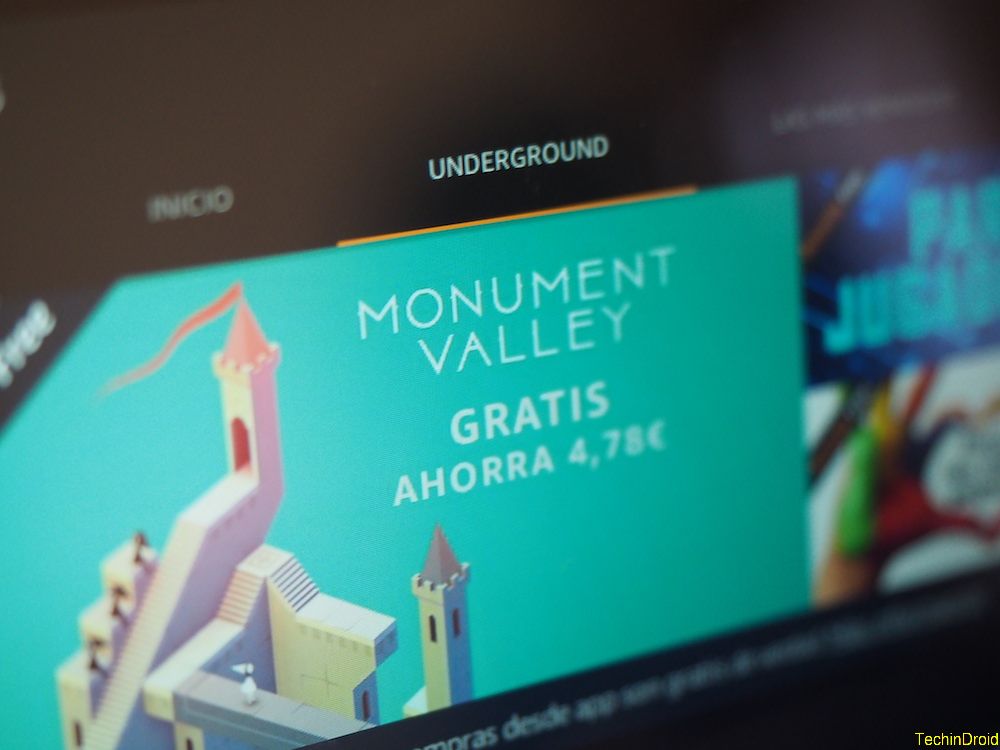 To download Amazon Underground just follow the instructions of the online store . Of course, not all games and apps are free, only those marked as "Underground Apps". But, you have more than 4,000 to choose with titles of excellent quality and prestige.
4.

APK Mirror

– free android market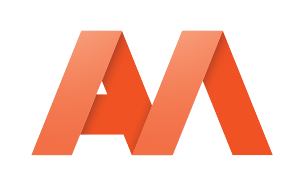 APK Mirror is not a store to use, it is a repository created by the guys of Android Police in which its community of users publish the APK of the most recent versions of the most popular apps. It's the fastest way we have to update our favorite apps.
5.

Aptoide

games
Aptoide is one of the alternatives most used by Android users, in that we will find apps that banned in Google Play. It has more than 300,000 apps that have been uploaded by users, so there is a lot of care, as it sneaks a lot of malicious app that pretends to be free versions of paid applications. It only has free applications. That's right, most applications come from Google Play APKs, which will depend on Google's services to work.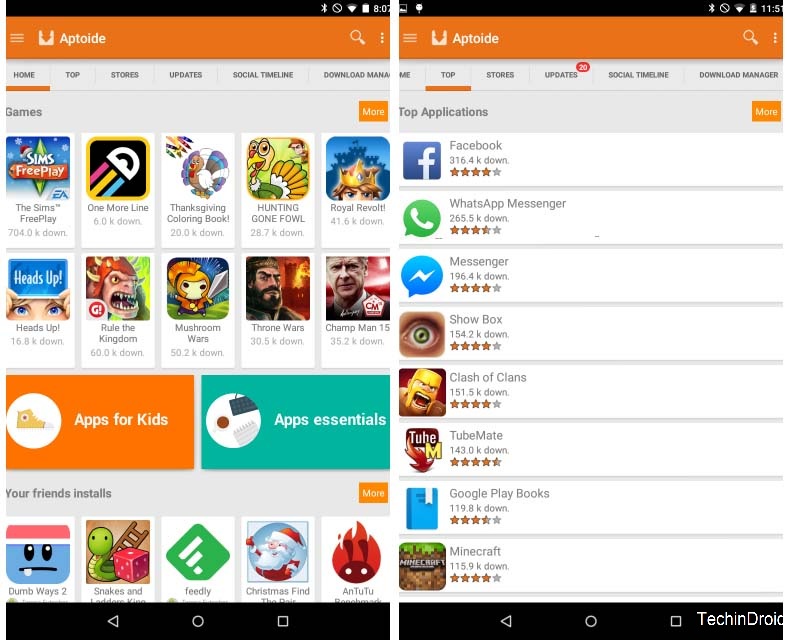 More information

| Aptoide
6.

 F-Droid
With F-Droid we find a store that has a category formed exclusively of apps and games with open source, so we will not find the most famous applications and games. It has over 1,500 Open Source applications.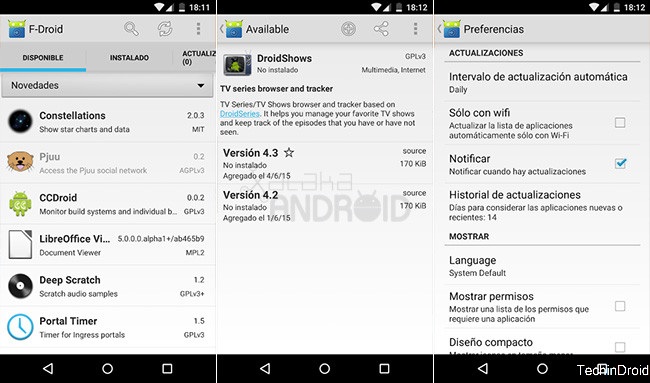 Apps that Give Away Daily Promo Apps
---
In Google Play we have different applications that offer us a free application per day . This process comes after an agreement with the developer to give visibility to your application. We have several Apps of this style with which we will opt for payment apps without any cost. We leave you with a list of them, although surely you know some more:
7.

AppGratis
It already says everything with the name: A simple application which we only have to log in daily to get a paid application without cost. and 100% legal; Also give away purchases within the applications. You can access the offers just by installing the app and stay tuned for updates. Do not expect wonders.

8.

Google Opinion Rewards
This is a very easier way to get free Google Play credits. Which is equivalent to being able to buy the app you want without paying money. Of course, with two conditions: you must make the effort to answer surveys and the number of them that go out in Google Rewards is not abundant. Although, with a little patience, it is possible to access quality software for free.
Sites to Download paid apps & games for Free
---
Aren't you want to install an application to get apps games, You can try these websites on your browser.
revdl.com

Oceanofapk.com

play.mob.org
So this article all about how to get latest version of paid apps for free with google play store alternatives 2023. If you find this article useful don't forget to share this article with your friends.