Last update: May 2023
The Best Remote Administration Tools 2023: The function of RAT (Remote Administration Tool) is considered that programs that allow certain types of actions from a local computer. Which means remotely controlling a computer with various types of Tools. This also used for hacking purposes lets see in clear which tools can be used for remotely control a desktop.
TeamViewer Alternatives to control PC remotely.
Now a days, Due to technological development and deployment of equipment that can be thousands of kilometers in a place where physical access is restricted or inopportune. There is a need to remote connect to them to perform various tasks supported. Administration or just work situation that wouldn't be possible in the absence of remote administration tools .
With a Remote Administration Tool. responsible for a computer network can access another computer to see if it has problems. without leaving your desktop. Today we share some alternative applications for remote management, Hacking tools & explain what are functions of it.
Best Remote Administration Tool – RAT 2023
---
1.

TeamViewer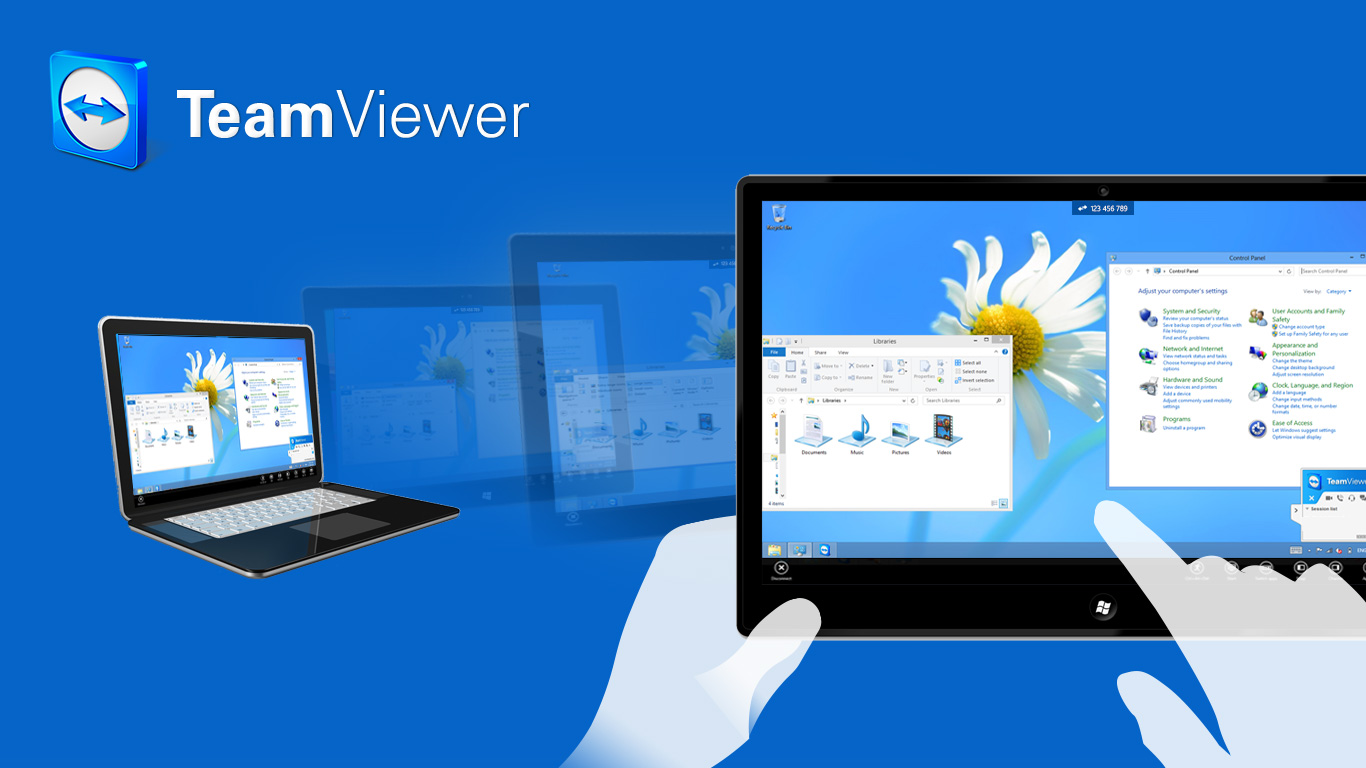 TeamViewer is a RAT. Its used for connect to a remote desktop safely, efficiently and quickly using a "ID" and random password. (there are exceptions in the event that the user does not want random passwords). Which changes when you close the session for user safety has been helped by remote control or other purposes. Teamviewer works on Windows, MacOS X, Linux and also for other devices like the iPhone.
2.

Chrome remote
Its a best Remote Administration Tool. Chrome Remote Desktop allows you to access a computer remotely from another over the Internet. For example, you can use the application to securely access your files and applications from another computer. A feature of the Chrome browser is that if installed on the remote computer and ours allow us to control the desktop of any PC regardless of operating system. For its ease of use and ease of installation, nothing intrusive (is a browser plugin more).
3.

Splashtop
It is a very interesting tool for users who want to experience a new way to manage your team.
Splashtop is an app that can access all the information and can do pretty much what we could do on a computer, tablet or mobile phone.
The application among other things allow us to access our usual Internet browser with support for Java and Flash included. We can see any web page that could normally be accessed from our team.
4.

ScreenView
ScreenView is a tool specially designed to work together on a computer or perform service work.
For its operation you must be connected to the Internet and run the application on both computers.
It is a Java application that requires no installation and you can carry in your USB device. The tool allows you to connect remotely to another computer and display your desktop on another computer simultaneously using the network connection.
5.

VNC
They are the stands for Virtual Network Computing (Virtual Network Computing). VNC is a program free software based on a client-server structure. Also called software Remote Desktop .
VNC does not impose restrictions on computer server operating system with respect to the customer. You can share the screen of a machine with any operating system that supports VNC connecting from another computer or device with a ported VNC client.
Download | VNC.
6.

CrossLoop
This tool also like TeamViewer app is really quite easy to use and is compatible with almost all versions of Windows. It can also be installed without administrator privileges.
The operation is similar to that of Teamviewer , must give the ID and password for your account to the person you want to manage your computer remotely. The downside of the application is that the refresh rate of the screen is bad enough, but a good connection you have, so the image is not too good.
Remote Administration Tool – Hacking Purposes
NjRAT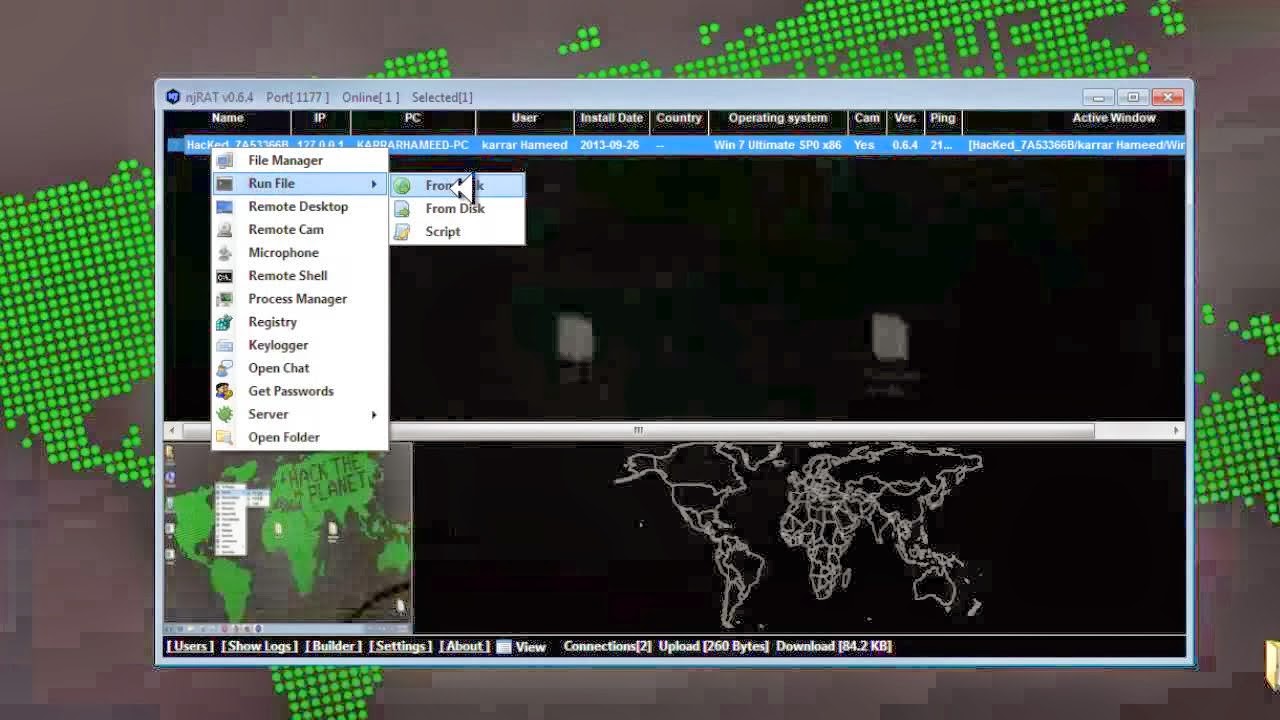 A RAT known by the name njRAT . Is distributed using web pages and emails and users who could potentially be affected are those that make use of any Windows operating systems.
Like the other threat that we mentioned above, cybercriminals make use of these tools to control your computer and use it to send bulk spam e-mails and even performing denial of service attack against websites or companies.
Download | njRAT.
AndroRAT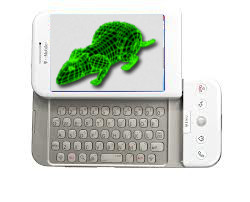 AndroRAT is a RAT (Remote Administration Tool) open code for Android . It is a client-server application developed in Java (Java Android for client and Java / Swing for the server) by a team of four university developers. By using this tool you can do listed hacks.
Get the contacts (and all information on them)

Get call logs

Get all messages

GPS Tracking / Red

Monitor incoming messages in real time

Monitor phone status in real time (received call, dialed call, missed call ..)

Take a picture from the camera

Get the microphone (or other sources ..)

Get the streaming video (only for customers based on activity)

Send a text message

Opening a URL in the default browser

Vibrate the phone
The Android application runs as a service (not an activity ) that begins during startup. Therefore the user does not have to interact with the service (although there is an activity debug to configure the IP address and port connection). The connection to the server can be triggered by an SMS or a call (configurable) .
The tools that we present are options for remote access , among many others. All above listed RAT Remote Administration Tools are the Best RAT tools of 2023. These Remote administration tools can be used on windows 7, 8 , 8.1 and 10.  Thanks for reading.