Clash Royale Arena 11 leaked new game mods, cards of future march update. Here we have revealing it comes with 4 NEW cards, New Arena, Clan Battle!.
Supercell is about to introduce a new revolution in its flagship game. The next update of Clash Royale comes important changes, with new game modes, new cards and Arena 11. Which replaces the Legendary as the highest level.
These new features of Clash Royale will be introduced step by step until the 24th March. The leak occurred behind the back of the developer, who believed they had these secrets well guarded, safe from all players.
You may Also Like:
Its one of the combat and strategy game that most downloaded game on Google Play. Following a freemium game has become a whole machine to make money, also got the ranking of the most profitable apps on Android. The pace of new features and new mods keeps the players hooked, without getting bored despite reaching the Legendary Arena.
Clash Royale Arena 11 Leaked March update!

(New cards, Clan battles and more)
---
#1

 Clan Battle Mode
---
One of the most important novelties to reach Clash Royale is the Battle of Clans Mode , which will team up with another member of your clan to wage a fight two against two, obviously against members of a rival clan.
In this mode you will be able to briefly see the deck of your partner, as well as the movements you make with your cards before releasing them in the Arena. Coordination will be the key to raising cups in Clan Battle Mode, trophies that will accumulate in a safe.
It is not known if you can choose who you want to fight with. At the moment it has been revealed that you can join a companion who is requesting company to start a battle, without the possibility of inviting one of your friends to join yours.
According to the author of the leak, this mode will only be available on weekends.
#2

Arena 11, the new Legendary
---
A long ago an Intermediate Arena was introduced after reaching the Arena 10, now comes a new Legendary Arena. This is Arena 11, the highest in the game. To access you need to raise decks in Clash Royale until you reach the 3,800 trophies, at which point you will ascend to the new Olympus.
As a result of the incorporation, the Arena 10 stops being the Legendary one and happens to be called Hog Mountain in English and Sand of the Pigs in Spanish.
#3

Four new cards
---
These are the new cards of Clash Royale New Arena 11 you can include in your deck:
1. Bandit: costs of three elixir, with melee attacks to a single enemy. On level one, it produces 160 damage per second.
2. Bats: flying horde card with a cost of two elixir. There are five bats in all.
3. Night witch: can summon bats. Perform melee attacks.
4. Heal: This spell restores 176 health points per second for three seconds, a total of 529 points. It acts in an area of ??three squares.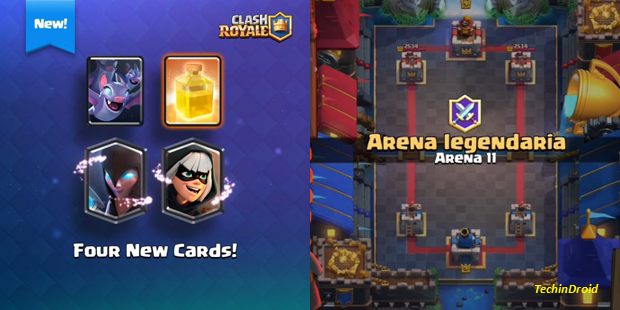 Splinter cell will release this update soon you may except that on (end of the March Or the April first week).