Last Update: September 2023
Among the free alternatives to Microsoft Office we find WPS Office (A android, iOS, Linux, Mac microsoft office), one of the best.
Obviously Microsoft Office come as a text editor (and other formats) pre-installed by Windows default, And it becomes the king of the editors. Even in macOS could also be proclaimed as the most used. However, based in Andorid, its not yet managed to get a huge success enough (although they are working on some smartphones like Samsung Galaxy S8 and others). But, if we look further, we must have to find the best alternatives to Microsoft Office that are almost as good and free.
You may also like:
WPS Office is one of them. And i could say that its the best on the list of free ms office alternative. Its also have payment plans, the free one works very well. The payment wall is mainly for cloud storage; Although without paying we still have 1 GB.
WPS Office is considered as Chinese Microsoft Office
The rest of office packages usually don't upgrade or malfunction. This, on the other hand, leaves a very good taste from the first time we tried it . The resemblance to the official Windows package is what makes it so simple (and useful) for us to use it.
WPS office is the best free Microsoft Office Alternative 2023
---
WPS office is the free microsoft office alternative for mac, windows 10, linux, iOS And Android smartphones. So it can be called as universal app available on most of the OS platforms.
WPS Office, little complete but, useful
At first it was distributed in Europe under the name of Kingsoft Office (and its probable that you hear this name already) but, today, after a reunification, they have launched as a brand new WPS Office.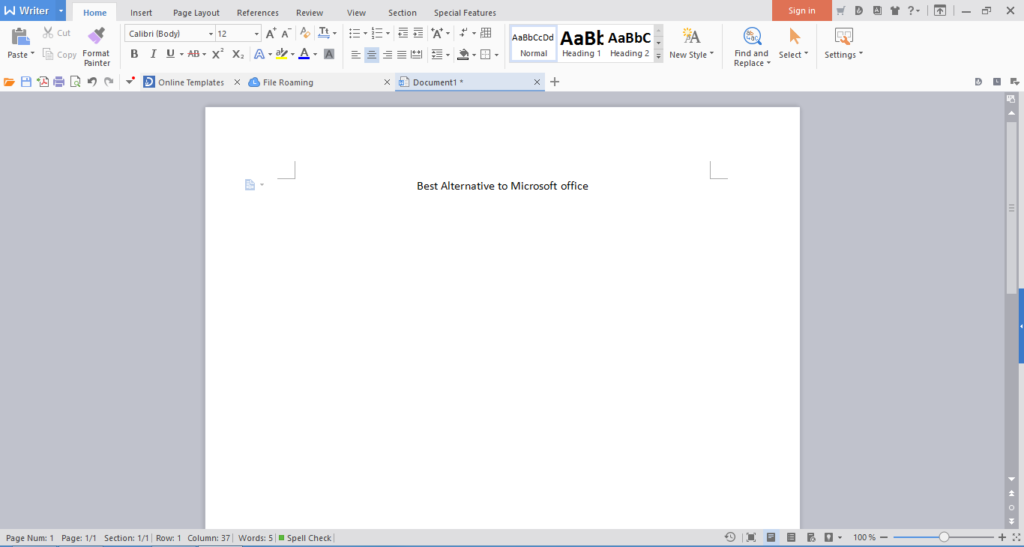 The package consists:
A Writer , a text document editor (same as Microsoft Word).
Spreadsheets , a spreadsheet editor (such as Microsoft Excel) and Presentations.
A presentation editor (such as Microsoft PowerPoint).
As we see, its not very complete, because it leaves aside the databases, the mail manager, vector graphics and the graphics editor (these last two Microsoft doesn't have them but, other packages does).
One of the things I personally like most about this office package is that it has a default free template store for each of the publishers. That is, we can find, for example, CV / resume templates in the text editor or templates of economic summaries in the spreadsheet editor. So this kingsoft WPS office 2016 is the top alternative to microsoft office 2017.