WhatsApp was testing a new feature that would allow users to have a profile and wall … and we were not far from reality. 

WhatsApp New status! Feature
WhatsApp has just announced the new launch of "WhatsApp Status", a new tool that will allow users around the world to put photos, videos and GIF files in WhatsApp status.
WhatsApp Status is a new feature of the app now in the hands of Mark Zuckerberg that is being distributed at the moment in both Android and iPhone . Just have the latest version of the app to see that from now on the main screen of WhatsApp shows you a new tab with the status of your contacts . In this tab you can see both your own profile status and the publications of the people you have added to your calendar.
New WhatsApp status Feature!
---
The new WhatsApp Status feature hides many secrets. Do you know how to prevent a contact from seeing your status? Do you want to know who has seen your status? And, above all, do you want to create your first ephemeral story in the application? So stay with us in this WhatsApp Status guide where we'll explain step by step everything you need to know about this new feature.
In short , The new WhatsApp Status feature can be boosted in the following way: it allows us to publish stories that mix photos, videos, and GIFs (with the option of adding text, drawings and even stickers on top) Of our contacts can see those stories and, to finish, guarantees us that after 24 hours our publication will disappear forever .
Are you ready to create your first status ? See how it works (it's the same on Android as on iOS).
So you can create your first story
---
Downloaded the latest version of WhatsApp, you will have noticed that in the main interface now a new tab with the name Of "Status". (if you didn't have so, here you have to update whatsapp through Google Play and  the App Store).
For Android phone:
For iPhone:

The function is being distributed gradually , which means that it may take a few days for status to be available to all users. Since WhatsApp is activating this option from your servers, you may not see the feature until after a while even with the latest version of the app installed.
To create the first status , follow these instructions:
1 Open the WhatsApp.
2 Navigate to the new " Status " tab, which is located right between the "Chats" and "Calls" tabs.
3 Click on the " My status – add a status update " option.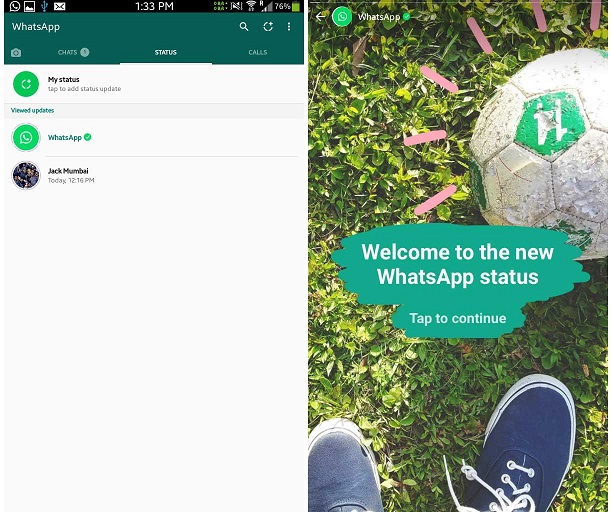 4 Now you have two options: you can choose the photos, videos or GIFs from your photo gallery or you can make a new photo / video using the camera of the phone.
5 Once you have done, on the screen you will see different options to customize your status with text, emoticons or drawings. Add everything you want and when you're done click on the button at the bottom right of the screen. From here your status is already ready to be viewed by any of your contacts.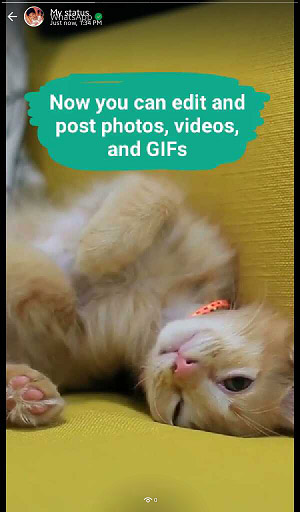 You will also notice that there is another button to update the status . It has the shape of a circle divided into several stripes and depending on the version of your application you will see it at the bottom of the screen or at the top. In any case, the important thing is that it also serves to create the ephemeral story.
How do i stop Someone From seeing My Status?
---
Who all have on your contact that under no circumstances would see your status publications in WhatsApp . Fortunately, A section that allows us to add exceptions for people who can see our status.
WhatsApp status new feature privacy options:
My contacts (Your status will be visible to all contacts)
My contacts except.. (Select the person who dont you want to see your status.)
Only share with.. (Selected contacts only see our status)
To choose one of these three settings, all you have to do is go to the Settings section of the application, access the " Account " tab , enter " Privacy " and click on " Privacy of Status ". In this section we will be able to select the level of privacy of our publications.