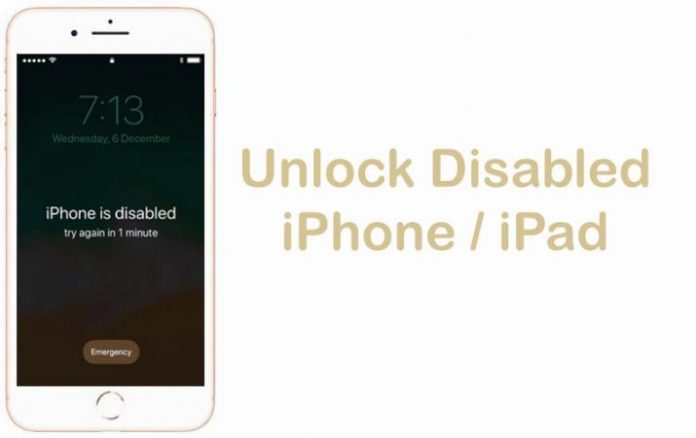 As every other smartphone in the market nowadays, Apple devices iPhone and iPad have a very strong security system. You can either lock your phone using a 4-digit code, a full password composed of numbers, letters and/or symbols, facial recognition, and fingerprint recognition.
All of these features sound good, but we're all human. Maybe you used a full password for locking your device and you forgot said password later, so you lost all access to your device. What can you do if your iPhone is disabled? Today in Techindroid we bring you an app that can help you with that.
Tenorshare 4uKey is, for all terms and purposes, an unlocking tool. It will help you if you can't access your iPhone or iPad by any other means. Tenorshare 4uKey will bypass the password, reset to the factory settings and allow you to use your smartphone again. You should take into account a couple of things before using it:
– Tenorshare 4uKey will reset the phone to factory settings. Try to only use it if your iPhone is disabled If you can access it by other means without resetting the phone then go ahead.
– If you still want to use this software, create a backup of your phone data beforehand.
– You're going to need your Apple ID and password to use your iPhone / iPad after using Tenorshare 4uKey. If you don't have an Apple ID, create one.
You need to download the software first. Windows and mac users can download it, By clicking the below download button.
Download Tenorshare 4uKey

After download, plug your iPhone / iPad to your computer and click the Start button. You will be prompted to download the latest iOS firmware. This is done because after removing the phone passcode, Tenorshare 4uKey can update your iPhone if you download this.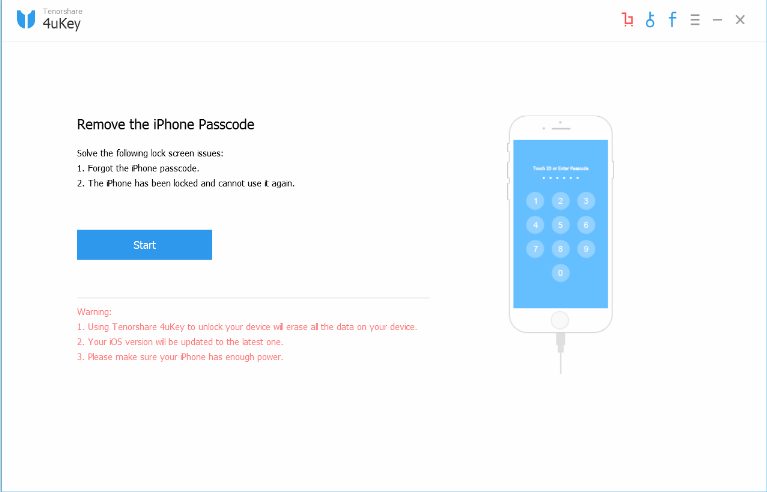 Tenorshare 4uKey will always select the latest iOS firmware that your iPhone can support.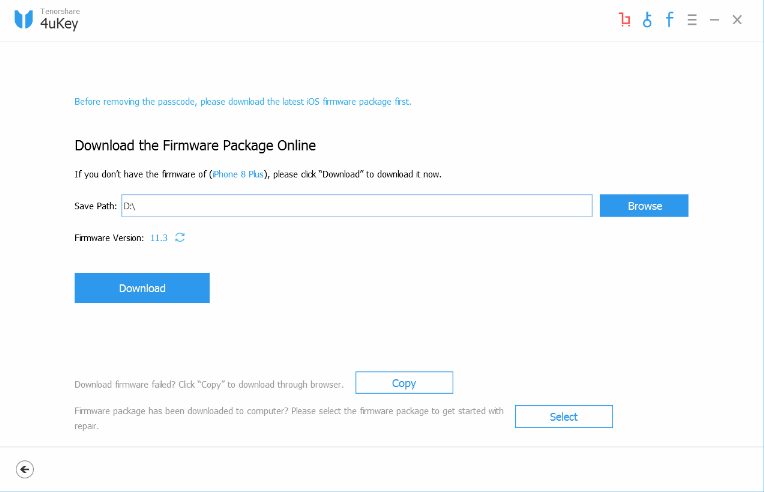 Once you finish downloading the firmware, you can go on with the unlocking. Click on Start Unlock. Enter your email address and registration code (you need to buy the software to obtain a registration code, so if you haven't done it, click on Buy Now). Once you're done, click again on Start Unlock.
Your iPhone will begin the unlocking process at this point – a status bar in both the app and the phone will show you how long it's going to take. Don't unplug the phone, by any means! Doing so would brick the phone, rendering it useless.
After completion, you will see the "Hello" screen on your iPhone. Just follow the instructions on your phone until reaching the home screen – congratulations, you just unlocked your phone using Tenorshare 4uKey!
Tenorshare 4uKey is, basically, a recovery utility. If you're a tech enthusiast and you know how to use your phone even when it comes to not-so-known settings like the iPhone Recovery mode, you probably don't need this. But Tenorshare 4uKey makes the whole process a lot easier, it's user-friendly, and almost anyone can use it to revive their phone.
If your iPhone is disabled, and you don't even know what's Recovery mode, but you need your phone back, this app will save you a lot of time. Also, Tenorshare 4uKey works even if your phone screen doesn't work, so if you really need to recover your phone and the buttons or display aren't working, this software is completely worth your money.
Tenorshare 4uKey currently offers 3 packages for the final user:
1 Year Subscription – USD 49.95, 1 PC
Family Pack – USD 69.95, Lifetime, 2-5 PCs
Unlimited License – USD 349.95, Lifetime, no PC limit
We sincerely hope this app will help you if you came here looking for a solution. Feel free to talk about your experience with Tenorshare 4uKey in the comment section below.