Are you a creative person? or a designer, brand or a celebrity who wants to earn some money or just someone who wants to have fun with new cool stickers and gifs. If you come under any of those people then, this application is made for you. Sticker Market as the name suggests an online platform for buying and selling stickers, Gifs and templates. This application is made by the company Sticker Market, Inc.
When you heard the word 'marketplace', you instantly think about paying for a product. But don't worry, Sticker Market place has thousands of free stickers, Gifs and templates you can use. Sticker Market is available for both Android and iOS. The app is completely free with an option of in-app purchases.
Sticker Market: Emoji keyboard for Android
---
The Android application is beautifully designed and is easy to use. The application is divided into three main parts which are Sticker Market, Sticker cam and Sticker keyboard.
Sticker Market place lets you gain access to thousands of both free and paid stickers, Gifs and templates.
The marketplace has smooth navigation and easy to use UI.
You can even search for a particular keyword. If the keyword you search for has a huge number of results, you can use the filter option to narrow your results.
Sticker cam is another creative and fun element this app offers. Sticker camera lets you put funny templates and stickers on your face.
You can either take a new picture with your camera by adjusting your face to the template or browse a photo of with a face from your gallery. By default you are given two stickers, you can download more by going to the marketplace.
To access stickers and gifs that you downloaded, You need change your keyboard from default to Sticky keyboard market keyboard. You can do that by going to settings-> Language and input (Personal section)-> Change keyboard and select Sticky keyboard market.
Now you should be able to see all of your downloaded stickers and gifs and use it in conversations.
You can customise your Sticker keyboard by going selecting sticker keyboard in the application.
You can choose from two themes for your keyboard which are dark and light.
If you struggle with reading and writing in English or if you are not a native English speaker then don't worry, The Sticker Keyboard supports 10 languages to choose from and they are English, Spanish, Russian, Armenian, German, French, Italian, Ukrainian, Georgian and Dutch.
This application also provides an option of being a creator. You can check the details by clicking on "Become a Creator" option below your name in side menu.
Being a creator means making your own sticker set and uploading it to market. If you are a celebrity, well-known brand, or just a new brand whose just starting, you can use the feature of creating and selling stickers to promote your brand and gain publicity. Many big brands make personalised stickers to gain some popularity. If the sole purpose of the stickers to increase awareness of your brand, then I suggest you keep stickers free.
You can earn a decent income by selling your sticker set. To become a creator, you need to go to their website and slide down and click on "For Partners or Creators. As shown in the below pic.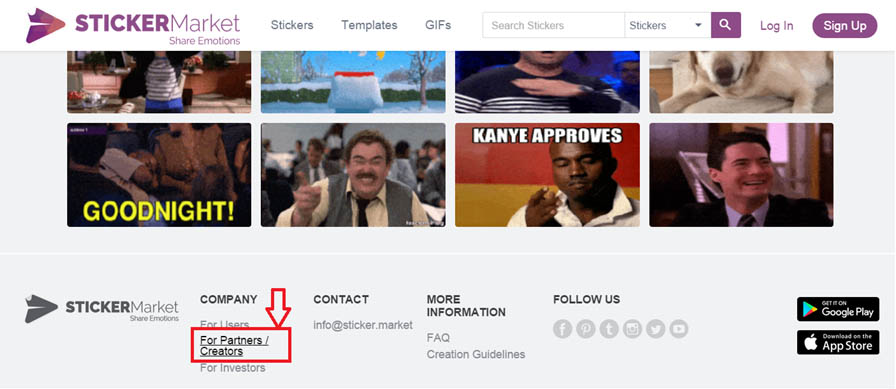 Then you will be redirected to a registration page. After registration is complete you will be able to add and sell stickers. There is 0% fee to add and sell stickers in Sticker Market.
All in all, the option of being a creator and also be able download gorgeous and elegant looking stickers makes it a must have application on your device.