System failure and data loss are the main threatens in our daily life and work. We store all important things on our computers, such as working files and documents, memorable photos and videos, interesting games and movies, confidential invoices and bills. Once the disaster comes, none of them can be found back as the original state. The numbers of ways to lose your important data are more than you can imagine, including important files get corrupt, virus and malware infection, partitions are accidentally formatted, unintentional deletion, hard disks malfunction and others.
To back your data up is the best way to rescue your data. AOMEI Backupper is one of the best backup software to help backing up all important data on Windows operating system, files and folders and hard drives. The functions and advanced features of this backup software are really useful and amazing. With it you can not only restore everything back to its original state or retrieve lost/deleted data, but also clone a smaller HDD to a larger HDD for disk upgrade, or clone HDD to SSD for better performance.
AOMEI Backupper Features and Performance
---
Backup Features: AOMEI Backupper provides several kinds of backup features which is covering all types with your demands. It guards your data and Windows system safety. It includes system backup, disk backup, partition backup, file backup and file sync. You can choose to make a full backup, incremental backup or differential backup with setting a schedule backup automatically.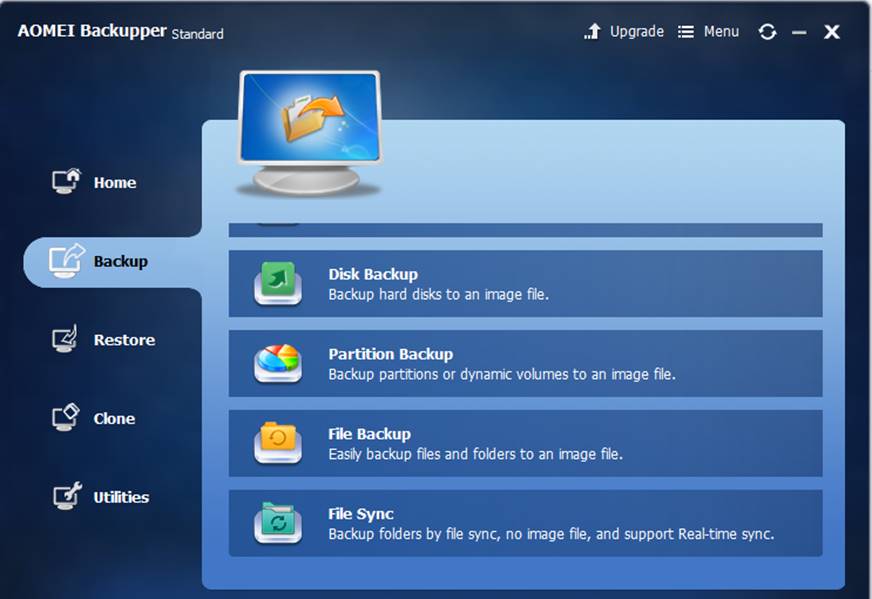 Restore Features: Based on the backup images you made, you can restore everything back to its original state with few clicks. The standard version supports the basic restore, such as system restore, file restore, hard disk restore, partition restore and the paid version supports dissimilar hardware restore.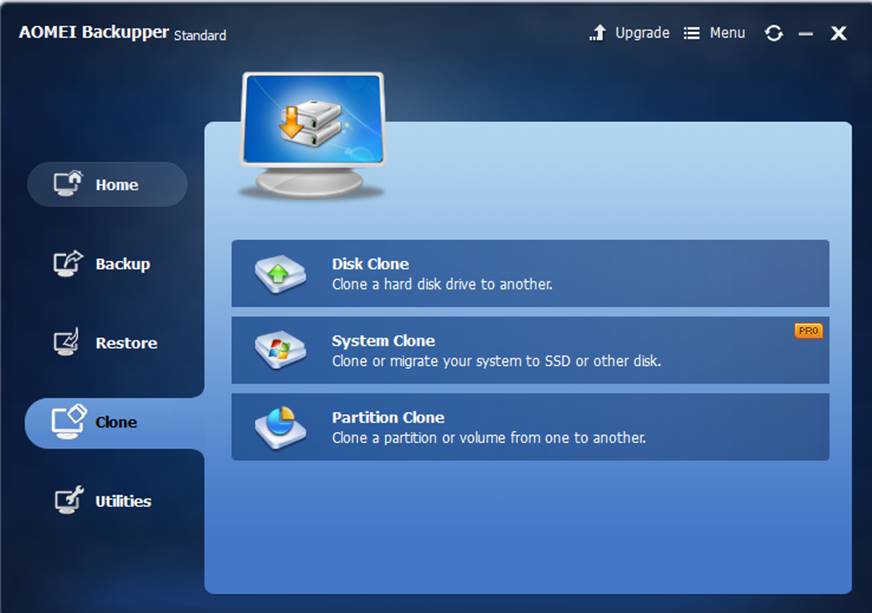 Clone Features: Its not only a free backup software but also a powerful disk cloning software. It supports disk clone, partition/volume and the paid version supports to migrate operating system from hard disk to SSD or new hard disk without locking.
Other Utilities: It's an integrated software that contains many useful functions and customized settings. With all these features, this would be able to fulfill most of your needs of data backup.
System Requirements and Supported Operating Systems
 Minimum Hardware requirements: 500 MHz x86 or compatible CPU; 256MB RAM memory; Mouse or other pointing device (recommended);
 Supported OS: Microsoft Windows 10, 8, 8.1, 7, XP, Vista, Windows Server 2003, 2008 (R2), 2012 (R2), 2016 and Windows Small Business Server 2011;
 Supported File Systems: FAT16; FAT32; NTFS; ReFS; Ext2/3; ExFAT.  While there are some limitations in the free version, it does offer a useful and impressive performance without paid for it. Those kinds of features, such as to create a system image to keep Windows safe, to migrate entire hard drive to new SSD for better performance and to create bootable rescue media and others, provide the easiest solutions to solve the involuted questions. As long as this program can meet your requirements, you're welcome to free use it on computers in the home and business environments, with no intention to gain commercial advantage or monetary compensation.
By the way, AOMEI Backupper Network 4.5 Beta, which centralized backup software to create and manage backup tasks for multiple computers in the network from one central management console, will be released in the coming early December. Grasp the chance to experience it: Official site.