Technology advances at a really fast pace sometimes. Even while you read this, there's still a lot of new things being in development right now. 4K quality was something that caught all of us by surprise, and now we can enjoy such quality in our daily life – a lot of people has drones, iPhones or Android smartphones, and other devices that can handle 4K video recording. However, not everything is perfect. The storage space you need for handling 4K videos is excessive sometimes and we need to do a lot of things in order to handle the videos we make or download. Some video editors don't support 4K video processing yet, and uploading the video to the Internet is a gigantic task most of the time.
We can manipulate a video in 4K quality as easily as we can do it with any other video. Compressing, audio processing, change of the video format and size are some options that come to mind. But, as we said earlier, not every video editor can do that. And with the few ones that do support 4K, the user usually enters a gamble in which the quality of the video is sacrificed for the sake of less file size. And the process can take a lot of time – when we say a lot, we mean it. Can you imagine taking more than an hour trying to compress video size?
Sooner or later you're going to need a better tool. Here in Techindroid, we will talk about what we think is the best choice currently available for 4K video processing MacX Video Converter Pro.
What Is MacX Video Converter Pro? Not Just Another 4K Video Transcoder
When it comes to 4K video processing, MacX Video Converter Pro is the best program. Made as an all-in-one tool, this editor has an unmatched speed when it comes to converting 4K ultra HD videos. This is achieved thanks to its acceleration techs, made for using the best of your graphics card. It doesn't matter what brand do you own – MacX will edit your 4K videos at full speed. You can see and download the program yourself, Clicking on below download button.
| Program name: | MacX Video Converter Pro |
| --- | --- |
| Size: | 35MB |
| Operating system: | Windows / Mac. |
| License: | Paid. (Trial available) |
| Last updated: | 22/March/2018 |
Download MacX Video Converter Pro for Mac & Windows.

How To Use MacX Video Converter Pro
---
If you want to try the program for yourself, Techindroid also has a simple tutorial so you can start to convert your 4K ultra HD videos as fast as possible.
Steps:
1.) Download MacX Video Converter Pro using the product page (listed above). You have a trial version that you can use, however you must be aware that you won't be able to use the full capabilities of the program this way.
2.) After download, install the program. Use the product key to register if you paid for the full version.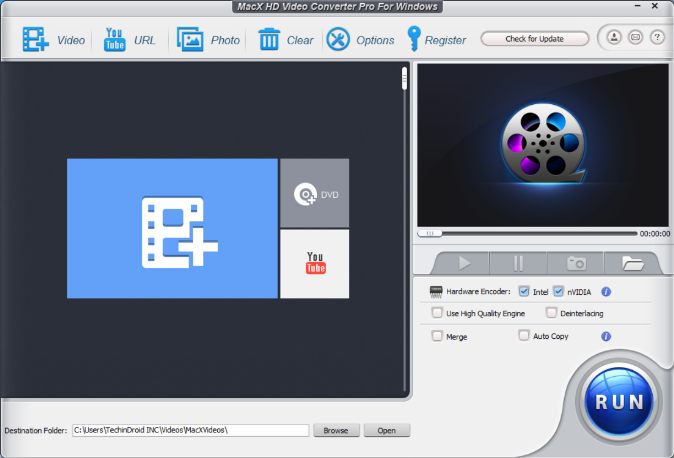 3.) When it's done with the installation, open the program. Import the video file into the program clicking on "Add videos". Choose the 4K videos you want to convert. The program can select more than one file.
4.) Once you're done, you must select the output format. Click on the one you wish. The program has a select list so you can navigate between the 200+ formats it can support and choose the one that suits your needs best.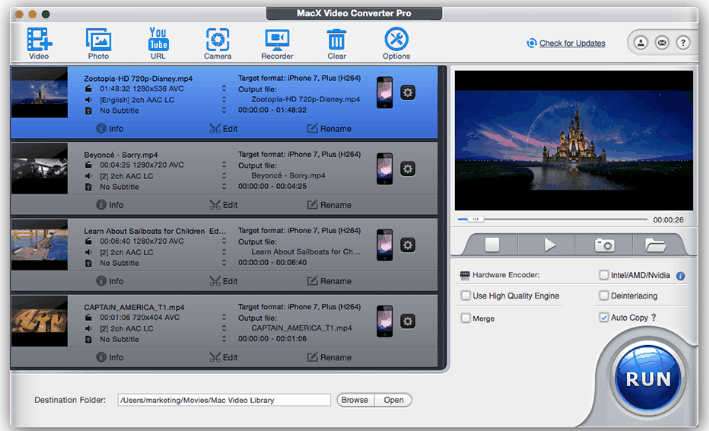 5.) Next, click on the "Browse" button. Select the destination folder for the final video.
6.) Click on the "Run" button. The program will start the conversion and you'll be able to track the progress looking at the status bar. Once this is done you can enjoy the final result!
MacX Video Converter Pro can do all of the following:
Process 4K ultra HD Videos at the fastest speed.
Convert 4K ultra HD videos to MP4, MOV, and 200+ available formats.
Convert video formats to make them compatible with Mac, iPhone, Android and 400+ other devices.
Compress/resize large-sized 4K videos to 1080P, 720P, H.265, and other formats to save storage space in your Mac or iPhone.
Edit 4K videos, trim, merge, crop, add watermark and subtitles.
Adjust 4K video frame rate, bit rate, codec and more parameters.
Edit at the fastest video processing speed available and with lossless video quality, based on Intel QSV/Nvidia/AMD hardware acceleration techs.
Lossless output video quality ensured by High Quality Engine and Deinterlacing tech
Download 4K, HD videos from YouTube and 300+ sites.
Record your Mac screen and shot 4K ultra HD videos with Mac's built-in camera.
Not every program has a built-in acceleration tool designed for making the best 4K video processing. MacX Video Converter Pro relies on this technology on many of its features, so you need to be sure of having the minimum requirements if you want to use the program to its full capacity. Such minimal requirements are an iMac/iPro or a MacBook Air/Pro with an Intel Core i3/i5/i7 Sandy Bridge CPU.
In contrast to software acceleration (a feature that some programs have that depends on the overall performance of the program to make a good job), MacX Video Converter pro uses hardware acceleration – it uses the power available in your dedicated graphics card, and it does a better job overall than the programs that use software acceleration. It gets better – using your GPU for 4K video processing will let your CPU breathe. Software acceleration-based programs put a very heavy burden on the CPU, something that MacX Video Converter Pro won't do at all. And you don't need to worry about the quality of the finished video since MacX Video Converter Pro uses Deinterlacing tech, a High-Quality Engine, and an Auto Copy Mode to maintain the video in its original quality, even after editing.
If you compare this program to another one, Handbrake for Mac, you can see a huge difference – converting an MKV 4K video to MP4 using Handbrake (a program without hardware acceleration) took 33 minutes. It ended running at 18 fps and lost a lot of quality. MacX Video Converter Pro without using the hardware acceleration option took 20 minutes, already beating Handbrake, and ended up running at 50 fps without losing quality at all – but even this is minimal compared to MacX with hardware acceleration enabled. It did the job in 4 minutes and allowed the video to play at a blazing pace of 150 fps! It's already obvious why this program is the best option available when you need to compress video size.
#1 Video Processing Tool – MacX Video Converter Pro
If you work a lot with 4K video processing, even if you only record 4K videos for fun, this tool is a complete must-have. The speed of the program, the features it has, and the hardware acceleration technology, completely flawless in its job, leaves the user completely satisfied, without a doubt. It does more than just compress video size, though – MacX Video Converter Pro is an all-in-one program full of other useful features, such as screen recording, slideshow making, video downloader and editor, and more. You can buy the program for just $29.95 at the official page and we really encourage you to do so, if you own a Mac. Don't hesitate – you won't be disappointed.
Do you have a previous experience with MacX Video Converter Pro? Have you tried the program already? Let us know in the comments box below!