Do you have a lot of old DVDs? Maybe they use too much physical space. What if you could convert them all into your Mac, or just rip them and place them in your smartphone? MacX DVD Ripper Pro is a program specifically designed for that – we'll talk about it and explain what can this program do.
We all know how useful can DVDs be. These beautiful disks were created over a decade ago and have managed to stay relevant for a lot of time. However, nowadays you don't really need them in order to save your files. DVDs were mostly used for saving multimedia files and games – today you only need space in your local computer in order to do that since the storage space of hard drives has improved a lot in the past years. We also have SD cards, SSDs and USB drives, so the options are wider, and the need for using DVDs is smaller every day. But you still must have old DVDs in your home, storing old movies or games that you may or may not keep at all… If you want to, keep reading! We'll offer you an alternative for converting your old DVDs into MP4 files with MacX DVD Ripper Pro – now offering a free version giveaway for shopping holiday!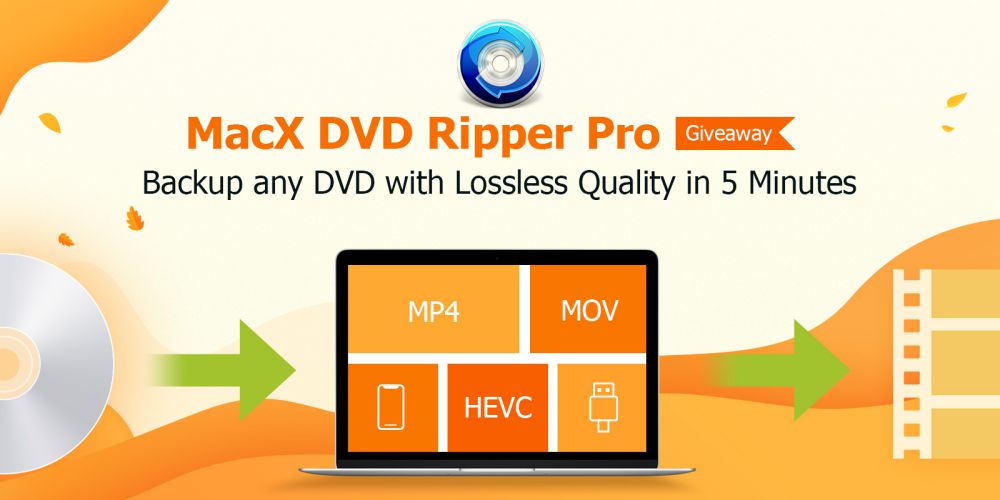 What Is MacX DVD Ripper Pro?
This program, as the name already says, specializes on DVD ripping and conversion. The clean interface and its straightforward setup are assets that will appeal to the novices and people that are not very fond of using computers for everything. MacX DVD Ripper Pro is very easy to use, it uses little storage space and it does its work pretty fast. It's only available for Mac at the moment. We went ahead and tested the program. We downloaded it here and ended up being very satisfied with it.
The application gives the user a lot of options with its features:
You will be able to convert any type of DVD available in the market. MacX DVD Ripper Pro can read, analyze and extract data from any kind of DVD.
It supports a huge variety of formats, so you can convert your DVD into whatever format you may need. That means your movies can be played in a lot of devices, such as Android, iOS or Windows Phone smartphones.
Copy DVD to Mac via four modes without quality loss.
The program has two unique advantages over its competitors: Level-3 Hardware Acceleration technology and a core built with a High Quality Engine. Both of these features boost the overall capacity of the program using the power of your computer in order to make a better, faster job.
You can upload your finished backup file to various online sites, such as Youtube, or Vimeo.
How to Use MacX DVD Ripper Pro
---
MacX DVD Ripper Pro has different uses. We're going to teach you how to convert a DVD to an MP4 file.
1. First, you need to download the program from the main site. Once downloaded and installed, start the application.
2. Insert the disc that you want to convert on your Mac. Enter on the program's interface and click on the Disk button.
3. After the program reads the DVD, you will see a list of all available titles inside of it. You will be prompted to export the title selected by default – this is easy to change if you want to, however.
4. After selecting the title you want to export, the program will show you the customizable parameters and the output video format. We chose MP4, of course.
5. Then click on Browse, and select the place where you want to put the converted file.
6. Finally, click on the Run button. MacX DVD Ripper Pro will start the ripping process. The process will be fast, thanks to the Level-3 Acceleration Technology mentioned earlier.
This isn't the only thing you can do with MacX DVD Ripper Pro. The program excels at its capacities and features, as we said earlier. You can add subtitles to the converted files, trim the videos before ripping them, merge various titles into one file (useful when you're ripping a DVD with more than just one title), and change a lot of parameters before making the final cut.
Right now, the creators of the program are doing a giveaway for the holidays. You can enter here to win a free license key of MacX DVD Ripper Pro! The giveaway will be up until December 10, 2020. If you share this giveaway page on your Facebook or Twitter you will have a chance to win an iTunes $30 gift card every day. Check out the giveaway page every day – the winners will be announced at the bottom.
We were convinced in that MacX DVD Ripper Pro is definitely one of the best programs at what it does. If you need an application to convert your old DVDs, check this one out! You can tell us about your experience later in the comment section.