Last Update: September 2023
Are you get bored with the default odd built-in theme of your Windows PC or laptop? Its the time to overcome that. The human nature which always wants to change and renovate things to trend and as a result. We have developed so many things in past few years. Today, in techindroid we going to show you about how to modify your windows laptop or pc with unique themes and skins.
Yes, you can easily make your pc look like Tony's laptop in Ironman movie. And there is so another theme available on the internet. And I can bet that you will love them. In this article, I am going to tell you about best rainmeter themes.
Microsoft has tried to make its native desktop application a bit dynamic with Windows 8 and Windows 10. However, it still leaves a lot to be desired. When you have to stare at the same desktop for days and months you are bound to get bored. In fact, there is a chance you may completely start ignoring the desktop. However, things can change and they most definitely do with Rainmeter.
Rainmeter is a Windows application that can completely transform the way your desktop looks. The looks, however, are not what this tool is all about; it also makes your desktop way more functional. What's most amazing about Rainmeter is that it supports hundreds of skins. This means you will never run out of beautiful options. In this article we round up the
1. IssInfo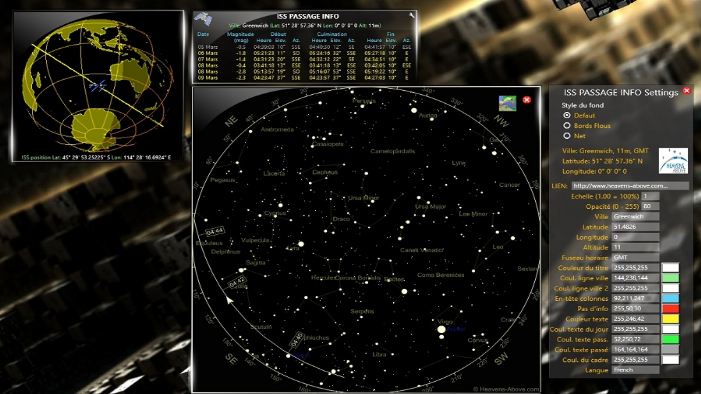 If you like everything that is outer space, IssInfo is the theme for you. This theme gives you the sneak peek into the glittering starts, location of the international space stations, constellations and so much more. IssInfo can make your desktop even more amazing. It also provides some awesome stats and facts from time to time.
2. Game of Thrones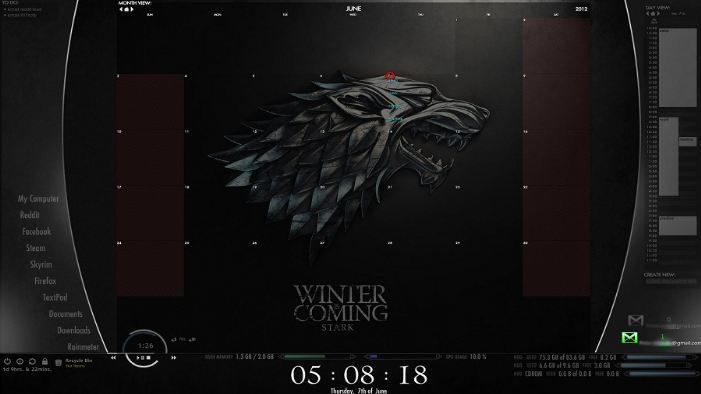 Game of Thrones is the TV series that needs no introduction. For all the fans of this very popular show, here is the Rainmeter skin for you. This skin has some incredible collection of GoT wallpapers of different moments from the timeline. The theme also lets you edit the icons on the dock.
3. Epure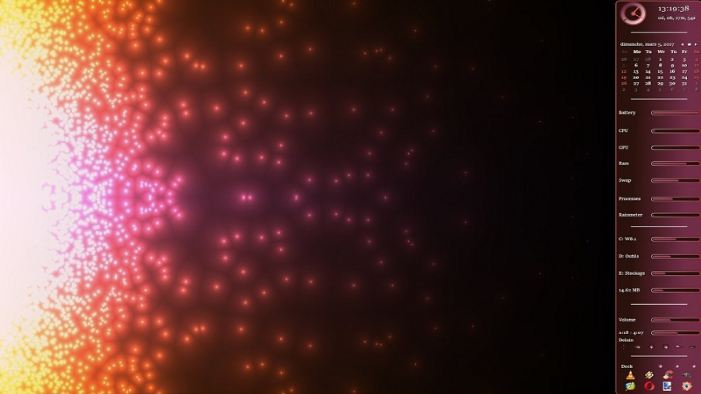 If you are looking for a Rainmeter theme that makes it extremely easy to monitor your computer without losing the touch of beauty, Epure is the one for you. This theme packs some awesome animations and graphics. What's more amazing is that the theme is very customizable. Also, it supports many European languages.
4. Himawari-8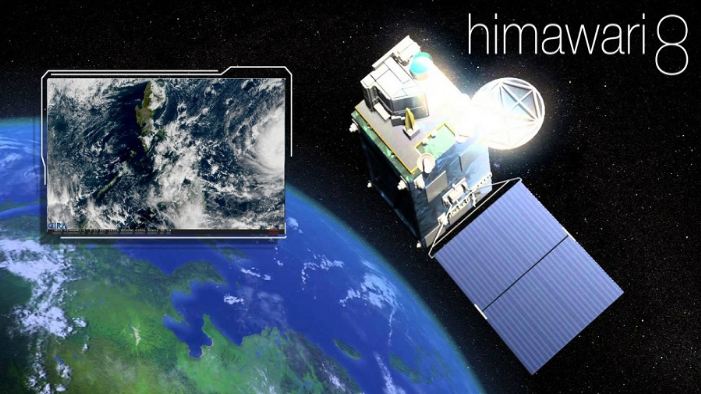 Himawari-8 is the app that keeps you up to date with the whether in the Pacific. So, if you happen to live in a Southeast country, Japan, Hawaii or even Australia, this app can be a good choice for you. The information is updated in every 10 minutes. The skin picks the information from the reliable weather sources. It also has a pretty good looking display.
5. Enigma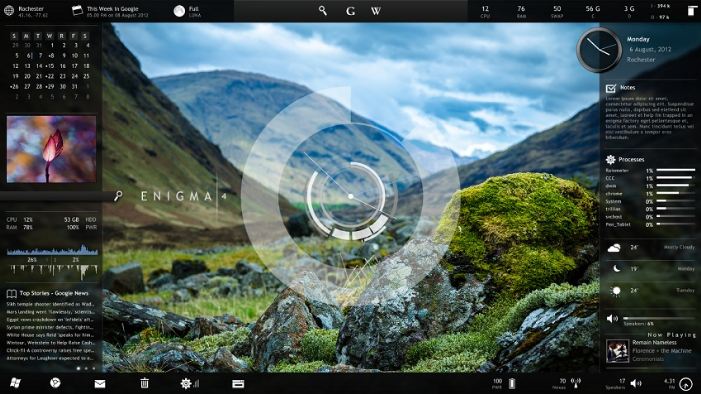 Enigma is one of the best Rainmeter themes designed for Windows 10 and you will be surprised to see how it completely transforms the display into something incredibly beautiful. The skin sticks to minimal design and yet manages to hold on to beauty. Engima rainmeter is also very customizable and offers a user friendly display.
6. Def Blue Space 1.5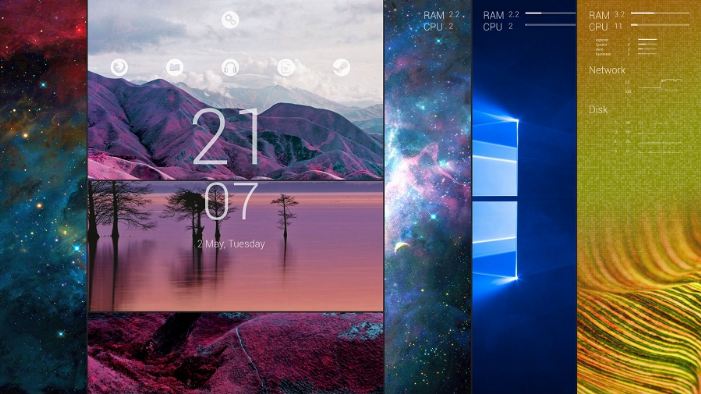 If you use dual monitors or screen, you will like to consider Def Blue Space 1.5 Rainmeter skin. This theme is primarily an assortment of a variety of applets picked from a number of developers. The theme also lets you install HWInfor and SpeedFan allowing you access to even more features.
7. X2ui 1.2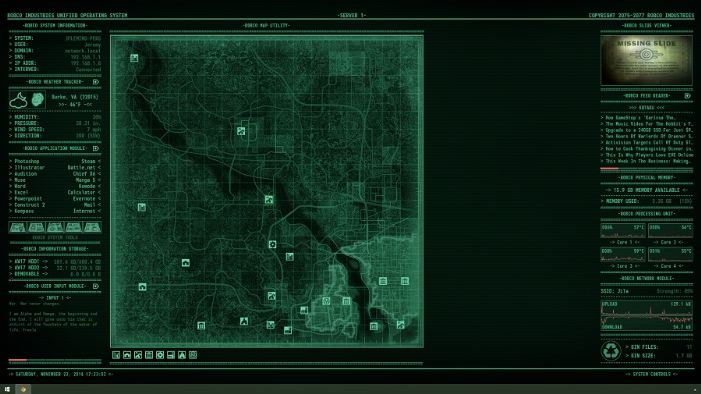 If you wish to lend a more futuristic look to your computer, this is the Rainmeter theme to have. In fact, your screen may look like the monitor of an alien spaceship. The theme is very geeky and there are tons of graphs and numbers in it. The theme is best for those who love the touch of geekiness.
8. Dark Music Player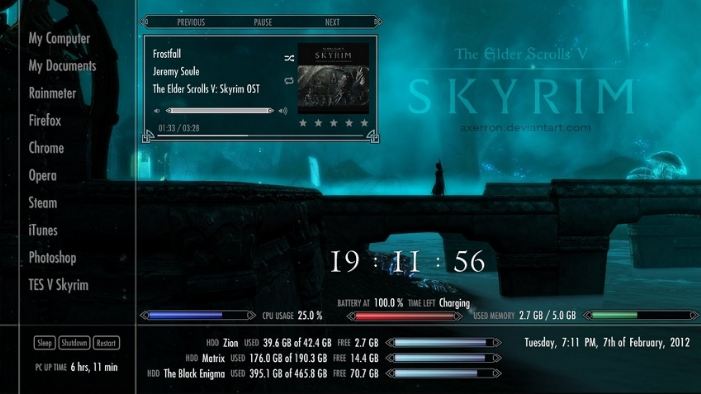 Dark Music Player also looks like a high-tech resembling skin. But, what's amazing is that it also doubles as a music player. If you are bored of VLC or other regular media players, you could give Dark Musi Player a try. The theme supports various music formats as well as iTunes. The controls are easy to use too. Go ahead give it a try.
9. Alignment Grids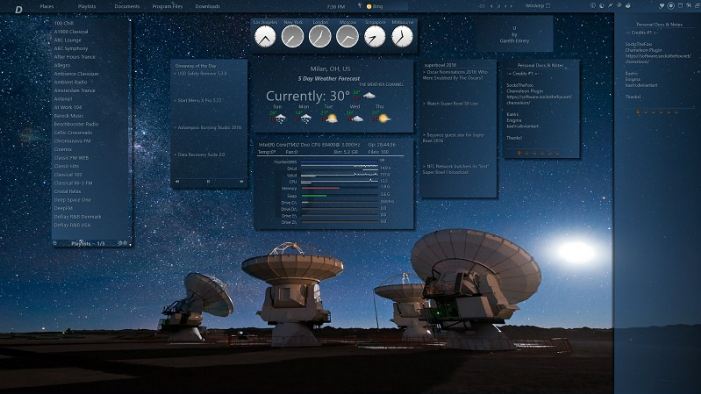 If you want to have several Rainmeter skins on your desktop at one particular time, Alignment Grids can help you here. You will need Rainmeter 3.2 or later version to use this skin. It can give you up to 3 x 3 grid, which can be accessed using the Aspect button. Having this skin is like having multiple desktops on the same computer.
10. Silmeria Dock Honeymoon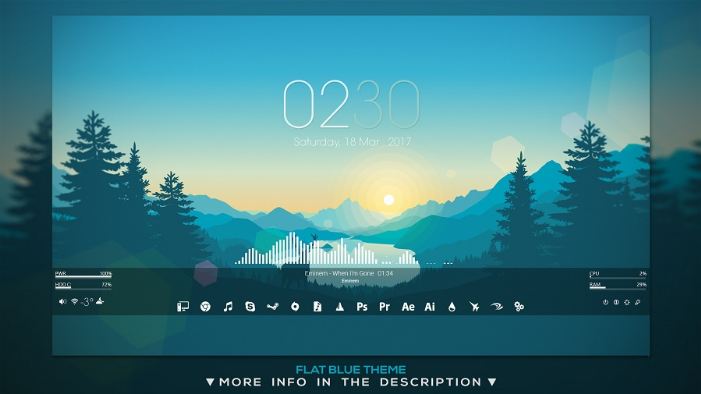 Silmeria Dock Honeymoon is not just a good looking skin, it is also a good utility to have. It enhances the functionality of your Windows and gives you quick access to various apps and utilities. You can also save shortcuts and bookmarks in it. It is a simple and very effective Rainmeter weather skin.