Last Update: September 2023
10 Best Backup Software To BACKUP

Windows
Perform regular backups should be one of the most important tasks of the user of a computer, however, only a minority does thoroughly and regularly. So we have listed some Best backup software to backup windows. The rest are taking a big risk since there are many incidents that can erase data on computer systems. The most common are hardware failures, which can mean damaged hard drives, CD or DVD unreadable, computer virus attacks, and human errors.
Backups are the most effective way to prevent data loss in computer systems method. The following article will list the 10 best backup software for Windows.
1. EASEUS Todo Backup Free 2023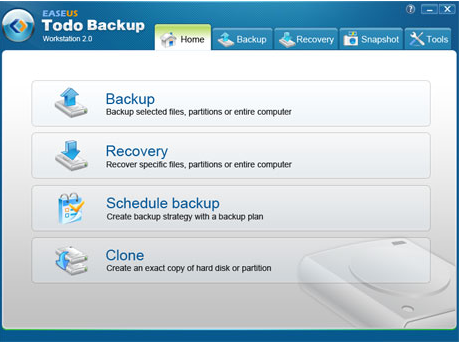 Works with Windows 10, 8, 8.1, Windows 7 (32 and 64 bit), Windows Vista, Windows XP, Windows 2000 and Windows Server 2003/2008. Easeus Todo Backup Free is a backup software for Windows systems comprehensive in this free version designed for home environments but which has no shortage of options for us to breathe more relaxed if your hard drive for any reason stops working.
When creating a backup we have three basic choices. Make a copy partition or hard disk, make a copy of the file or files and finally make a backup of the system.
2. Cobian Backup version: 11.2.0.582
Cobian Backup is a best backup software free for personal use security that supports local and remote copies of security. The software is constantly being developed by the developer which means that the features are regularly included.
Some of the key features include copies of full, differential and incremental backups, file compression format that includes the popular 7-zip with the strongest encryption for data security.
Ideal for Windows XP, 2003, Vista, 2008, Windows 7 (32 T-64 bits). NO it has been stolen: Windows 8, 8.1 and Windows 10.
3. DeltaCopy
A good open source alternative to perform incremental backups with the single click you can access the restore options, task scheduling and email notifications. Some advanced options include tunnels SSH and Rsync daemons connection.
This software uses a client-server system. You can create one or more backup servers on computers running Windows by installing the server version in these computer systems. The client installed on the computer system anywhere where the files should be periodically pocketing.
Supports: XP, 2000, 2003, 2008, Vista, Windows 7 and Windows 8
4- Ace Backup
Programs to make backups
The powerful and best backup software free security that supports multiple versions, backup local and remote locations, file compression and encryption.
Supports: Windows 98, XP, Vista, Windows 7 and Windows 8
5. Microsoft SyncToy
SyncToy is offered by Microsoft as a free download for the Windows operating system. It can be used to easily synchronize data between computer systems.
The program offers five different synchronization options that the user can choose from, including a preview option before starting the process.
It can be installed on computers running Windows XP, Windows Vista, Windows 7, Windows 8 or Windows Server.
6. Personal Backup
A free copy software for the advanced user that offers excellent file filtering security. It comes with the usual set of features including creating local and remote copies of safety (including SFTP), file compression and encryption, status reports and generating log files. You can work with Windows 2000, XP, Vista, Windows 7 (32 and 64 bit), Windows 8
7. Allways Sync
Other software that is designed primarily for file synchronization also backs up files on a local drive, on a local network or the Internet. Works on a per directory and can be installed on as many computers the user desires. The software comes as an installation or as a portable version. It works with Windows 8, Windows 7 (32 and 64 bit), Windows Vista, Windows XP, Windows 2000 and Windows Server 2003/2008.
8. Comodo Backup
Another free security solution for Windows users. Comodo Backup can backup files and folders on a local computer system to other units, network locations, FTP servers and removable media.
Backups can be scheduled and notifications can be sent to report when a backup is completed. Other features include backup compression options data recovery, support multi-session copies of incremental backups and security.
Supports: Windows XP x86 SP2, Windows XP x64 SP2, Windows Server 2003 x86, Windows Server 2003 x64, Windows Vista x86, Windows Vista x64, Windows Server 2008 x86, Windows Server 2008 x64, Windows 7 x86, Windows 7 x64 and Windows 8
9. Areca Backup
Areca Backup is a free solution for backup in Windows. Areca Backup includes a maker of backup engine and a GUI and command line interface.
The application includes the following features:
 Compression ZIP / ZIP64 format
 Encryption AES 128 & AES 256
 Filters backup (by extension, subdirectory, regular expression, size, date, status, usage)
 Supports Incremental backup, differential and full backup
Backup Delta (only the changed parts of files are saved, not the entire file)
 Merge files
 Recover files to a specific date
 Mechanism transaction (with management commit / rollback) for all critical processes (as backups or mergers) to ensure the integrity of the copied files
 backup / recovery UNIX file permissions
 Reports of e-mails
 Simulation backup
 Support FTP and FTPS (SSL / TLS both in explicit and implicit)
The choice of backup program depends on several factors including the size of the data, the frequency of backups or local infrastructure. It is not possible to identify a single application software as the best free backup software.