There are thousands of things in digital era that a person likes to keep private rather than sharing it openly with others. We often go for lengthy passwords to back up our accounts from the intruders. To preserve your data from spies you often make use of security applications to add protection to important files on your device. You might have several accounts online and it becomes extremely difficult to manage passwords.
Passwork has emerged as a rescuer for all those who are in a habit to forget their passwords. It is an online tool that lets your manage your passwords for different accounts on a highly encrypted server backed with AES 256-Bit encryption. Let us learn more about it.
What is Passwork?
Passwork is one of the best password manager tools that are the product of a successful international collaboration among 3 companies which are united by the thought for creating a unique product for a secure and flawless password management. Primepix, Konfeta, and PriceReporter are the three companies that clubbed together to launch a wonderful product like Passwork.
Passwork streamlines and simplifies the work with the passwords in any organization. The employees of a company will never lose the passwords as they can store it securely and share with other employees as well. This tool has made the management of passwords really simple in an organization and also for the individuals.
Ultimate Features of Passwork
Passwork is a handy tool for password management. A user can store all the secret codes in this tool and grant them different types of access. There is too much to explore about this tool. Let's have a look at some of its excellent features.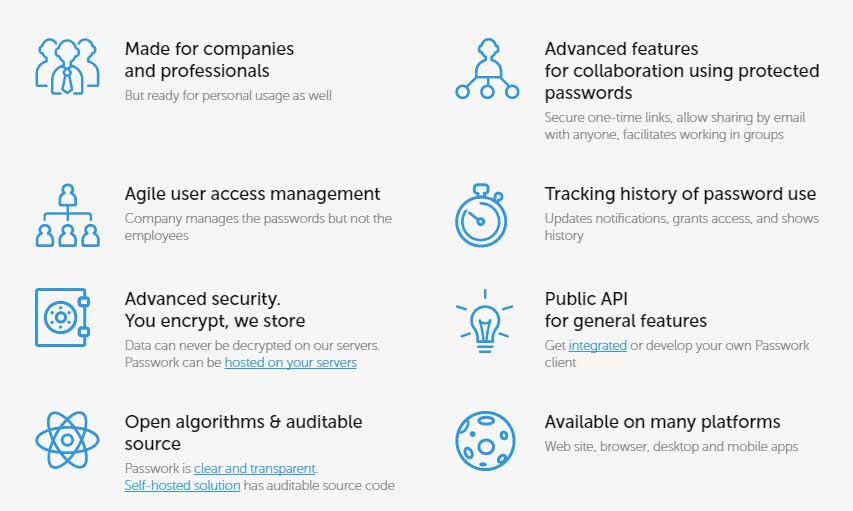 Apart from the above mentioned features, Passwork brings some of the latest features in its new update. Have a look alongside to learn more about them:
New Design: The Passwork 2.0 is revived with a new design. The interface has gone much simpler than before.
New Names: It renamed few of the basic terms with which the users had confusions like the 'Groups' are called 'Vault', 'Group Password' is called 'Invitation Code', and 'Secret Word' is now called as 'Master Password'.
Color Label and Tags: Now, you can even set a color label along with a tag for any password and then make a search by them. The color labels are not visible to other vault users as they are specifically assigned to your account.
Global Search: Now, you can search works for all the vault users and the results not only show the passwords, but even folders.
Shared with Me: It has made a history of the shared vaults, passwords, and the folders. Just in case you forget where the received password was saved, you can look back to the history.
Invitation without Vault Password Passing: You need not send invitation code if the user is already registered with Passwork. It has now improved the system of invitation in its new update.
Advanced Access Settings: It has improved the work with access and rights. It is now made simple and intuitive. You can send the invites directly to the folders, grant access levels for the new folders, and perform other advanced activities with Passwork.
Pricing
Passwork is one of the most cost efficient password managers available on the web. The cloud version access of this tool costs $0.8-$$1.5/user depending on payment cycle. Its Self Hosted plan will cost $48/month. This cost will increase according to the size of the company. You can always try its 14-day free trial version before paying for it.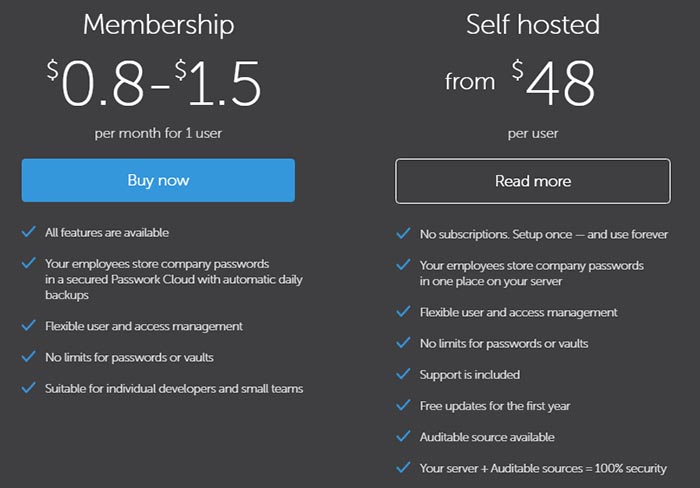 Pros
• All the data stored can be exported in CSV format on your system or any backup storage.
• You can create and share a link with a group by applying certain restrictions. This links expires within 48 hours.
• All your data is automatically backed up in cloud.
• Cost-effective password manager.
The Bottom Line
Passwork has emerged as a cost-effective password manager for the individuals as well as the organizations that always have troubles with handling the passwords. With some of the extraordinary features, it has made password management easier like never before. Try this tool now and get away from all your worries.