Last Update: November 2021
Are you looking for an app that could help you convert all of those DVDs you have in your living room into your PC? Well, why not convert them and have them on your mobile phone or tablet? Take a look at MacX DVD Ripper Pro – we'll review this program, explain its features and tell you our opinion about it.
If you were born in 2005 or earlier, there's no way you haven't seen or used a DVD. These beautiful disks have the power to store a lot of data (well, 3.8 GB were a LOT of storage space when the DVD came out). It could be used for many different purposes, and one of the most popular ones was storing movies and songs on them. However, as time has passed, it turns out 3.8 GB aren't a lot of data anymore, and the storage space (and physical space) of the DVDs is seen as obsolete nowadays. So probably you have a little space in your living room with a lot of DVDs that you don't use anymore… A lot of people do. But what if you could grab all of those movies and disks and store them in your new devices, like your phone, without needing to download them again? The fact is that you can, using a good program for that. And MacX DVD Ripper Pro is an excellent program for ripping DVDs to MP4 files and storing them in your Android or Apple devices.
What is MacX DVD Ripper Pro?
MacX DVD Ripper Pro is a program available for Mac OS specialized in DVD ripping and converting, as its name already says. It has a clean interface and it's easy to comprehend and use, so newcomers shouldn't have a hard time trying to rip a DVD for the first time. It is also really fast – actually, it could be the fastest ripper currently available thanks to the Level-3 Hardware Acceleration feature, which uses the processing power of your GPU to boost the program's running speed, instead of your CPU. You can download the MacX DVD Ripper Pro program from their official website.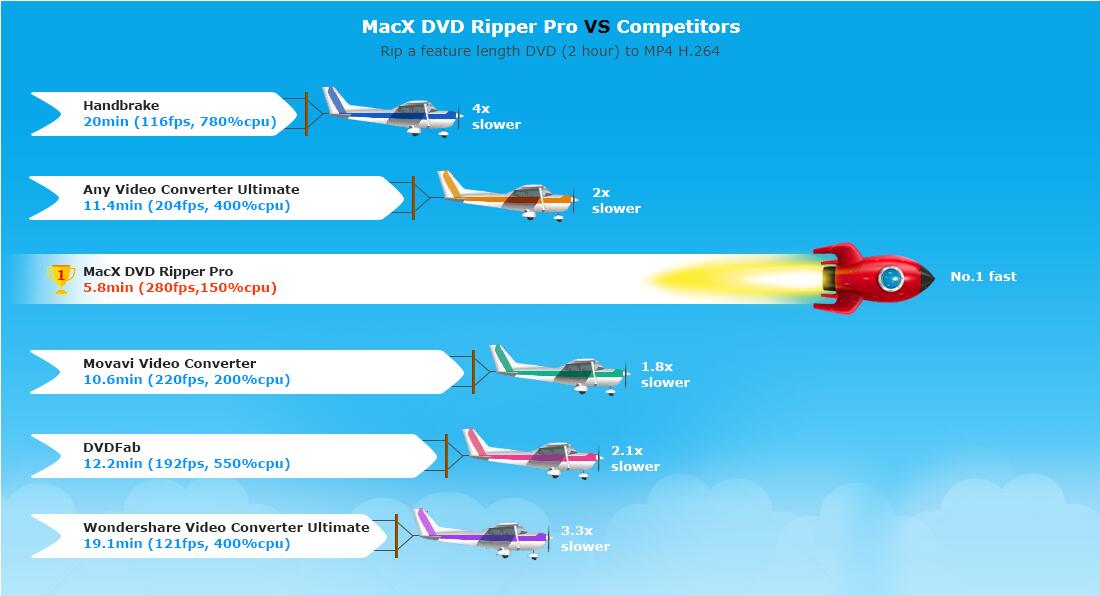 Among the features of this program, you can find the following:
Support for all DVD types available in the market, such as DVD-ROM, DVD-R, DVD+R, DVD-RW, and so on.
The ability to convert a DVD into an MP4 file, and other formats like AVI, MKV, and MOV too.
It allows you to convert the DVD into the best format for your specific device, covering a wide selection of smartphones and tablets.
As I said before, Level-3 Hardware Acceleration feature makes the converting process easier and faster.
It is possible to extract the audio from the DVD and capture images as well.
You can adjust the video and audio parameters in the output file as much as you need to.
After ripping, you can upload the file to various online sites, like Youtube, Google, Vimeo, and others.
How to Use MacX DVD Ripper Pro
---
1. If you want to convert a DVD to MP4, the first thing you need to do is download the program from the main site.
2. After downloading and installation, insert the disk on the PC, open the program and click on the Disc button. This will start to import the DVD file.
3. After a few seconds, you will see a list of all titles inside of the DVD. The main title will be selected to export by default.
4. You can now adjust all parameters for video and audio and select the output video format. Of course, in this example, we'll select MP4.
5. Click on Browse and select where do you want to put the finished export.
6. Click on the Run button to start the ripping. Level-3 acceleration hardware is enabled by default, so the process will be really, really fast!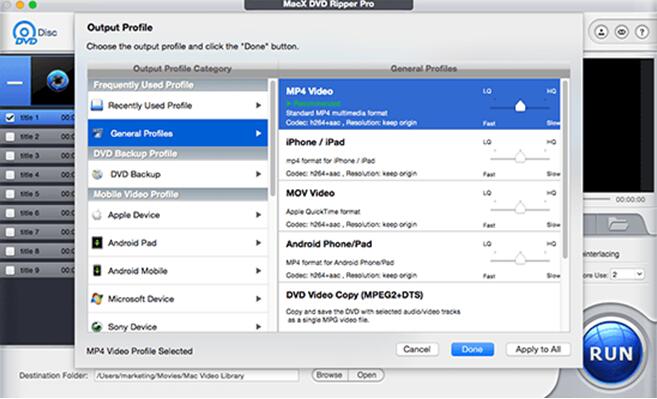 The program can be tested by downloading the free trial version or buying it at a cost of $39.95 right now. Given its speed, interface, and features, MacX DVD Ripper Pro shines as the best option of its type for Apple users. So it's time to prepare your old disks and make some storage space on your devices because this app won't leave you disappointed.