Instant messaging in office spaces helps the employees to collaborate efficiently. It allows teams to communicate faster, broadcast information and share files without getting distracted from what they are doing. So, an effective communication channel should be put in place for your employees/team.
After trying our hands on many LAN and online messaging software, we are pretty convinced that having a feature-rich intra-office Messaging system is necessary for every business. In this article, we have covered the reasons for avoiding online messenger for office use, LAN-based messaging system, features of that intra-office messaging system, and how to use it.
Why are Online Messengers NOT a Good Option?
If you are thinking of using web-based messengers, think again. We would say that LAN messaging works perfectly for companies. And we've got good reasons why they work very well. Here are the reasons:
Spam messages/requests
Security loopholes
More-than-expected data consumption sometimes
Internet connection troubles
Chances of outsiders connecting with your employees.
Annoying Advertisements
Also, you must not forget the fact that not having an online messaging system is a great way to save time, isn't it?
The Best Intra-office Messaging Software
We've already told you not to use online messengers, so you are obviously left with a single choice, i.e. LAN messenger. Since it has to meet all your communication requirements, your chosen intra-office messenger needs to have all the features too. Legacy Windows commands won't help in that case.
During our hunt for an instant messaging for intra-office communications, RealPopup LAN Chat for messaging and file transfer performed the best. We loved it for the reason that it has all the features our team will ever need. Before we move forward and give you details on how this intra-office LAN messenger works, let us take you on a quick tour of this software.
What is RealPopup Intra-office Messaging System?
Integrated with local network environments and apps on Windows OS, this instant messaging tool is built to allow people to communicate smoothly on LAN. RealPopup allows messaging, file transfer, notification/information broadcasting, group chats, desktop sharing for remote assistance, chat record keeping, and more.
The qualities we liked the most in this advanced LAN messenger are:
• Encryption [Data Security]
Given that your office team exchanges enough sensitive data and credentials, the software secures all your conversations using AES Encryption algorithms.
• Ease of File Transfer
RealPopup doesn't require you to choose files using conventional method, but lets you use simple drag-n-drop functionality to transfer files swiftly.
• Compatibility
It is compatible with local messaging tools on Windows 2000, XP, Vista, 7, 8 and 10 (you aren't using Windows 95, right?).
• Ease of Access
This lightweight tool stays in your system tray and auto-starts when your system is turned on, so you can access it whenever you want.
• Saves Cost
Sometimes, we want to share files, and the size of these files could be in GBs. Using the internet, it may take a lot of time to share these files, but on LAN, it can be done easily and without paying anything for it. This increases your team's productivity and helps you save money too.
Installation and Getting Started with RealPopup Messenger
RealPopup does not require your IT guy to sit next to all the PCs and install the software. It can be downloaded separately on each system and used thereafter. All it needs is – Windows and LAN.
The steps to download RealPopup LAN messenger and File Transfer tool are:
1. Visit the official Realpopup LAN chat website.
2. Scroll down and click on the download button, which looks like: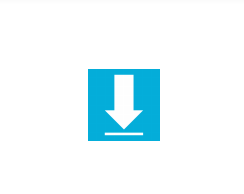 3. Once the software is downloaded, double-click on it to start the installation process.
4. Launch it once the installation is complete.
You will be able to see your team members' names in the contact list now.
RealPopup will show you all the users who are using a LAN communication tool and are online. Even you will be able to see the 'last seen' of that user, status and status message.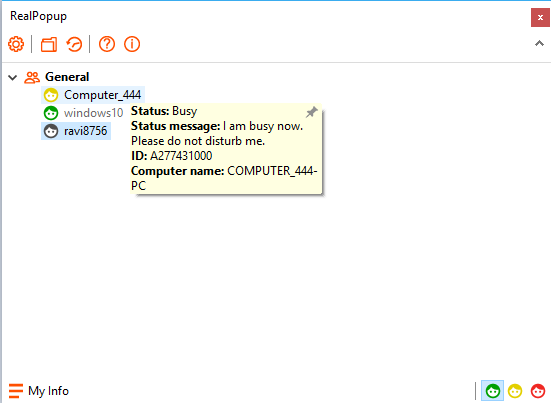 How to Use Advanced LAN Messenger, RealPopup, as your Intra-Office Communication Medium?
•Changing Basic Details
Check the bottom of the tab. You will see 'My info' and status details.

• Changing Status
The image shows the current status of that user as active (green icon is selected). Here, yellow is for 'busy' and red is for 'away'. You can set your status just by clicking on these tiny icons.
• Setting Personal Info
Though RealPopup makes it simple for your team members to recognize their peers by auto-creating usernames as per system's name, but you may want to change this.
Click on 'My Info' on bottom-right side of the tab or go to Settings > User Information.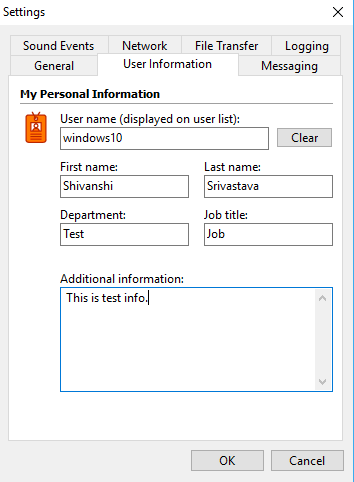 To make your details more elaborate, system name, first & last names, along with department name, job title, and additional description can be added too.
• Managing Users and User Groups
RealPopup lets you create a virtual communication world where teams are partitioned as per the current hierarchy of your organization.
To do so, you will have to right-click on the main tab and click on 'Create Group'. Once the group is created, give your group a name. The name should represent the actual team so that you don't have a time remembering the name.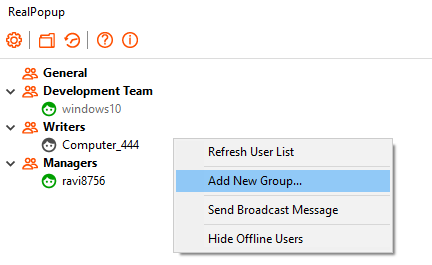 After creating the groups, you just have to drag the usernames and put them in their respective teams.
Creating groups makes it easy for you to converse properly in the long run. Broadcasting or group messaging becomes easy with groups.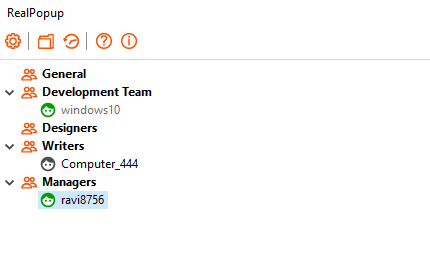 Instant Messaging
Sending IMs on LAN is the main feature of RealPopup. It lets you do one-on-one chats, group messaging and broadcast messaging. Here's how to use its instant messaging feature effectively –
• One-to-One Messaging
The main tab of RealPopup displays the list of users. Click on a person's name to initiate chat with him/her.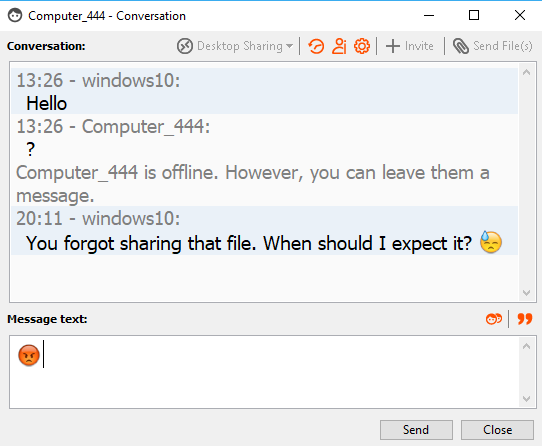 Easy, isn't it?
• Group Messaging
Since you already know the procedure for creating groups, you just have to right-click on the created group and click on 'send message to group'. When you do so, a window will open for you to type your message and send.
• Broadcasting Messages
Sometimes, we want to send the same message to every user or some specific people or some specific groups. In these cases, broadcasting is the best and fastest means of communication.
To send a broadcast message through RealPopup:
– Right-click on main tab and select 'Send Broadcast message' from the list.
– Type your message and select/deselect groups/users as per your preference.
– Click on 'Send'.

• File Sharing
With the help of RealPopup, sharing files with people and groups is as easy as with popular IMs. You can either select the file from the explorer or use its drag-n-drop functionality.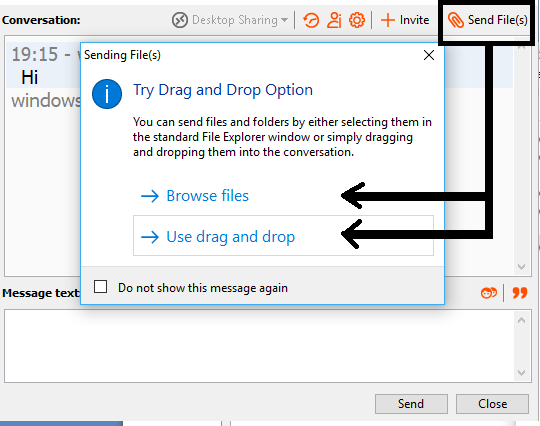 Click on 'Send file' from a messaging window and choose the file-sharing message. You can choose a default file-sharing method to prevent this pop-up from appearing every time.
• Use of Emojis 😀
Spicing up the conversations and building a healthy team relationship is possible with the use of Emojis. So, RealPopup features a full set of cute Emojis. It won't let your team get bored of typical and serious messages too.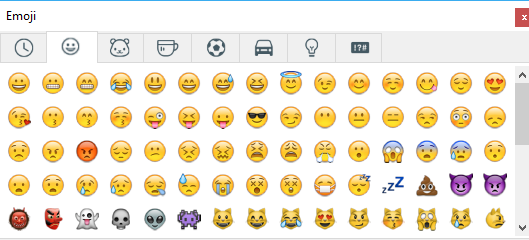 • Checking and Downloading User History
Before removing a user or if you want to save some important chats, we sometimes need to download conversations. For this:
– Click on the clock-like button (refer to the image)
– Select the user.
– Click on print or save to record that user's conversation separately.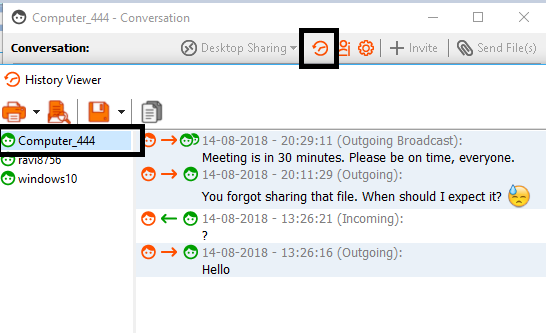 Desktop Sharing
Remote assistance is required in multiple scenarios and that's why RealPopup has a desktop sharing feature. To use it, you will have to go to a conversation and click on 'Desktop Sharing'. Now, as per your system's authority, you can either ask for permission or directly access that system.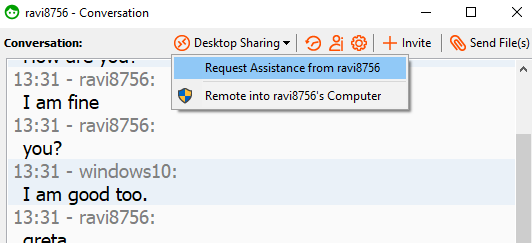 Since RealPopup local messaging app has overcome the limitations of online Instant Messengers, it is a great and safe intra-office communication method available to the corporate world. It increases your team's efficiency, safeguards them from Internet-borne threats and saves time during communication or file transfer. Click here to download RealPopup LAN chat application, install it on every computer of your company's network and start chatting safely!