Last Update: September 2023
Best Keystroke encryption software 2023: There are most types of malware used for spying computer. One of them is Keylogger this malware is record your keyboard strokes and save as a log file. Also it lets another computer accessing our files & attempt to discover passwords for accounts that you access on your computer. However there is another type of malware it can be much more dangerous. We talk about the keylogger , those that capture keystrokes for testing and send hackers.
You may Also like:
keystroke encryption technology
You may didn't hear about these keylogger. Because it runs silently. ie, Hidden, not noticeable, they are simply there to know what we type on keyboard at all times. but always should have security tools that detect & stop keyloggers. Simply encrypt keystrokes by keystroke encryption software hackers are not worth for anything. These are the best free keystroke encryption software 2023.
Top 3 Keystroke encryption software Download
---
SpyShelter Anti-Keylogger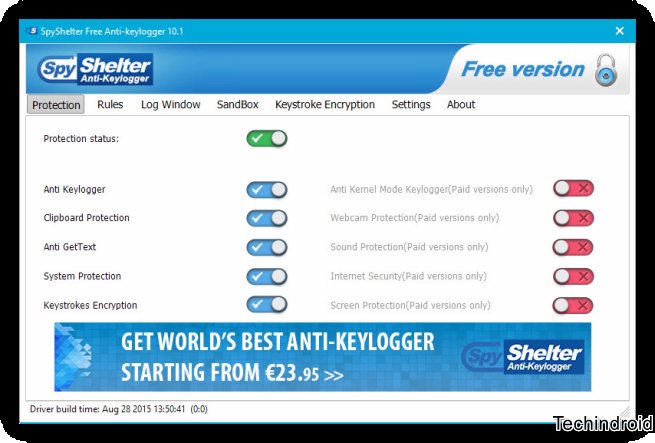 SpyShelter is the Anti-Keylogger software. Its one of the best free keystroke encryption security tool. Its protecting the user from keyloggers. SpyShelter constantly monitors the computer for malicious software. So it is able to detect and remove any Keylogger hacking tool you have installed on your system . In addition, encrypts all keystrokes. So malware can't know what we're writing at all times and therefore have no access to our passwords.
Zemana AntiLogger
Zemana AntiLogger encrypts all keystrokes nothing to install on your computer. It works with all applications you have installed and only the application itself that we are using at any given time know what we're writing. Zemana AntiLogger The good thing is that it is completely free anti-keylogger tool. we just have to install it and forget about it because it works continuously in the background. Just do not figure what Zemana AntiLogger are the sequences and shortcuts like CTRL + X or the ENTER key.
Download | Zemana AntiLogger 

anti keylogger software



Strikeforce Store ID
Another powerful security software that has a product exclusively aimed to detect and prevent keylogger attacks. As indicated it is able to protect user data from threats both known and unknown keylogger. As above figure each keystroke, in addition to providing anti-clickjacking techniques and technology of anti-screen capture. So we can say that in this sense is the most comprehensive of the three.
These are the best free Keystroke encryption software 2023 to stop keyloggers and secure your system from hackers. I hope this article helpful for you & Don't forget to share this article.