AOMEI Partition Assistant – A Great Practical Tool to Manage and Partition Your Hard Drive.
When we talk about adjusting partitions, we usually feel very helpless, because there are many factors need to be considered, and it may take us a lot of time and energy. Are you looking for a simple and efficient hard disk partition management tool for Windows 10/8.1/8/7/Vista/XP? Today We recommend you to try free partition software AOMEI Partition Assistant. AOMEI Partition Assistant Standard is a great alternative to Windows disk management.
With AOMEI Partition Assistant, you can create partition, delete partition, format partition, resize/move partition, extend system partition, shrink volume, split partition merge partitions, convert file system, Windows to go creator, make bootable media, etc. All the problems associated with the disk partition can be solved from here.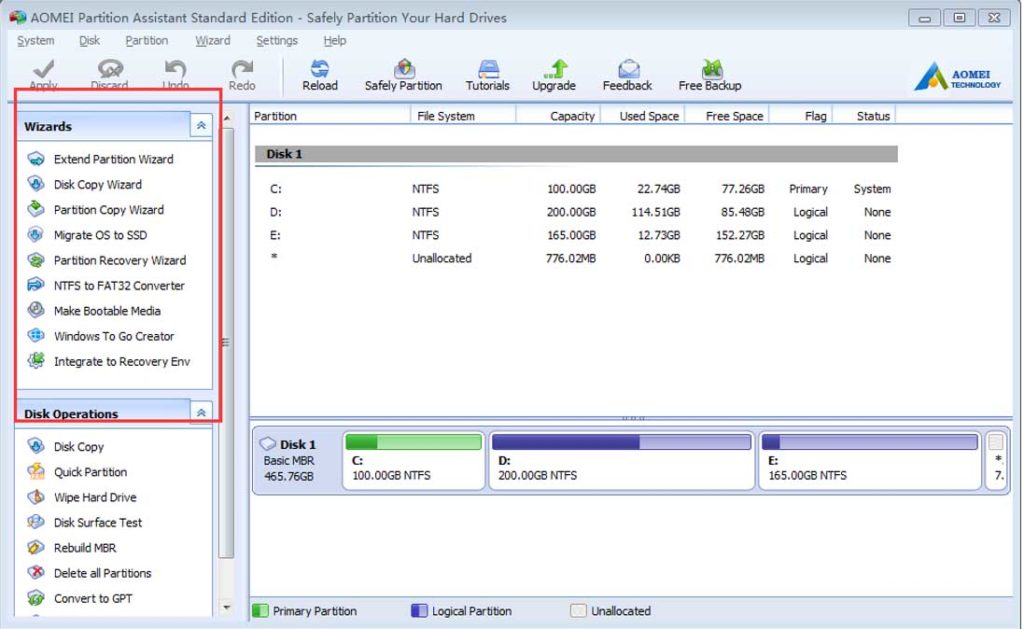 Now AOMEI Partition Assistant has been updated to 6.3, the new version added a new wizard feature named "Integrate to Recovery Environment", which allows you to add AOMEI Partition Assistant or AOMEI Backupper into the recovery environment of current system. This version also enhanced Windows To Go Creator feature, which added support to install Windows 7 on a USB flash drive or a removable disk. The new version allows you to use up more quickly and smoothly!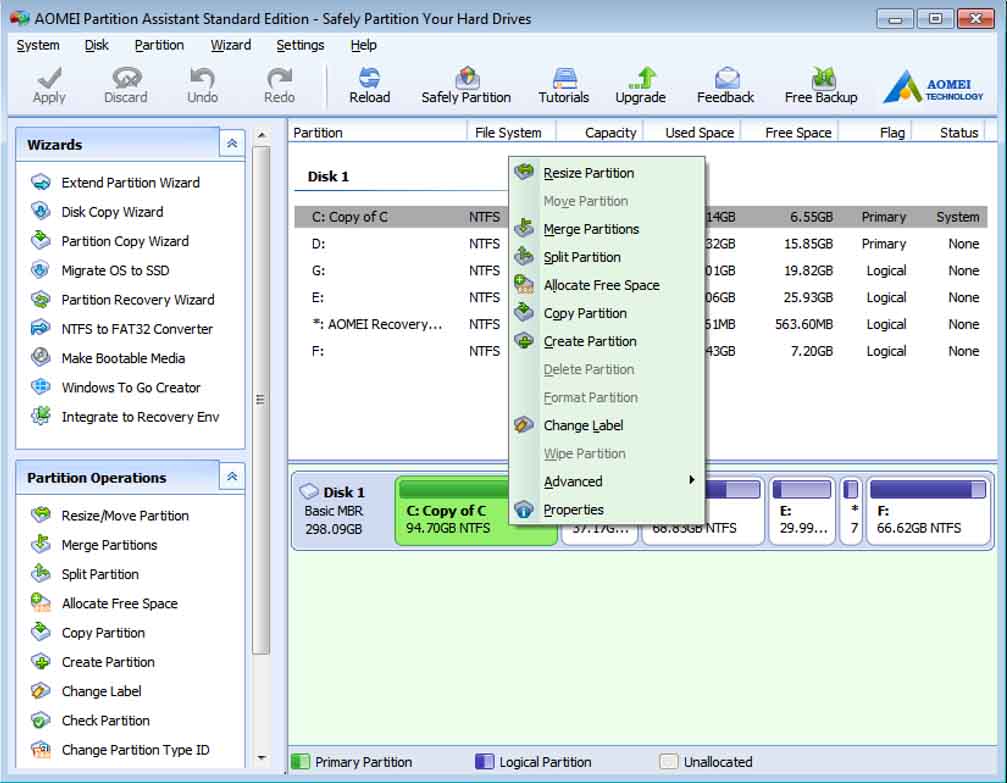 Free download this software from here: http://www.disk-partition.com/download-home.html
Features of AOMEI Partition Assistant
---
☑ Resize and move partition to reorganize your hard drives.
☑ Migrate OS to SSD or HDD for system migration to solid state drive or hard disk drive. New!
☑ Easily extend NTFS system partition to avoid restarting your computer.
☑ Merge non-contiguous unallocated space to partition and merge two partitions.
☑ Split one big partition into two or more.
☑ Allocate free space from one partition to another to fully utilize disk space.
☑ Copy partition for migrating Windows system and data.
☑ Copy disk to a new one without reinstalling Windows and applications.
☑ Partition Recovery Wizard helps you recover lost or deleted partitions with ease.
☑ Convert primary to logical partition and vice versa.
☑ Linux partition management: create, delete, format, wipe, copy, recover Ext2/Ext3 partition, etc. New!
☑ Make bootable CD for safe and better disk partition management.
☑ Support 2TB MBR disk, 4TB GPT disk, and USB flash drive.
☑ Support Windows 2000 Professional, Vista, XP, Windows 7 SP1 and Windows 8 (all editions, 32 bit and 64 bit).
Conclusion
AOMEI Partition Assistant not only has the well thought-out and easy to use interface, but it also has all the basic, advanced, features anyone would use it commodiously. There are seven editions of AOMEI Partition Assistant: Free, Professional, Lite, Technician, Server, Unlimited and Edition Comparison. In addition, AOMEI Partition Assistant Pro also releases new features like convert MBR to GPT, OS migration, Windows 10/8 To Go, etc. If you want buy the pro version from their site.