Best Android TV Box 2017 reviews of January: Aren't you satisfied with the multimedia options offered by your Smart TV or just want to try the gadgets that offers to convert the living room Android TV into a complete multimedia center ?
To convert your ordinary TV into Android Tv, all you need is to connect your TV one of the Android TV box devices. TechinDroid listed Top 5 Best Android TV box 2017 edition for you can choose your best buy android tv box 2017  from our list.
As you know, Android is simple user-friendly operating system for smartphones & tablets. You can also convert your Smart TV into a complete entertainment center from which to play your favorite games, listen to music, watch any series or 4K resolution film or play streaming TV content such as Netflix or Yomvi.
There are many, many different models of Android TV box devices available. But, we've selected some of the most prominent among which have been presented in recent months.
 Best Android TV Box 2017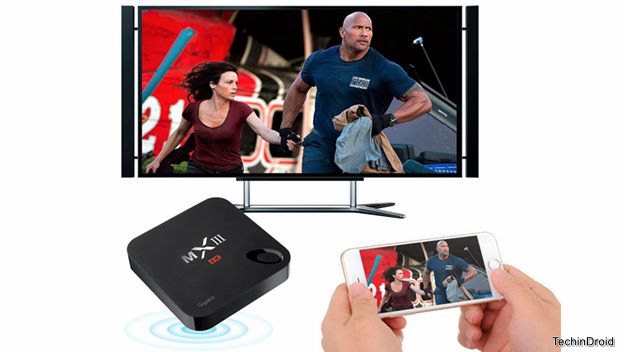 We continue with our selection of  Android TV sticks with VicTsing MXIII MX3 .
The Android TV box VicTsing MXIII MX3 is a best choice to play video content on your Smart TV, 4K resolution both directly from the device as in Full HD via streaming through optimizing hardware decoding for H.265 codec that can offer the same picture quality, with half the bandwidth.
This device runs with Android 5.1, Quad – core Amlogic S812 operating at a frequency of 2 GHz, developed by a GPU Mali 450, 2 GB of RAM. So you will have no problems running the latest games with solvency.
The setup box comes with complete 8 GB of eMMC internal storage memory expandable up to 32 GB if you use a microSD card.
MX3 VicTsing MXIII includes preinstalled entertainment platform Kodi (formerly XBMC), which allows you to expand the content of your movies and series with subtitles, cover art, synopses and reviews from other users.
Also Read:
Connectivity is the strength of this VicTsing MX3 MXIII since, in addition to the decoding hardware that we mentioned, allows transmission of video streaming in a very efficient way with the addition of Wi-Fi Dual-Band (2.4 and 5 GHz) with built-in antenna.
In addition, the MX3 VicTsing MXIII includes Gigabit Ethernet connection and Wi-Fi 802.11 a / b / g / n, Bluetooth 4.0 and support for Miracast and DLNA protocols.
Buy VicTsing MX3 MXIII (Amazon) price: $105