Best Android TV Box 2017 reviews of January: Aren't you satisfied with the multimedia options offered by your Smart TV or just want to try the gadgets that offers to convert the living room Android TV into a complete multimedia center ?
To convert your ordinary TV into Android Tv, all you need is to connect your TV one of the Android TV box devices. TechinDroid listed Top 5 Best Android TV box 2017 edition for you can choose your best buy android tv box 2017  from our list.
As you know, Android is simple user-friendly operating system for smartphones & tablets. You can also convert your Smart TV into a complete entertainment center from which to play your favorite games, listen to music, watch any series or 4K resolution film or play streaming TV content such as Netflix or Yomvi.
There are many, many different models of Android TV box devices available. But, we've selected some of the most prominent among which have been presented in recent months.
 Best Android TV Box 2017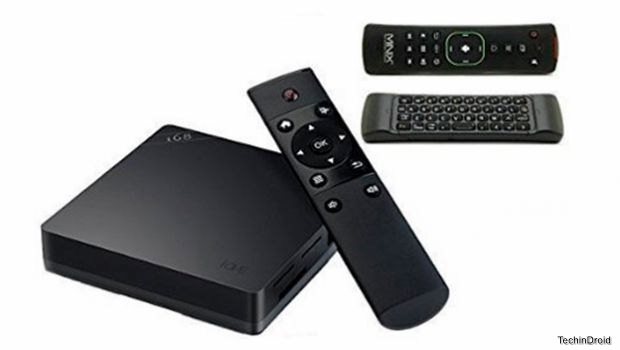 We begin our selection of the top 5 Best Android TV 2016 with Plater I68 Smart TV Box. A desktop Android TV device that runs Lollipop Android 5.1 and offers some really interesting features to convert any Smart TV into a complete leisure and entertainment center .
The I68 Plater Smart TV Box includes eight-core processor RK3368 a Cortez A53 64 – bit operating at a frequency of 1.5 GHz. Supported by an integrated graphics chip that supports OpenGL 3.1, OpenCL 1.2 and DirectX 9.3.
This graphic chip also provides support for 4K hardware decoding (3,840 x 2,160 pixels) at 60 fps with H.264 and H.265 codec.
A2 command Neo Lite includes a gyroscope and accelerometer 6-axis, It also work as a gamepad.
This Android TV Box Smart TV Plater I68 includes 2 GB of RAM DDR3 and 8 GB of eMMC storage, expandable up to 64 GB more if using an additional microSD card.
It also includes a remote control Neo Lite A2 dual function. On one side is a remote control for use with the playback controls, volume and function buttons Android, while if you turn it integrates a complete mini keyboard that lets you type messages.
Plater I68 Smart TV Box is well covered at the connectivity level  as it includes 3 USB ports complete size, micro USB functions OTG to connect storage devices or peripherals, an HDMI connector, HDMI 2.0 (with support 4K / 2K 60 fps), Bluetooth 4.0, Wi-Fi 802.11 a / b / g / n with integrated antenna, Gigabit LAN connection and support Miracast and DLNA.
Buy Plater I68 Smart TV Box (Amazon) price: $75