Best Apps for schedule Shut down your PC: It is likely that at the end of the day or just when we have to go or are downloading an update is being performed on our computer and therefore can not turn it off. It is even likely that the most clueless forget them many times and find it on the next day. It is true that since Windows is possible to delay the equipment off some time. But, we will show two best applications that allow us to set the time you want on the app & it will turn off your pc automatically .
The first is a portable application, so you do not need installation and always have on hand the executable file will be enough to program the computer shutdown. The other application has two versions installable and other portable, but in both cases and both programs can be achieved for free.
Best Apps for schedule Shut down your PC
Shutdown Ninja RTG is the first, has a very simple interface to handle and should only indicate the time and the action we want to run. Set the hour, minutes and seconds, as well as the ability to shutdown, restart or log out . Once the schedule and action. Just click on the SET button to save the settings.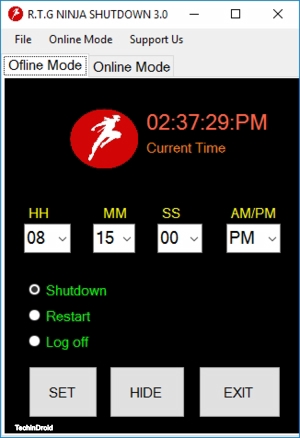 One important thing to note is that RTG Ninja Shutdown will not work if you do not filled all fields, even though the latter are going to leave to zero. To start using this application, you only have to go to this link and proceed downloading it.
Simple Shutdown Timer: Its another Best App for schedule shutdown your pc and as its name suggests is also very simple to use tool with which we will be able to program the specific time you want to shut down, restart, log off or go to sleep or hibernate our computer. though not stand before pc at the time.

It has an extremely simple, like RTG Ninja Shutdown interface, so that only the time, minutes, seconds and the action you want to perform and click the Start button, begin the countdown until the time comes that run on our computer automatically.
These apps are the best apps to schedule shutdown your pc & These Windows tools are very easy to use.