Data roaming, or just roaming, is the mode in which your phone uses mobile data outside of the coverage of your SIM carrier in foreign countries. Although Europe is already working to end roaming, using it can still raise a few extra euros in your monthly phone bill.
Therefore, to travel abroad with a little more tranquility, today we are going to show you how to disable data roaming on your mobile device. We are going to teach you how to do it both in Android and in iOS since they are the two dominant operating systems in the market. Also read, How to reduce Facebook Data usage on Android.
How Do I Turn off Data Roaming On Android?
---
To disable roaming in Android, you have to enter your phone settings. Once you're there, in the section Wireless connections and networks you have to choose the option More. There you will see that several options are displayed. The one that interests you and on which you have to click is Mobile networks.
Open "Settings > More >Mobile Networks".
There you will find an option called "Data roaming", just turn off the slide button.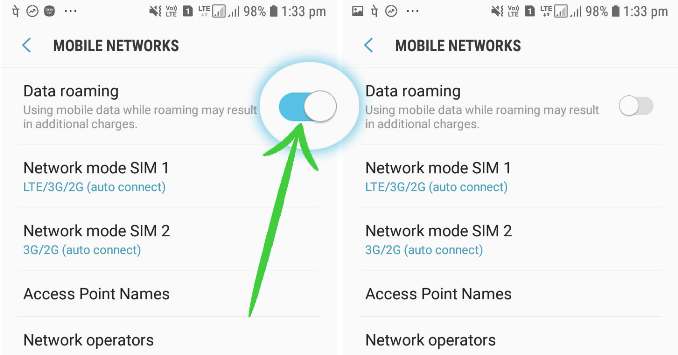 You will enter a moving menu where you can configure various aspects of your network and your operator. There are not many options, but between them, you will see the data roaming option, with a switch. Tap the switch icon to activate or deactivate data roaming. As we always tell you when we deal with Android, the path you should follow to find this option may vary depending on the model of your device. With a Samsung, for example, there is no More option, so if you want to access Mobile Networks, you need to enter into Connections, an option available in the main page of the settings.
Turn Off Data Roaming On iPhone
---
With iOS, the thing is quite similar, and you have the advantage of the operative system – it doesn't matter which iPhone model you own, the options will be the same. Just follow these steps to Turn Off Data Roaming On iPhone X, iPhone  8, iPhone 8 plus, iPhone 7, iPhone 6.
First things first turn on mobile data on your iPhone.
Next you have to open Settings on your mobile, where you will see the option Mobile data in fourth place. Tap on it.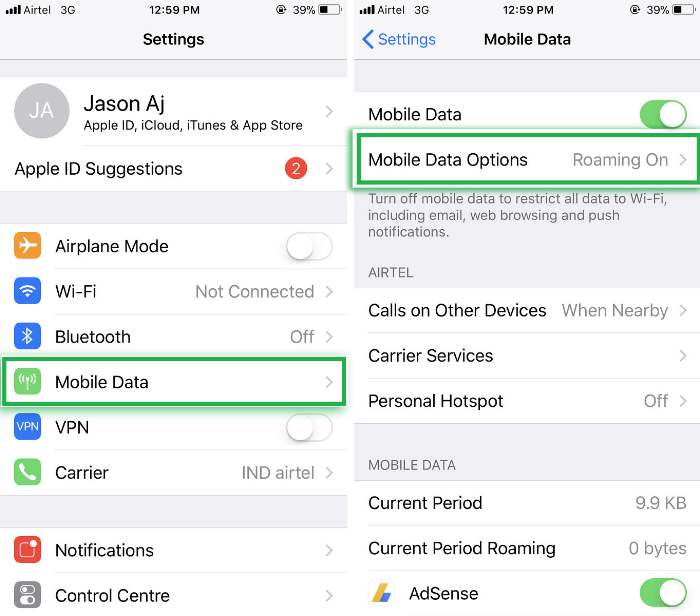 Once inside the mobile data menu, you will have to click on Options. Even before entering there, you will see your current roaming status. You will arrive at a menu with several aspects of your network and operator, and between them, there will be a switch where you can activate or deactivate roaming whenever it is necessary.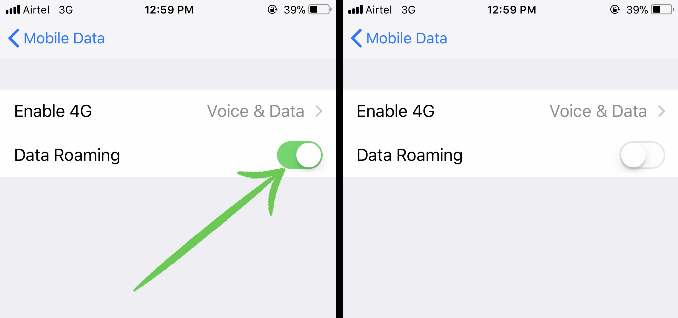 A Couple Of Notes to Keep In Mind
One of the things you have to keep in mind about roaming, especially if you're interested in taking advantage of it, is that you will not always be able to use the Internet abroad, even if you have it activated. You need to check with your operator beforehand, as some of them have the option disabled from their central office and they will not let you use roaming unless you tell them.
You should also pay attention to the fees of each operator depending on the country from which you want to connect. Keep in mind that if you do not have free roaming, in many cases operators will charge you VERY high fees for each megabyte you consume in another country.