One of the most popular thing that we do on social networks are sharing cool stuffs, photos, videos or Gifs with friends. This also same in the case of instant messaging apps. In this article we'll show you share twitter video through other social medias or messaging apps. To do this you will need to save twitter video on your phone and is ease. If you follow the steps we show here, you ready to download Twitter Videos to iPhone, iPad camera roll and share it through any apps.
There are times when you are checking what's going on your Twitter timeline and you find something funny or interesting video. For some reason, you would like to share with your friends outside of twitter social media, for example on WhatsApp, Facebook or kik. The obvious thing to do for share the tweet is that using share button. With the share feature of Twitter we can take that interesting tweet, with video, to WhatsApp. It is true, it can be done but, there is a catch when share the tweet on WhatsApp, facebook the receiver is not get video itself, not even the preview of the tweet but, a link of the tweet.
Also read:
This could make several bugs, for example by not sending the video file, Whenever the receiver want to watch that twitter video is necessary to have an Internet connection in the device so that able to watch the video online.
Whereas if a video file was directly sent, it can be downloaded to save in the user's camera roll or photos gallery which makes easier to watch offline and even upload to facebook & Whatsapp messenger. In addition to that, its much more better to send the video directly than sending a tweet link. You want to share a video file instead of the tweet link, then you will need to download a twitter video first and then you ready to do. Wondering how to download twitter videos? If you want to know how to download twitter videos on iPhone just follow the steps we shown below.
How to Save Twitter Videos to Camera roll
---
How to save a video from twitter? Downloading twitter videos is not something you can do directly from the twitter app or twitter website, however, there are other simple ways to do it. As like YouTube, Facebook video downloaders, today we are going to show you a tutorial on how to download Twitter videos directly to your iPhone, iPad or iPod (iPhone 8, 8 Plus, 7, 6S, 6, SE, 5S, 5, 5C, 4S).
For this guide, We go with the iPhone 8 running iOS 11. As we said at the beginning, the procedure will be the same except that the app we are going to make use of  manage the download of the video file and then transfer it to the camera roll of our phone.
1. Copy Tweet Link:
Find the twitter post that contains video, and click on it. Once the tweet loaded with description copy the current page URL from browser's tab. (OR) Copy tweet link by clicking on the "Share button" located in the lower right part of the tweet (next to the Comment, retweet, like symbol), selecting this option will open the ways to share this tweet, There select the "Copy link to Tweet" option.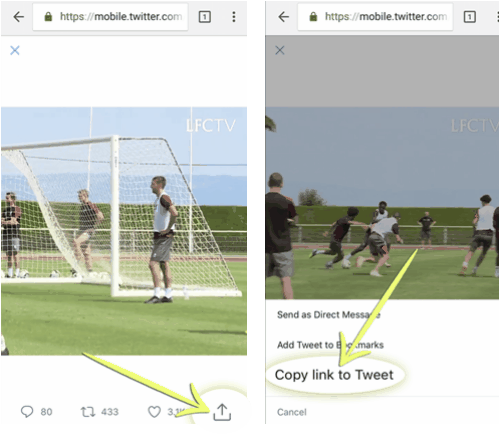 2. Installing Twitter Video Downloader (MyMedia app)
The next step is download and install MyMedia File Manager for free from the App Store.
When done with the installation of app, You will need to Open it and Go to the Browser icon located in the lower left in the form of globe icon. Tap on it, that will open the browser.
In the browser's web address input box you will need to type the online twitter video downloader web app page URL as we shown exactly: www.downloadtwittervideo.com
The above link will lead to page where you can extract video from twitter status link (tweet link) and download it to your device.
Just enter the twitter video downloader url in the app's browser URL section and hit Go.
Once you have entered into the downloader page paste the link of the tweet that you have previously copied from the Twitter app or website. And select the video format recommended is MP4 so select the "Download MP4" option.
Now you will see the generated download link in a moment.
Touch and hold your finger on the download link and in the next screen you will need to Select the option "Download file" that will take the video to the download folder of the MyMedia app.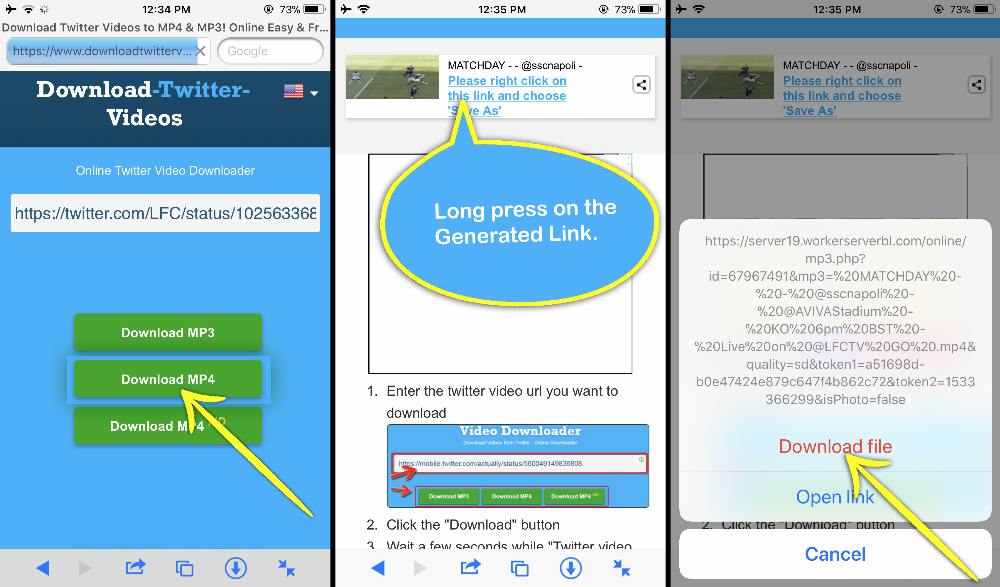 Save videos on twitter © TechCrachi
Now to download it directly on our phone, you will need to give the file name then tap on "Save".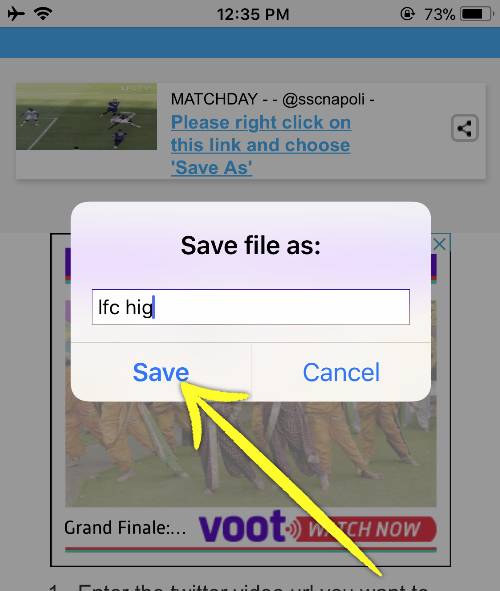 Once the file is Downloaded, click on it to see the available options and choose "Save to Camera Roll" so that it is saved on our iPhone gallery.
TechCrachi hope this guide help you with download twitter videos on iPhone without jailbreak! Have you tried this method? Does it worked for you? Do let us know in the comments and also share this post on your social media if you think you could also let your friends know this info. Thanks for reading! To read more articles like download video from twitter we recommend you enter our Tips and Tricks section.
Find us on Folkd: @technobuff