VLC is one of the best open source media players available. With VLC you can watch videos, music, open almost any media file, and perform changes on them. Learn how to rotate video in VLC media player for Mac or Windows.
However, sometimes when you are about to watch a movie that you just downloaded from the Internet, you may find that the image is rotated. That video is vertically flipped or the video is saved in Upside down? Now you may wonder how do i rotate that video!. But don't worry, this issue can be easily fixed. In this article, TechinDroid.com will explain how to rotate a video with VLC.
See also: How to Cast VLC Video to a ChromeCast device.
How to Rotate & Flip a video in Windows using VLC
1.) If you want to rotate video in VLC app on Windows, you'll have to go to the menu. Enter the section that says 'Tools', Then go to 'Effects and filters' and, there, click on 'Video Effects'.
2.) Once you're there, click on 'Geometry' and you will open a full menu that lets you choose the angle you want to rotate the video manually through a tool that simulates a wheel.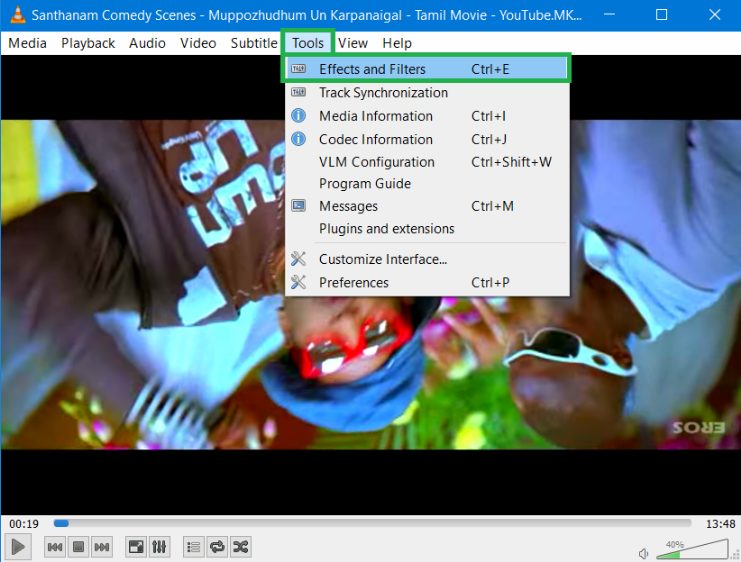 3.) If you don't need such precision, you can click on 'Transform' and, there, choose from flip video to rotate video and more, There you will find following options:
Rotate 90 degrees.
Rotate 180 degrees.
Rotated 270 degrees.
Flip Horizontally.
Flip Vertically.
Transpose.
Anti-transponer.
How to Flip & Rotate a video in Mac using VLC
As you see in the case of windows, Also in the mac VLC media player has the option to rotate video, Lets see how to flip a video in VLC player on MAC. Since This feature is also available in the version of VLC for Mac, though it does not provide such precision.
1.) To rotate or flip video, while the video playing in VLC. You must go to the upper side menu and click on the 8th item, named 'Window', then click on the submenu 'Video Effects'.
2.) Doing this, you will open a window in the 'Geometry' section. Find the option to 'Flip'. This option lets you do one of the following actions:
Rotate 90 degrees.
Rotate 180 degrees.
Rotated 270 degrees.
Flip Horizontally.
Flip vertically.
3.) After this, you only need to rotate the video to the correct angle. You'll be capable of enjoying anything you choose to download with this! how to rotate videos with VLC
To read more articles like How to rotate a video with VLC, we recommend you enter our Tips And Tricks category.