We explain step by step how you can convert a DVD or Blu-ray to an MP4 file without doing too much effort, both with the old VLC and with the latest version of the program. In this article we will show how to RIP a DVD with VLC on windows.
You may have a large number of DVD discs and you may want to enjoy them on portable devices. It is also very likely that, at some point, you wanted to upload them to the Internet to share them with more people, or even save your movies and TV shows on a hard drive to take them wherever you go. Actually, there are a lot of great DVD converters available to help you in this process. One of the best is VLC Media Player. We explain step by step how you can RIP a DVD using VLC, convert a DVD or Blu-ray to an MP4 file without too much effort, both with the old VLC and with the latest version.
Also see more tips and tricks about VLC media player:
How to Go Frame by Frame in VLC.
How to Cut Scenes From a Video with VLC.
How to Cast vlc to Chromecast.
How to Rotate Video in VLC.
How to RIP a DVD with VLC Media player for Windows
---
Ripping DVD with VLC 2.2.0 and Above:
The first thing you have to do is open the DVD and go to Media to choose Convert/Save. Select the disc tab and adjust the start position in Title/Chapter.
 At first on the VLC select the "Media" > and Click on "Convert / Save".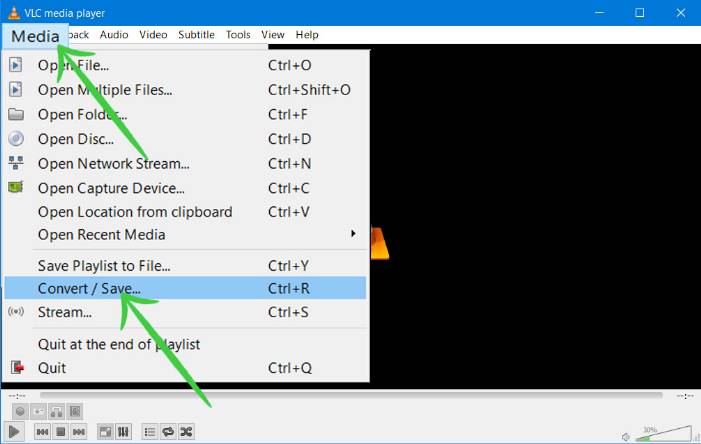 VLC RIP DVD
A pop-up window will open, there you will find the sub tab with option called "Disc" Just select it.
The second thing we need to do is select the disc selection, if you are going to rip video from DVD then select DVD, if other make selection regarding the type of the disc you have.
And make sure disc device path is correct, then click on "Convert / save".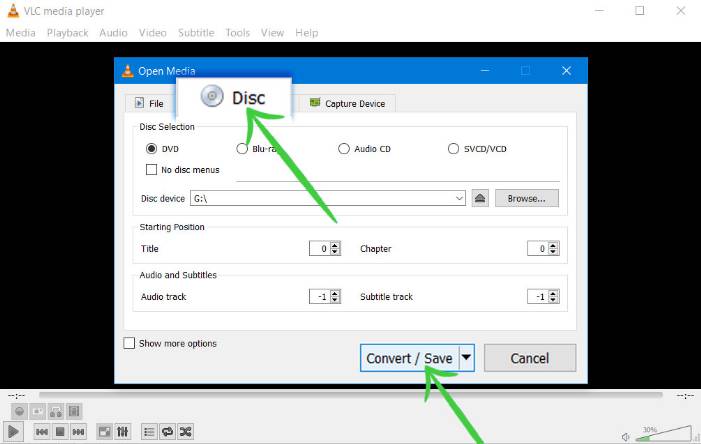 RIP DVD VLC
In the next step you have to Add the file name to begin the conversion. To do this click on the Browse button you will find it very below of the pop-up window. Then locate the place where you want to save the file and give a name to the video that ends in .mp4. Click on "Start" and be patient, as the process could take a while.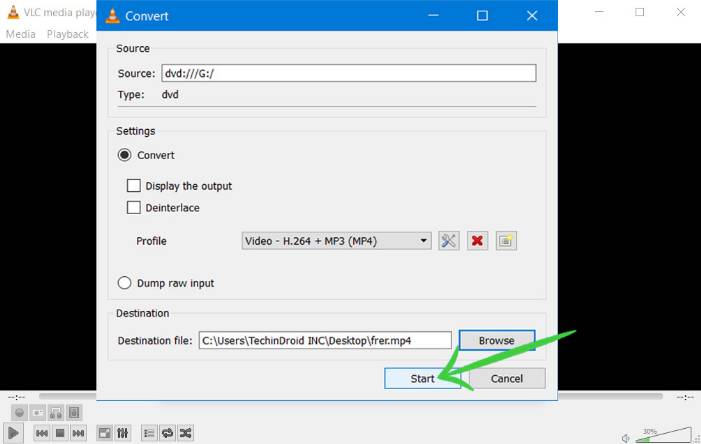 RIP DVD using VLC Older Versions:
The first thing you have to do is open VLC, go to the File or Media section in the options and select Open Disc. A dialog box will display. After that, go to the Disc tab and select "DVD" under the Disc type text field. Now, in the device name field, insert the path letter of the DVD-ROM drive and "0" in the title field. Select OK to be sure that that is what you want to convert. If you only have one optical drive, it will appear configured by default.
RIP DVD in VLC
After you have chosen the DVD or Blu-ray that you want to copy, choose the Open Disc option from the Media menu. You should find the Advanced Options field at the bottom of the dialog. Then select Play/Save.
Now, go to the settings section, which is next to the Play/Save button, and click on it. Uncheck the Play locally button if you want to avoid playback while converting. Check the File box and choose where you want to save the converted file in the search field. When you name the file, don't forget to add the .m4v extension to the end, so it will be saved as an h.264 MPEG 10 video file. Finally, in Encapsulation Method, select MP4. Under this box should appear another box called Transcoding options. There, select MP4V for video codec and MP4A for audio codec. Click on OK, and again on the next box. VLC will start converting the disc to the hard disc, and that's it! You ripped a DVD to a computer with VLC Media Player.
To read more articles like how to RIP DVD with VLC we recommend you to enter our category Tips and Tricks.