Pure VPN belongs to GZ Systems Ltd, a company based in Hong Kong. They offer its Internet security service since October 2006. Purevpn is particularly important to provide unblocked Internet to countries with active censorship. Thanks to purevpn, these regions can easily avoid the censorship enforced in their countries and access the contents of the Web freely. Since 2007, the company offers its services to everyone equally and acts globally. The service PureVPN offers is divided into two packages, which differ in the type of IP address: customers can choose whether they want a shared IP or dedicated IP. No price differences between the two packages, which are offered over periods of 1 month, 6 months and one year.
What is the connection speed of Pure VPN?
---
As we always do in our test, we first have verified our 4G connection speed at the time of the test, and then compare it with later results using the service. Our 4G connection speed is 9 mbit/s.
We always try to make connections with nearby servers; with this in mind, we have chosen our server in New york. However, the PureVPN client has sent us one located in Utah.
PureVPN offers really good features compared to other VPN providers. We were especially surprised of the upload speed, but we think this is a measurement error because our connection can't give us that much. In any case, you can see below the screen capture of the measurement:
PureVPN speed test: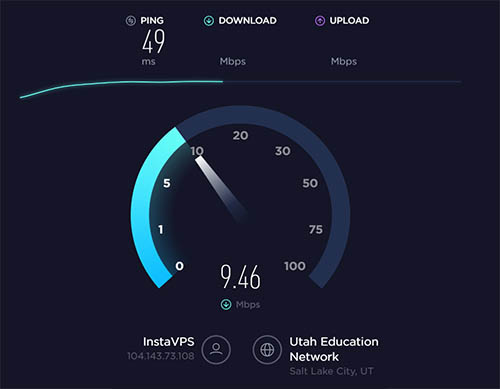 What countries have servers with this provider?
---
PureVPN using 700+ servers in 140 different countries across the world. Thus, for the user (if the shared IP package is selected) over 80,000 different IP addresses are available. Purevpn server is present in the following countries: Seychelles, Lithuania, Kyrgyzstan, Cyprus, Oman, Kazakhstan, Czech Republic, Kenya, Germany, Spain, Finland, Turkey, Tunisia, Syria, Ghana, Norway, the Netherlands, Bangladesh, Belize, Slovenia, Senegal, Thailand, Indonesia, Qatar, France, Albania, Iceland, Mongolia, Montenegro, Japan, Russia, Sweden, Ecuador, Chile, Bahamas, New Zealand, Panama, Taiwan, South Korea, Luxembourg, Australia, South Africa, Bulgaria, Madagascar, Denmark, Angola, Georgia, Brunei, Peru, USA, Laos, Romania, Afghanistan, Portugal, Malaysia, Bahrain, Ethiopia, Niger, Algeria, UAE, Brazil, Jordan, Saudi Arabia, Mexico, Argentina, Canada, Lebanon, India, Uzbekistan, Tanzania, Pakistan, Estonia, Latvia, Sri Lanka, Myanmar, Hungary, Yemen, Venezuela, Austria, Nigeria, Singapore, Tajikistan, Egypt, Turkmenistan, Switzerland, Costa Rica, Malta, Philippines, Jamaica, Slovakia, Italy, Cuba, Liechtenstein, Serbia, Hong Kong, Bosnia-Herzegovina, Vietnam, Poland, Croatia, Jamaica, Azerbaijan, Mauritania, Cambodia, United Kingdom, China, Belgium, Mauritius, Ireland, Colombia, Myanmar, Greece and Papua New Guinea.
PureVPN client
PureVPN clients available for all operating systems: Android, iOS, Windows, Mac and linux. If you don't want to install a program they also have browser extension for firefox and chrome to access their vpn services. Upon installation, the program asks if the customer is in China or elsewhere. PureVPN client is simple and intuitive to use. At first you have to enter your Username and password and hit login. On the top screen you'll find "Settings" then you can choose the desired type of connection (PPTP, L2TP, SSTP, TCP, UDP and IKEV) under "App settings". After that, you can start by pressing the green "Connect" button and the connection will be established: the selected IP address will be displayed at the top. The huge traffic graph is very striking, and starts working as soon as one has managed to connect to a VPN.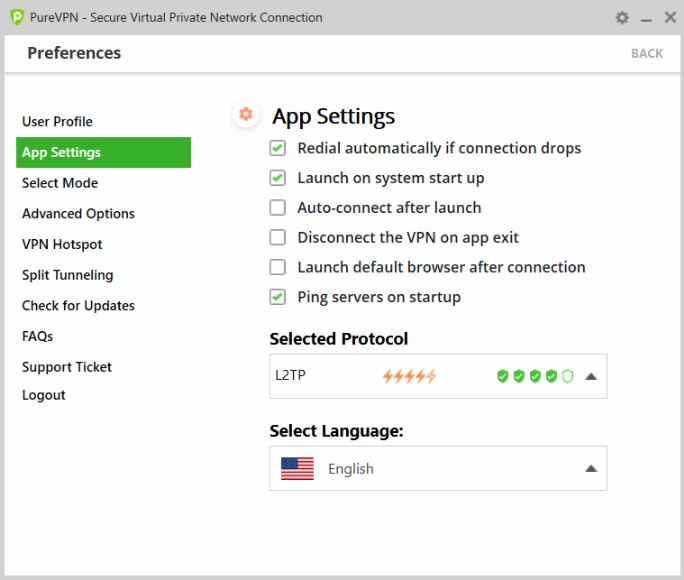 From the installation tab one can access the following settings: Automatic reconnection in case of loss of connection, starting the program on Windows startup, automatic connection upon opening the client, encryption type (there are 3 types of encryption for our VPN connection), change of DNS settings and personal customization of the traffic chart.
On the next step of installation you'll be asked for, choose the mode of use (the purpose of your VPN) from a list that shows some of the most common ones. A good example would be watching TV in the US or Britain, protecting the private sphere, unlocking social networks or websites, having access to every website with high security and remaining anonymous, playing poker and using IP phone services.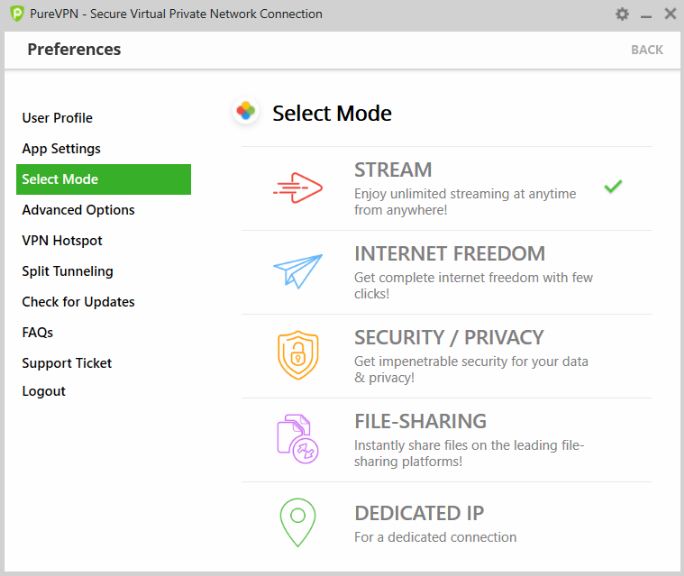 When you have chosen your mode of use, just click on "Connect" button and the program will be ready to use. If you want to choose the location of the vpn server click on the "Location" tab, you can choose the VPN server from a list of countries with which one can connect.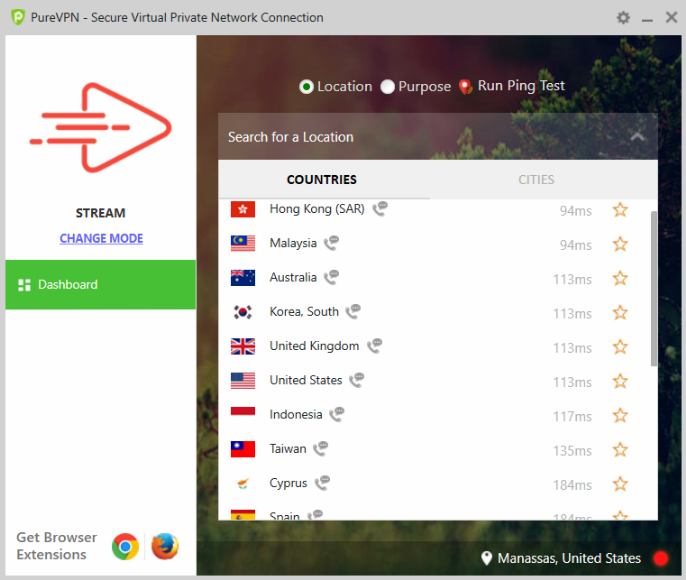 In the settings "Split Tunneling" tab, which one can find unique applications to connect through VPN and an option intended to seek said applications. This option is very rare between VPN providers and an excellent addition to the program.
On Support page you can find a log file of the last connection you made and two buttons to communicate with the PureVPN technical support team, either through chat or email.
Naturally, something that will be always present in this kind of programs is an option to extend the contract. In this regard, PureVPN is no exception :).
Does the program keep log files?
For security reasons, PureVPN does store log files. Data stored are: time of Internet connection, session length and bandwidth used. In addition, all user data entered upon registration (name, IP address, payment information) are stored. However, the activity on the Internet client is not stored.
Pricings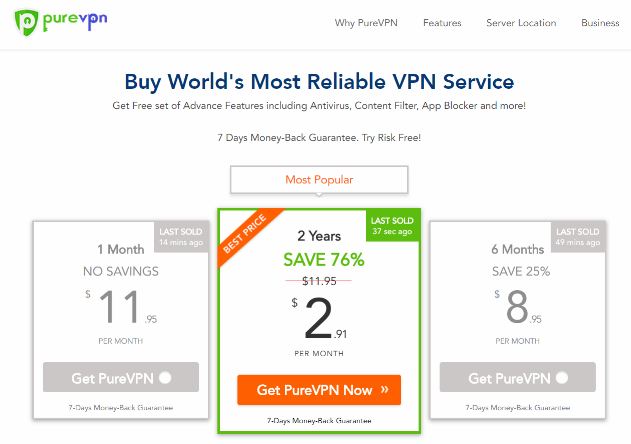 As you can see the pricing is affordable compared to other vpn services, Purevpn now offering 2 years plan with 76% discount for this halloween, Payment can be made with PureVPN, and unlike other VPN providers, it's completely anonymous, since the company accepts Ukash and Paysafecard, among others, as a payment method. The company also offers several traditional forms of payment: PayPal, multiple credit cards, MoneyBookers, AlertPay, WebMoney and even Bitcoin.
Order PureVPN Subscription now!
What is the maximum connection speed?
Pure VPN always strives to provide fast connections, but the final speed Internet through a VPN provider also depends on the Internet connection you have and the proximity or remoteness of the chosen server. The closer the server, the faster the connection is found.
Is there a download limit?
Purevpn has no download limit, so the user can upload and download any files they want. Downloads are allowed in the following countries: Algeria, Myanmar, Mauritania, Kyrgyzstan, Mongolia, Sweden, Tajikistan, Norway, Panama, Bangladesh, Afghanistan, Romania, Sri Lanka, Laos, Armenia, Kazakhstan, Peru, Ethiopia, Puerto Rico, Bulgaria, Belize, Brunei, Turkmenistan, Niger, Senegal, Kenya, Oman, Serbia, Lebanon, Luxembourg, Latvia, Uzbekistan, Ecuador, Moldova, Tunisia, Angola, Papua New Guinea, Madagascar, Slovenia, Netherlands, Saudi Arabia, Ghana, Monaco, Germany, Bahrain, Costa Rica, Belgium, Venezuela, UAE, Estonia, Denmark, Nigeria, Turkey, Pakistan, Russia, British Virgin Islands, Colombia, Tanzania, Portugal and Mauritius.
If you want to use p2p services on servers in other countries, it would be a violation of the contract with PureVPN.
What encryption protocol PureVPN uses?
Purevpn.com uses three protocols: PPTP, OpenVPN, IKEv2, L2TP / Ipsec and SSTP. The encryption method is 128-bit SSL. Customers can use the Windows, Mac, Linux, iOS, Blackberry and Android systems.
Customer service for additional questions
Pure VPN's customer service is accessible by email, service tickets or live chat. You can ask questions in alternative languages (such as German) using the service ticket, but the answer will come in English.
A peculiarity of customer service not yet mentioned: Purevpn offers a money back guarantee for 30 days.