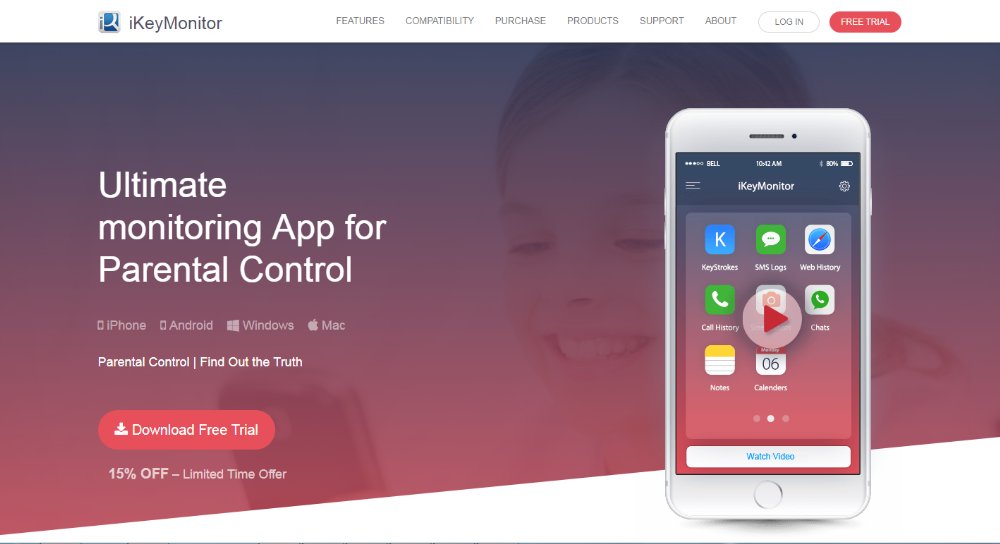 If you're a parent, or you have a work and maintain control over an important area, you must know how important it is sometimes to maintain some kind of control over the activities of our children or subordinates. The Internet can be a dark place, and it's up to us how much of it we will let our kids see. A spy application is our best bet in those cases – that's why today we'll talk about a stellar app in this regard, iKeyMonitor iPhone Spy App.
We were able to test this program and its features by ourselves. It's needless to say the performance is wonderful. Want to know a little more about the app? Keep reading!
iPhone Spy App Features
With this iPhone spy app installed on an iPhone device, we can keep track of every different activity done on such device, and send a log to our email or online account. Some of the things you can do with iKeyMonitor are:
Track the activity on social media sites and apps, like Snapchat, Facebook or Twitter.
Gain access to SMS, Chat, instant messaging apps and call history.
Keep the phone's location updated thanks to the GPS Tracker.
Includes a keylogger with the app, useful in case the phone is stolen or your data is manipulated.
Take previously scheduled screen captures in order to keep track of the phone's activity over time.
You can maintain control over the WiFi networks the phone can connect and use.
The app is able to view websites and lock harmful, malicious or inappropriate apps and games.
It doesn't need a jailbreak in order to do everything it can do – don't worry about your warranty.
Works on iPhone and iPad devices.
The app has a cost, of course – you can buy iKeyMonitor paying $49.99 a month. If you're planning to use it for a long period of time, take a look at the yearly option since it offers a 50% discount. And if you're not sure of using iKeyMonitor yet, you can take a look at the free trial and see if this app suits your needs.
How to Use iKeyMonitor
Setting up and using iKeyMonitor iPhone spy app is easier than what you may think. You don't even need to jailbreak the phone. And if you can jailbreak the iPhone, you will get more monitoring features.
1 – Register a trial version at its home page.
2 – Install the program. After this, you'll need the iCloud info of the phone, if you don't want to use the jailbreak-based option. Enter the iCloud info in the selected panel.
3 – Install the program on the phone.
4 – Start spying! You can keep track of everything and customize the options in the iCloud Panel.
5 – Upgrade the trial version to the paid version if you are satisfied with its features.
In conclusion, iKeyMonitor iPhone Spy App is a great program that does exactly what it says it does. However, due to its price and monthly payments, it's probably not the choice you're looking for if you're just curious on how to spy on someone else's phone, or something like that. If you're an employer or a concerned parent, though, this app is probably worth your money! Want to talk about your personal experience with iKeyMonitor? Leave us a comment below.