Learn how to type a euro sign on keyboards using Alt shortcuts and other manual ways. To write Euro symbol € on mac and windows keep reading this guide.
The euro symbol (€) is a currency symbol used in a lot of European countries, designed by the European Union (EU). Have you tried to type the Euro symbol before, only to find you can't see it on your keyboard? Don't panic, your computer isn't playing tricks on you… this is a very common problem with a very easy solution. There are several key combinations that allow you to type the € symbol. In this article, we will explain how to type the Euro symbol with your keyboard. Also have a look at our list of Windows 10 Keyboard shortcuts to save your working time.
How to make the Euro symbol on PC
---
Steps to follow for make Euro sign on PC:
1.) One of the most common ways of type Euro sign on key board is by pressing combination of the following keys together: ALTGr + E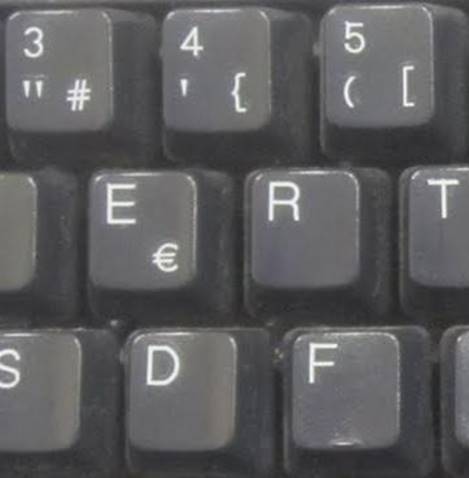 Most of the countries using keyboard layout like US standard, If your PC or laptop equipped with that, The euro symbol shortcut appears on the letter key "E"(see picture). And sometimes you can type euro sign on US keyboard with this keyboard shortcut: ALTGr + 5
2.) Another option to make the symbol of this currency is pressing: CTRL + ALT + E or ALT + E
3.) You can also use a numerical combination with the Alt key to insert the euro symbol with your keyboard: ALT + 0128
4.) And if you do not like any of the above options, you can type it using this command: CTRL + ALT + 5
5.) Last but not least: If you're writing in Microsoft Word, you can also write the Euro symbol via the menu: Insert > Symbol > €

To read more articles like how to type euro symbol on the keyboard, we recommend you enter our category of Tips and Tricks.