For some reasons you may decide to delete your twitter profile. Just deactivate it or completely give up but, delete twitter account forever and completely. After you have been decided that you do not want to use this social media anymore, is best to disable, deactivate or delete it permanently. Because, this could help you erase personal data and information shared by you from their servers.
Now the question you may have is: Can i Delete my twitter profile?; If yes, How do i delete my twitter account?, The answer is Yes, of course. But, as in the case of the deleting Facebook account, the whole process has some conditions. In this case we tell you the step by step guide to delete a twitter account to make this thing easier than you think, it's not complicated at all.
Also read:
Note! Your twitter account can not be deleted in just 1 day. Just follow all the steps shown below this will deactivate your twitter account and you need to wait Before it gets deleted permanently. You must wait 30 days with the account deactivated in order to delete your twitter ID forever.
How to Delete your Twitter Account
---
Here are the steps that you need to follow to proceed with deleting twitter account:
To get started with delete twitter profile, As the first step Open twitter.com and login to your account, Now click on your "avatar", located at right next to the twitter search bar on the top, Once you have clicked on your profile picture A drop-down menu will be appear.
There you will need to choose "Settings and privacy".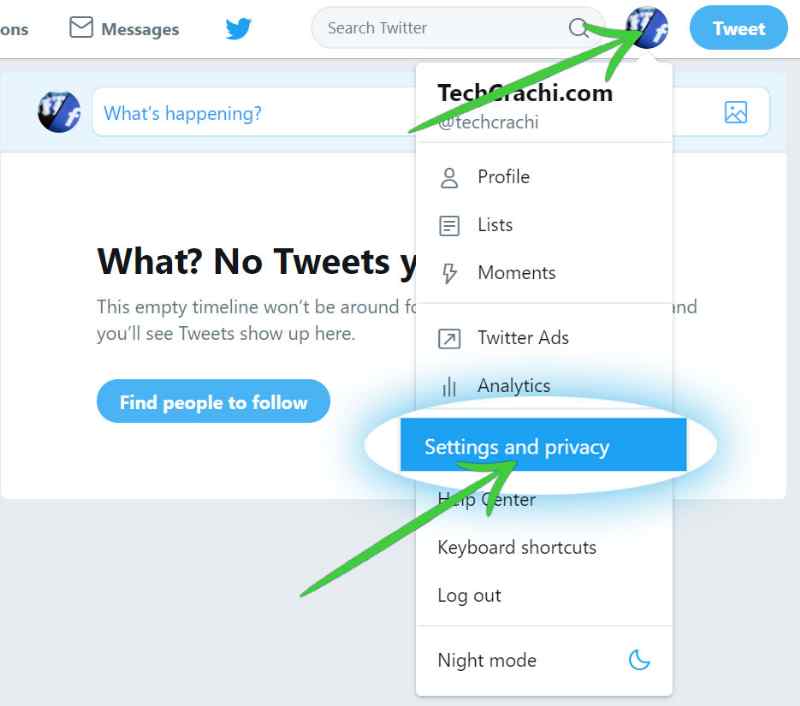 Once on this page, in the "Account" section of the Twitter Settings, You simply have to scroll to the end of the Account settings page and there you will find a account deletion link, named "Deactivate your account" Just click on it.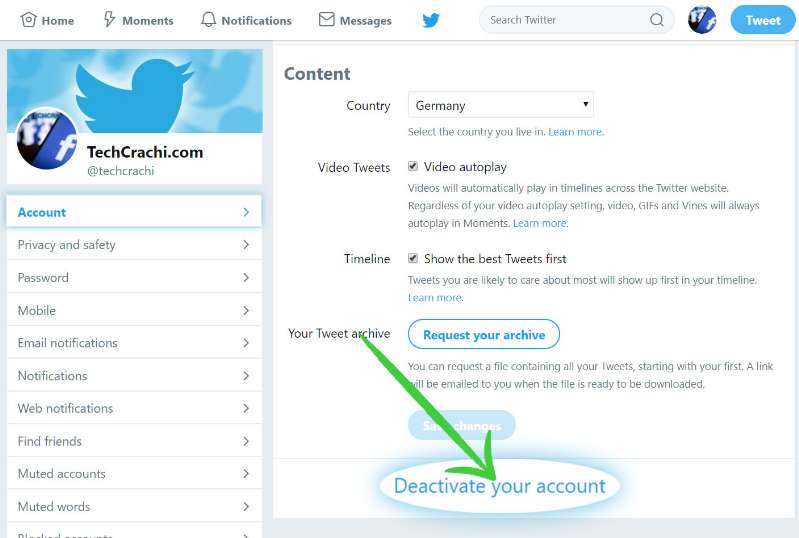 Now you will see a page that tries let you know about this process & what will happen after the deactivation of your account:
The first point is clearly indicates just what we said earlier, that after deactivating your twitter account will scheduled to be get deleted permanently in 30 days.
During the 30 Days of waiting if your mind changed and want to get your account back, it also possible. You can reactivate your twitter account at any time before 30 days of deactivation. To Reactivate your account, Just log in again.
If its what you want, Just click on the "Deactivate" button and the days will begin to count to delete our account. During that time If you change your mind, you just log into your account, it's enough to re-access our account.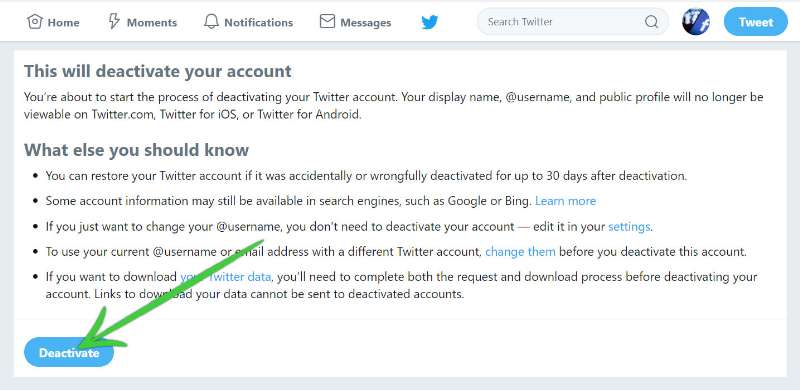 For those who wish to delete their Twitter account from Android or iOS smartphone, we want to tell them that remove twitter account from app is not possible, Although you do use the mobile version of the twitter. The trick is to access the "Account" section of the Settings using the direct link to delete twitter account, twitter.com/settings/account . Once there, just repeat the steps described above to erase twitter account.