Kill time with these apps for Android and iOS. Each one is even more addictive than the next, so you'll probably want to get them all for hours of glorious fun.
Mobile apps have come a long way. They have transformed the way we work, play, and socialize. In fact, they have just about changed every aspect of our lives: even the way we order food! We use mobile apps for so much that it is often difficult to imagine a world without them. At any rate, mobile apps have become an integral part of the digital world, and the varieties of apps available are simply endless.
In this article, we take a look at the apps that help you to waste time – an important activity, no less. They're so addictive, you'll want to download them all. Also have a look at our previous article about The most addictive games for android 2017.
Most Addictive apps for Android and iOS 2017
---
1.

Super Hexagon
Super Hexagon is a minimalist action game developed by Terry Cavanagh and features music by Chipzel. The objective in Super Hexagon is to control a small triangle which circles around a hexagon (sometimes a pentagon), and via simple left or right controls you need to try and avoid contact with the incoming "walls". It's all about speed and keeping your cool under pressure.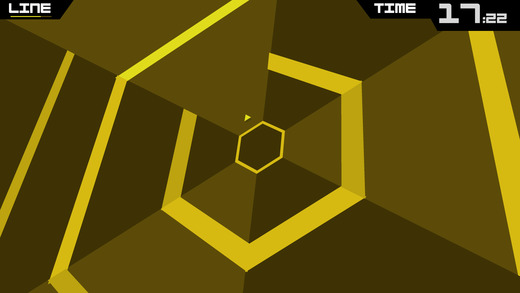 The game has a total of six difficulties, from normal to hyper, each of which lasts for 60 seconds. So what's the fuss about, you ask? The simplicity of this game is what makes it so addictive. Coupled with vibrant colors, hypnotic shapes, and an electric sound track and you'll quickly wonder where the day went. Download it now for $2.99 for iOS and Android.
2.

Shirodoko
Advertised as the "the next Sudoku", this app takes Kuromasu puzzles to a new level! The puzzles are available in three different sizes, 9×9, 6×12, and 10×18, and you can also choose at which difficulty you'd like to play: easy, medium or hard. The puzzles may seem complicated at first but after a few minutes, you'll be solving them like a champ. There is a tutorial on how to play but many reviewers didn't find this information all that helpful most people had to look for instructions online.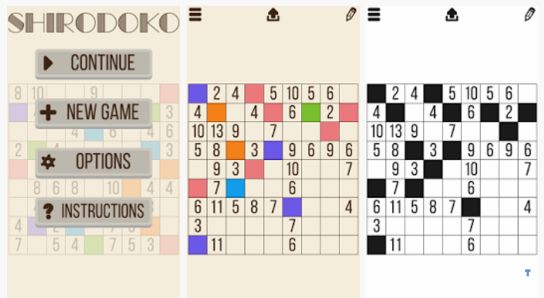 All in all, Shirodoko is an exceptional logic puzzle game that will soon permeate your lunch break and then the rest of your day. What's more, it's available in 30 different languages! The app is free with ads running at the bottom of the screen. Shirodoko can be downloaded for free and is available for iOS and Android.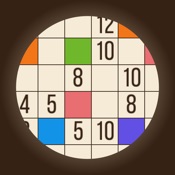 3.

Clash of Kings
Perhaps the most well-known app on our list is Clash of Kings, a real-time strategy game set in a medieval world where colossal clashes and epic battles are just a part of the day. The objective in Clash of Clans is to build an empire, become king and then rule the kingdom. That's easier said than done: combatants from across the world will challenge you for the throne… will you survive?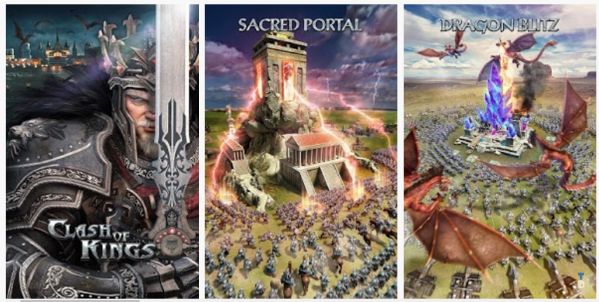 The most important thing in Clash of Clans is your capital: the location where your empire begins. As with most strategy games, you can build a variety of structures, including farms, barracks, library, mines, clan castle, army camp, and spell factory ꟷ just to name a few. Each structure will help you accomplish an objective and help you advance through the levels.
Apart from hairy clansmen, fire-wielding wizards, and even dragons, features include the opportunity to head-to-head with other players in an all-new versus battle mode, the opportunity to join a clan or start your own, and the opportunity to team up against other clans from across the globe. Clash of Clans is free to download for iOS and Android.
4.

Definitionado
Made for vocabulary nerds, Definitionado is the ultimate word puzzle app. It challenges your knowledge of idioms, riddles, and interesting definitions through beautifully crafted puzzles for people of all ages. Each puzzle will present you with a clue, sometimes the clue is easy to solve while others will truly challenge your intellect. But do not fret, if a particular puzzle is too difficult to solve, then you can use your coins and ask for a hint (coins are earned from solving puzzles). Definitionado currently has over 800 different puzzles, with more added every month. One of the exciting feature is the opportunity to play against friends. Definitionado is free to download for iOS and Android.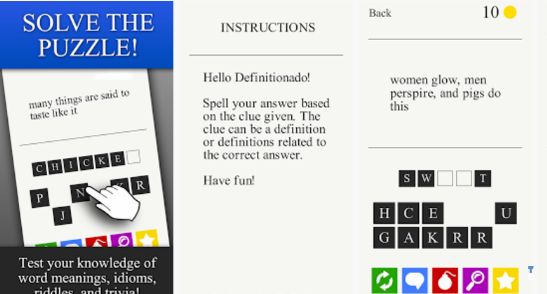 5.

QuizUp
This is a free, award-winning, trivia app that tests your knowledge across a variety of categories: geology, history, movies, nature, music, science, literature, and many more. You can challenge friends or play against strangers and even join topic communities, where you can share, learn and interact with like-minded people from across the world. One of the many highlights is the simplistic design, easy navigation and all-round functionality of the app. For example, if you register with your Facebook or Google+ account the app will go and locate friends who also have QuizUp app ꟷ which makes it a whole lot easier to challenge them. QuizUp is free to download for iOS and Android.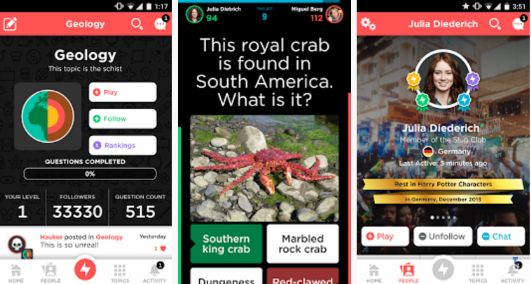 There are, of course, many more apps that could have made our list, including a few casino apps ꟷ after all, playing your favourite casinos games, including blackjack, roulette, baccarat, craps and poker, is by far one of the best ways to add excitement to your day. Here is a good site on Bodog Casino that gives real reviews of the best casino games. Although they do not have a mobile app available at the moment you can still register on their mobile platform, where hundreds of games can be enjoyed 24/7. You will furthermore receive a welcome bonus when you register an account.